sonos sonos One (Gen 2) - Voice Controlled Smart Speaker with Amazon Alexa Built-in - Black
read more
1 min ago
Joe Biden leads with black voters, while Sanders leads with Latinos and Warren leads with whites
As I noted yesterday, our poll has a large subsample of African Americans and Hispanics. This allows us to pick up on certain breakdowns that we might not otherwise.
Right now, it's clear that blacks, Latinos and whites are viewing this Democratic primary very differently. Three different candidates lead among these three groups.
Black voters continue to be Biden's base. He's up 42% to Sanders' 13% and Warren's 10%. That looks like a lot of other polling we've seen.
Much less spoken about is Latino voters. They make nearly 20% of the potential Democratic primary electorate and are a large chunk of the Nevada caucuses, the third of the early state contests.
Sanders is actually slightly ahead among them with 24% to Biden's 18%. O'Rourke (whose home state of Texas is heavily Hispanic) is the candidate in third place with 14%. Warren's tied for fourth place at just 10%.
White voters, who make up the majority of the Democratic electorate, give Warren a small advantage with 23% to Biden's 21% and Sanders' 15%.
What's clear here is that Biden's advantage among nonwhite voters is a black voter phenomenon. It does not extend to Latino voters. Also, Warren is a candidate of white voters, not minorities.
15 min ago
The case that Biden is slipping nationally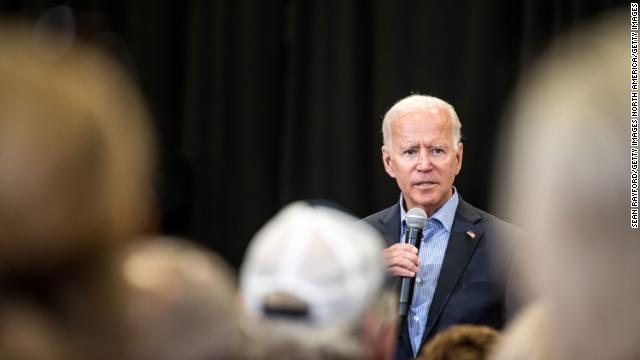 Our new poll has Biden dropping from 29% to 24%. That difference is not statistically significantly different. However, I think you can make the case that Biden's support may be dipping.
When you average the last five debate qualifying national polls, Biden's support stands at 27%.
When you average the previous five qualifying national polls (including CNN's last poll), he was at 32%.
That's a difference of 5 points.
sonos sonos One (Gen 2) - Voice Controlled Smart Speaker with Amazon Alexa Built-in - Black
read more
Now, I'm not saying Biden's lost 5 points necessarily; he may have lost only 2 or 3 points. Averages of only five polls are imperfect. Moreover, this average finds our latest CNN poll perhaps pegs his support a little lower than other polls do.
Still, I think you can make a pretty decent case that Biden's support over the last month isn't where it was in the period from mid-July to mid-August, when he stood at 32%.
In these same polls, Warren jumped from 16% to 18%. Sanders is the one who picked up slightly more ground by going from 13% to 17%. Sanders and Warren's support in the average matches what our latest CNN poll showed.
26 min ago
Joe Biden's primary lead tightens
Former Vice President Joe Biden continues to lead the 2020 Democratic primary field, but our new national CNN/SSRS poll finds he's a somewhat diminished frontrunner. He garners 24% of the vote from potential Democratic primary voters, down from 29% in mid-August.
Meanwhile, Massachusetts Sen. Elizabeth Warren and Vermont Sen. Bernie Sanders are close by in a tight battle for second place. Warren scores 18% in our new poll, up from 14% last month. That's her best CNN poll to date. Sanders stands at 17%, up from 15% last month.
No other candidates break into the double-digits.
The only other three candidates who got at least 5% are California Sen. Kamala Harris (8%), South Bend, Indiana, Mayor Pete Buttigieg (6%) and former Texas congressman Beto O'Rourke (5%). All are up a slight 1 to 3 points from last month.
New Jersey Sen. Cory Booker, Hawaii Congresswoman Tulsi Gabbard and businessman Andrew Yang all garnered 2%.
All the other candidates stood at 1% or lower. One slight silver lining for