sonos sonos One (Gen 2) - Voice Controlled Smart Speaker with Amazon Alexa Built-in - Black
read more
3 hr 39 min ago
New York governor activates emergency operations center, National Guard on standby
From CNN's Laura Ly
New York Gov. Andrew Cuomo has placed the National Guard on standby as a winter storm moves through the state. 
New York's Emergency Operations Center has also been activated to "enhanced monitoring mode."
The heaviest snow accumulations are expected in the western Catskills, with totals expected to hit two feet. Areas around Albany could see 12 to 18 inches, while Central New York and the Mohawk Valley are expected to receive up to 15 inches of snow.
New York City and Long Island are expected to receive approximately 1 to 4 inches.
4 hr 12 min ago
Prepare your home for a winter storm with these helpful tips
From CNN's Amanda Jackson
A handful of fire department's up and down the East coast have shared some advice on how to prepare for the winter weather expected today and tomorrow.
New York's Guilderland Fire Department encouraged residents to clear snow away from fire hydrants while Tennessee's Lebanon Fire Department reminded people to give their space heaters enough space before turning them on.
"With snowfall predicted to be quite significant, remember to keep your high efficiency furnace's intake and exhaust clear of drifting snow!" New York's Woodbury Fire Department said on Facebook.
5 hr 10 min ago
Snowy waterfall spotted in Oregon
From CNN's Amanda Jackson
Ice and snow were seen at Multnomah Falls today outside of Portland, Oregon.
A video of the waterfall was captured by Clifford Paguio, who called it a "winter wonderland."
5 hr 30 min ago
Travel warning issued for Duluth, Minnesota
From CNN's Amanda Jackson
Twenty inches of snow have accumulated in Duluth, Minnesota, today, according to resident Derrick Chamberlain.
"Just staying inside and cuddled up with the dogs! We are going to shovel soon as the snow blower we have can't handle all this snow," Chamberlain told CNN. 
He said the snow started around noon on Saturday.
The Duluth Police Department released the following travel warning today on Facebook:
Please DO NOT travel unless it is an emergency. Main roads are plowed but need to be for emergency vehicles and plows only. Public safety resources are stretched today and need to kept for emergency purposes only. Many areas like Canal Park are completely impassable. Most businesses are closed or have not yet opened so again please stay home and stay safe. We need time to continue plowing and making the roads safe to be on.
We appreciate the public's patience and can assure you that we are working as hard as we can to clear roads.
We will continue to provide updates.
Chamberlain took the following photo this morning:
5 hr 55 min ago
More than 1,300 flights into or out of the US have been delayed
From CNN's Christina Maxouris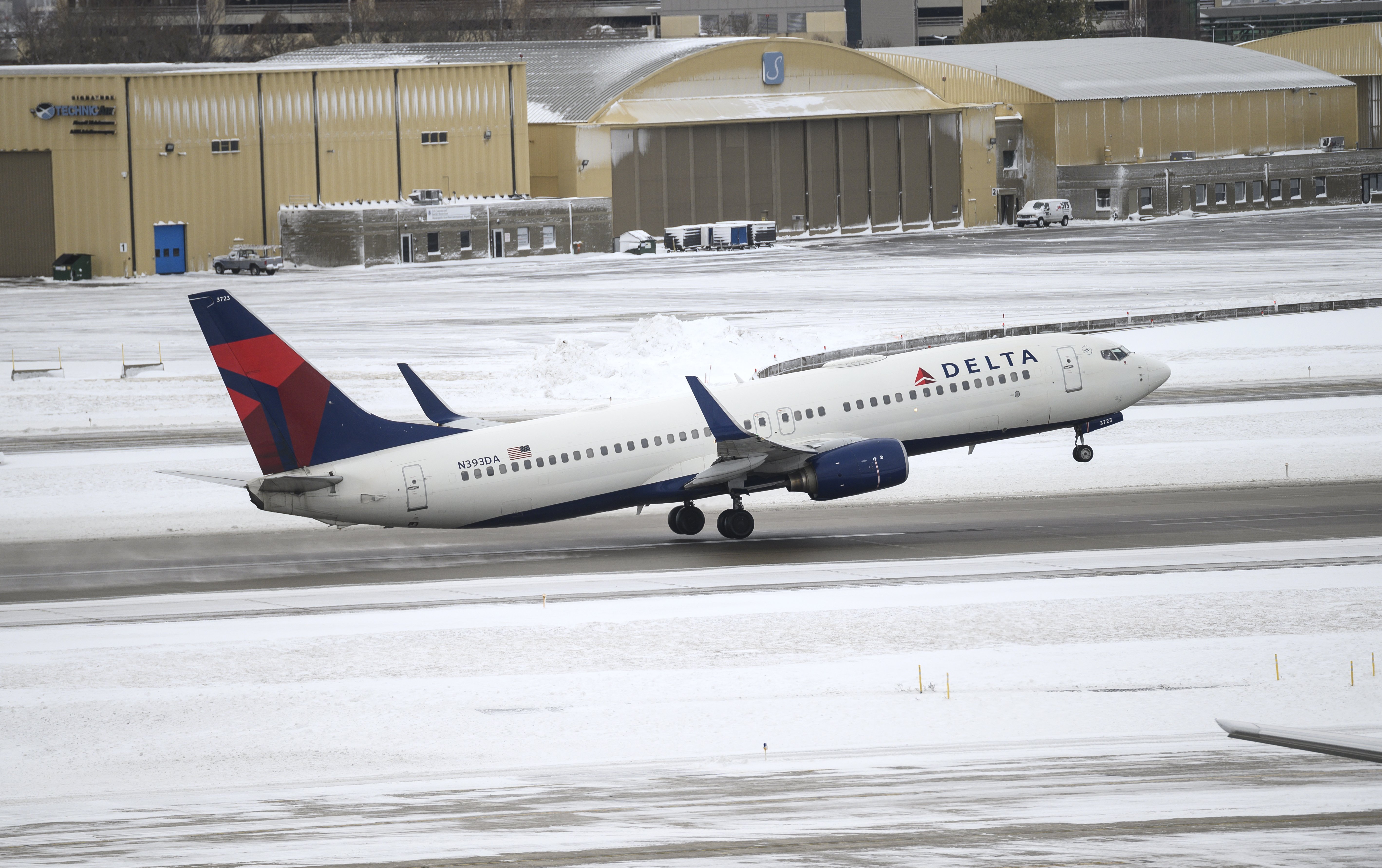 Photo by Stephen Maturen/Getty Images
In what is shaping up to be a historically busy travel day in the US, airlines will see an anticipated 3.1 million passengers today, according to Airlines for America, an airline trade organization.
A record 31.6 million passengers were forecast to travel on US airlines during the Thanksgiving holiday period, up 3.7% from last year.
sonos sonos One (Gen 2) - Voice Controlled Smart Speaker with Amazon Alexa Built-in - Black
read more
By mid-morning, 1,300 flights into or out of the United States had been delayed and almost 700 had been canceled, according to FlightAware.com. Travel impacts are expected to last through Monday, the weather service said.
Delta Airlines announced weather waivers for 16 cities in the Upper Midwest on Saturday, and 22 cities in the Northeast for Sunday and Monday, including airports in Boston and the New York area.
American Airlines issued waivers for passengers traveling Sunday and Monday on flights to and from New York's John F. Kennedy and LaGuardia airports as well as Newark and the airline's hub in Philadelphia. Other cities in the American Airlines announcement include Boston, Buffalo, Pittsburgh and Toronto, Canada.
6 hr 42 min ago
Up to 2 feet of snow could hit Catskills from Sunday into Monday
From CNN's Laura Ly
The upcoming winter storm could bring up to two feet of snow to the Catskills, with accumulations of 12-14 inches near Albany and Central New York today into Monday.
New York City is expected to receive approximately 1 to 4 inches, according to a press release from NY Governor Andrew Cuomo. 
New York's Department of Transportation has engaged regional crews in snow and ice preparations and rain event monitoring.
Among the department's resources for responding to the winter storm are 1,592 large plow trucks, 183 medium duty plows, 52 tow plows, 327 large loaders and 39 snowblowers.
Roughly 4,500 workers are available to perform "in damage assessment, response and restoration across New York State," the press release stated.
7 hr 50 min ago
Winter storm may bring over 12 inches of snow to parts of western and central Massachusetts
From CNN's Laura Ly
A winter storm could bring more than 12 inches of snow to parts of western and central Massachusetts, according to a weather advisory from the Massachusetts Emergency Management Agency (MEMA).
 "1-2 inches/hour snowfall rates Sunday night are likely with 6 or more inches of snow accumulation expected by the Monday morning commute," MEMA said yesterday, adding that there is some uncertainty due to the exact track of the storm and accumulation amounts due to possible fluctuating temperatures that could transition snow to freezing rain/rain, and low astronomical tides that could affect strength of storm surges.
8 hr ago
Roads in Minnesota are covered in snow
From CNN's Amanda Jackson
Road conditions across the region are completely snow covered, with some areas of travel not advised in the Duluth area, the US National Weather Service in Duluth, Minnesota (NWS) reported on Facebook this morning.
Most roads are impassable and travel is extremely treacherous this morning. If you can stay home today, NWS is advising people to do so.
Numerous vehicles have become stuck in snow drifts and in roads and ditches this morning, NWS added.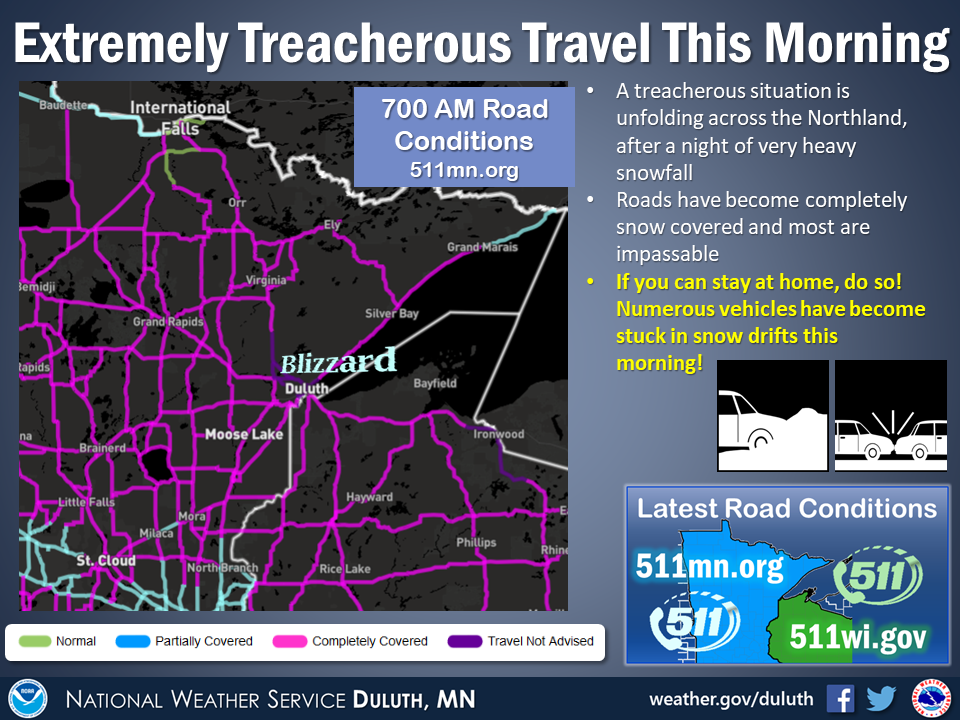 8 hr 16 min ago
More than 350 flights in the US have been delayed
As of 9 a.m. ET, 353 flights within, into or out of the United States have been delayed, according to FlightAware, an aviation company that tracks flight