13 min ago
Ukraine International Airlines confirms plane built in 2016
From CNN's Zahra Ullah in Moscow
Ukraine International Airlines released a statement Wednesday confirming that its flight PS752, operating to Kiev, disappeared from radars a few minutes after its departure from the Iranian capital.
The flight departed Tehran International Airport at 6:10 a.m., the statement said.
It added that the plane was a Boeing 737-800 NG aircraft, registration UR-PSR, and "was built in 2016 and delivered directly to the airline from the manufacturer."
The airline has suspended all its flights to Tehran until further notice.
Ukraine International Airlines expressed its deepest condolences to the families of the victims of the crash and will do everything possible to support them, the statement said. 
The airline added that it is currently clarifying the exact number of passengers on board after preliminary data said there were 167 passengers and nine crew members on board.
45 min ago
Iranians, Canadians, Ukrainians, Swedes, Afghans, Germans and Britons among victims - Kiev
From CNN's Lindsay Isaac and Mary Ilyushina
The victims of Wednesday's plane crash in Iran include 82 Iranians, 63 Canadians, 11 Ukrainians, 10 Swedes, four Afghans, three Germans and three British nationals, Ukrainian Foreign Minister Vadym Prystaiko tweeted.
A spokesperson for Ukrainian Airlines told a press conference that the plane was last checked on January 6 and there have been no complaints previously in relation to the jet.   
1 hr 20 min ago
Turkey offers condolences to Ukraine after crash
Turkish Foreign Minister Mevlut Cavusoglu issued a statement Wednesday. Adem Altan/AFP via Getty Images
International reaction to the Ukrainian Airlines plane crash in Iran is flooding in.
Turkish Foreign Minister Mevlut Cavusoglu spoke to his Ukrainian counterpart, Vadym Prystaiko, on Wednesday.
Cavusoglu offered his condolences "about the Ukrainian plane that crashed," Turkey's Ministry of Foreign Affairs wrote in a statement.
1 hr 32 min ago
Iran Civil Aviation Authority investigating crash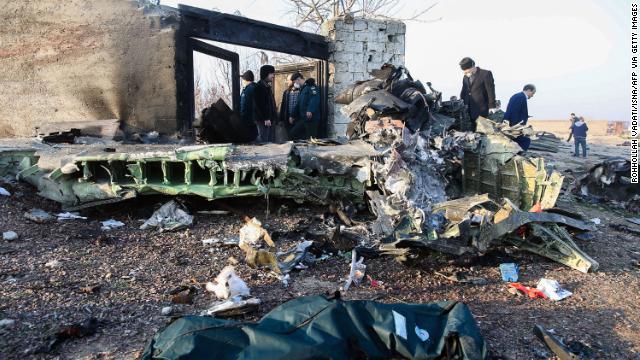 Emergency services have arrived to the crash site.
Iran's Civil Aviation Authority has set up a team to investigate the crash of flight PS752 from Tehran to the Ukrainian capital Kiev, it said in a statement on Wednesday.
It added that an investigation is under way and data is already being collected.
1 hr 51 min ago
Ukrainian embassy rules out terror attack, says engine failure caused crash
From CNN's Mary Ilyushina in Moscow
sonos sonos One (Gen 2) - Voice Controlled Smart Speaker with Amazon Alexa Built-in - Black
read more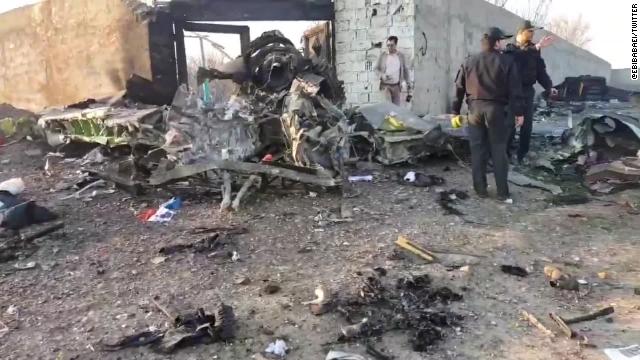 Emergency services picked through the debris at the crash site.
The Ukrainian Embassy in Tehran has ruled out a terror attack as a possible cause for the plane crash, instead saying in a statement that preliminary information suggests engine failure was responsible.
"According to preliminary information, the plane crashed due to an engine malfunction. The version of the terrorist attack or rocket attack is currently excluded," the statement on its website read. 
2 hr 7 min ago
There have been several deadly plane crashes in Iran over the years
The debris of a Boeing cargo plane that crashed near Tehran on January 14, 2019. HASAN SHIRVANI/AFP via Getty Images
The plane crash that killed 176 people outside Tehran earlier today is just the latest in a series of deadly aviation incidents that have taken place in Iran. These include:
In 2009, an airliner crashed in northwestern Iran, near the city of Qazvin. It plunged to the ground and disintegrated on impact, killing all 168 passengers and crew -- including 10 members of the country's youth judo team. In 2011, an Iranian jet crashed near the northwest city of Orumiyeh, in bad weather. Seventy-seven people were killed. In 2018, an Iranian Aseman aircraft crashed in Kohangan village, in the south of the country, killing all 65 people on board. In 2019, a Boeing 707 cargo plane belonging to Iran's army crashed near Tehran after the pilot lost control of the aircraft. Fifteen people on board died.
2 hr 39 min ago
Ukrainian President cuts trip short to return to Kiev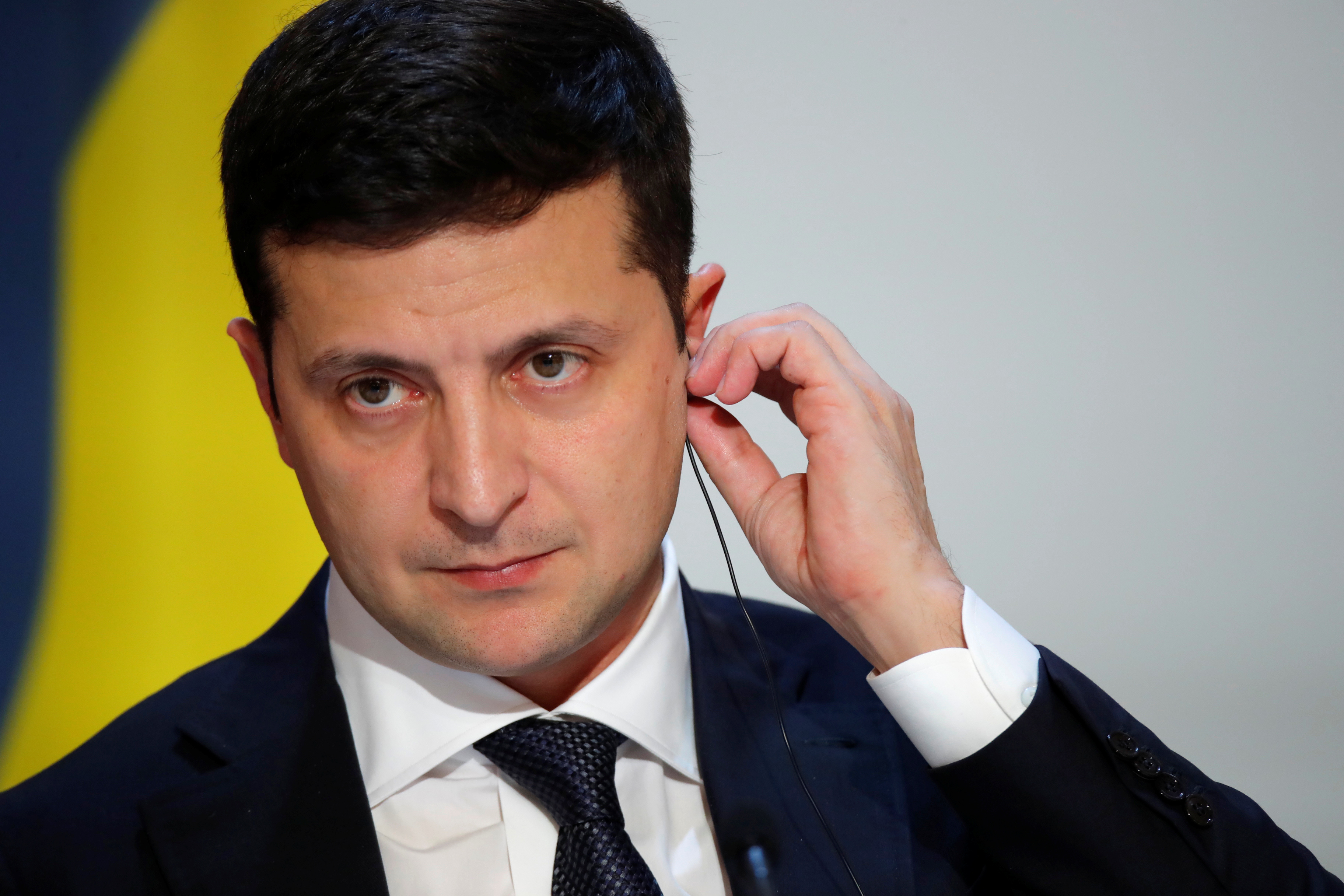 Ukrainian President Volodymyr Zelensky in Paris on December 9, 2019. CHARLES PLATIAU/POOL/AFP via Getty Images
Ukrainian President Volodymyr Zelensky will break off his trip to Oman to return to Kiev to deal with the plane crash, according to his official Twitter account.
An earlier statement on his official Facebook page said Zelensky traveled to Oman at his own expense with his family.
2 hr 44 min ago
The crash site is covered with debris from the plane wreck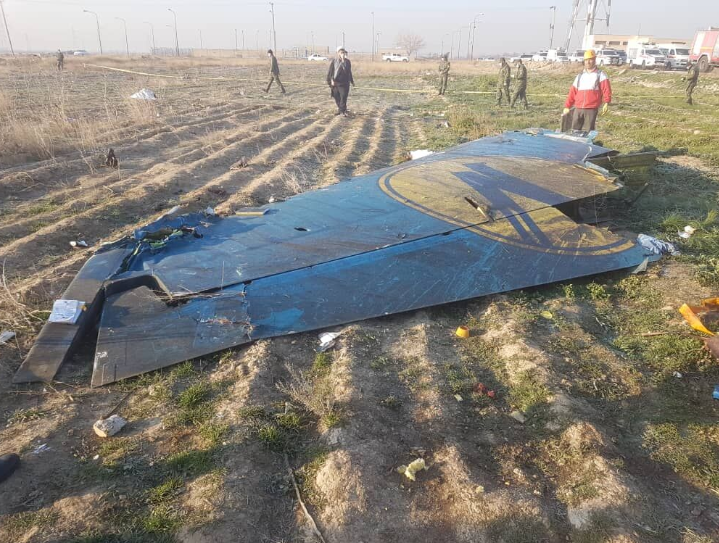 The tail of the plane that crashed in Iran. IRNA (the Islamic Republic News Agency)
Photos from the scene of the crash, located just outside the Iranian capital Tehran, show mangled metal and loose debris from the plane wreck.
The plane caught fire after it crashed earlier on Wednesday morning, preventing emergency personnel from accessing it immediately.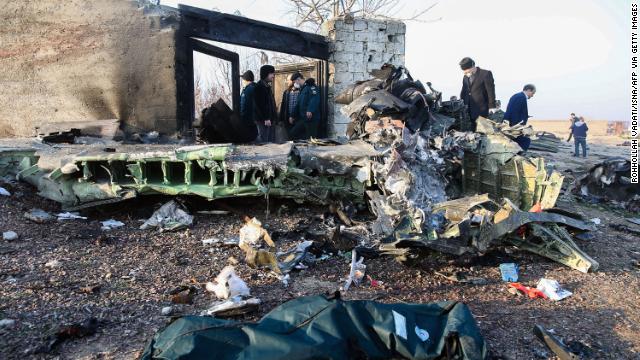 Most of the flames appear to be out now, revealing the extent of the damage. The entire tail section of the aircraft has broken off, and structures from the plane look burned.
The crash killed 176 people, including passengers and crew.
Iranian and Ukrainian officials are now working together to respond to the disaster.
"We are working to establish the causes of the tragedy, the Ukrainian consul is working on site, an operational crisis group has been created. We are currently clarifying the number of Ukrainian citizens on board," said Ukrainian Prime Minister Oleksiy Honcharuk in a statement.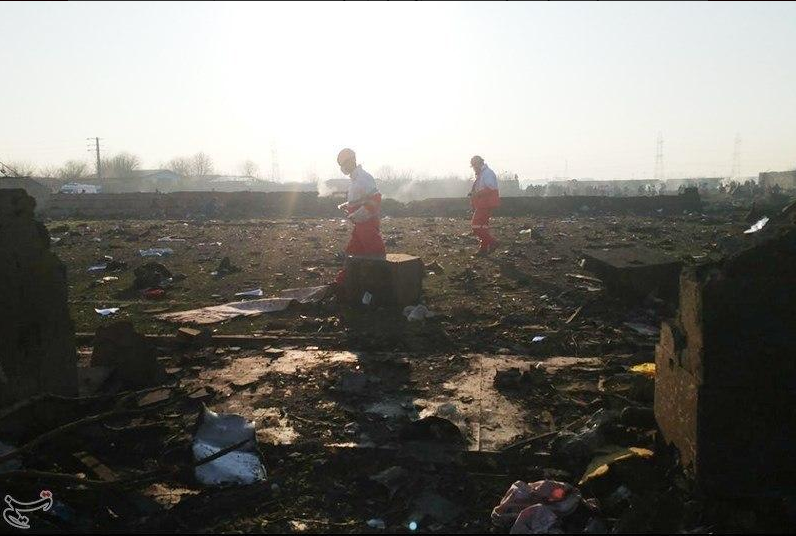 3 hr 2 min ago
Video shows immediate aftermath of fiery crash
Footage captured by Iran state-run news agency IRNA shows the fiery aftermath of the plane crash just outside Tehran early Wednesday.
In the video, the sky is still dark. The ground is covered with small spot fires from debris.
There were 176 people on board in total, according to state news agency Press TV -- 167 passengers and nine crew members. All of them