20 min ago
First quarter commercial roundup
Scottie Andrew and AJ Willingham
These are the best, most interesting and most talked-about commercials from the first quarter of Super Bowl LIV:
Hulu
Tom Brady lives for drama. That black-and-white photo of Brady's silhouette in an empty stadium? It turned out to be a marketing ploy for Hulu, not a retirement prelude as fans feared. Oh, and after he hawks Hulu's live sports coverage, he drops a small announcement -- he's not going anywhere. Season 21, here he comes.
Tide
It's always sunny in Schitt's Creek until Emily Hampshire wipes her sauce-covered hands on Charlie Day's starchy white shirt at a Super Bowl party. He can clean it later, she tells him. But when is later? Surely not during the commercial breaks -- the Bud Light Knight tells him as much in a cross-promotional cameo. A few decades "later" and a weathered and grey Charlie Day is rocking the same stained shirt. Then "later" never comes -- Tide doesn't condone laundering during the Super Bowl. The ad ends without closure.
Walmart
Try to count the references in Walmart's commercial touting their grocery pickup services. Let's see...we spy The Enterprise (Star Trek), Marvin the Martian, Buzz Lightyear, Bill and Ted, the aliens from "Mars Attacks," Legos, Frank the pug from "Men in Black" ... who did we miss?
Donald Trump
The Trump campaign ran an ad during the first quarter featuring Alice Johnson, a first-time nonviolent drug offender who was granted clemency by the President.
Trump commuted the first-time nonviolent drug offender's life sentence in June 2018 one week after Kim Kardashian pleaded her case in an Oval Office meeting with the President.
The ad featured an emotional Johnson thanking Trump for commuting her sentence.
48 min ago
How the Super Bowl teams got their names
AJ Willingham
By now, your conversation topics (and the salsa bowl) are probably running low. How about some trivia?
How the 49ers got their name
It all makes perfect sense, actually.
The "49ers" is the nickname for those who flocked to northern California in 1849 hoping to take advantage of the gold rush. The influx of opportunists was a boon for California's economy, and hastened its admittance into the union in 1850. (A 49er is also a kind of Olympic-style racing dinghy, which would make for an equally rich team name. Alas.)
Read more about the history of the 49ers here.
San Francisco 49ers quarterback Steve Young drops back to pass during Super Bowl XXIX against the San Diego Chargers in 1995. The 49ers won 49-26. George Rose/Getty Images
How the Chiefs got their name
As for the Chiefs, the history of their name is a little more complicated. From CNN's Leah Asmelash: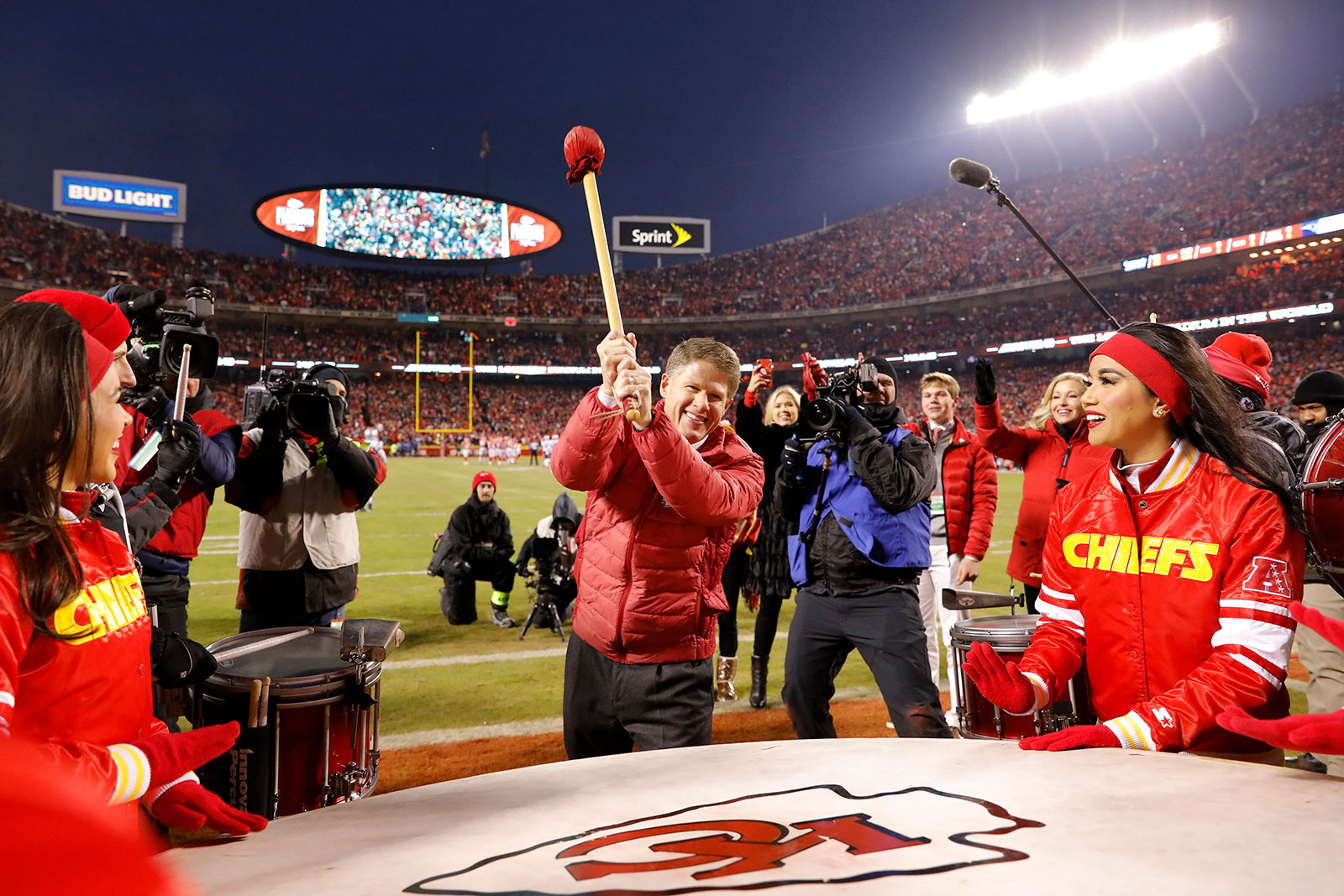 Kansas City Chiefs owner Clark Hunt bangs the drum before the AFC Championship Game against the
New England Patriots
on January 20, 2019. David Eulitt/Getty Images
It started with, of all things, the Boy Scouts. The Tribe of Mic-O-Say is part of the Boy Scouts of America program in Missouri and was created by Harold Roe Bartle in 1925.
Bartle was not a Native American, but claimed he was "inducted into a local tribute of the Arapaho people." Bartle was called "Lone Bear," and went by the name Chief Lone Bear in his Mic-O-Say organization.
Almost 40 years after the founding of Mic-O-Say, Bartle became the mayor of Kansas City, Missouri for two terms. Colloquially known as "chief," Bartle helped convince Lamar Hunt, owner of the Dallas Texans football team, to bring the team to Kansas City.
In name-the-team competitions, "Chiefs" kept popping up as an option in connection to Bartle.
So, they went with it.
Read more about the history of the Chiefs here.
18 min ago
Trump
Super Bowl ad leans on criminal justice reform
AJ Willingham
The Trump campaign ran an ad during the first quarter featuring Alice Johnson, a first-time nonviolent drug offender who was granted clemency by the President.
Trump commuted the first-time nonviolent drug offender's life sentence in June 2018 one week after Kim Kardashian pleaded her case in an Oval Office meeting with the President.
The ad featured an emotional Johnson thanking Trump for commuting her sentence.
"Trump got it done," it concluded.
Trump also promoted the ad on Twitter.
1 hr 13 min ago
Demi Lovato crushes the national anthem
AJ Willingham
Dressed in an all-white suit, Demi Lovato turned in a soulful (and expeditious) rendition of "The Star-Spangled Banner." We're waiting for the official time, but it was definitely under two minutes.
sonos sonos One (Gen 2) - Voice Controlled Smart Speaker with Amazon Alexa Built-in - Black
read more
Elsa/Getty Images
Lovato has been having quite a moment lately. At the Grammys last week, she debuted "Anyone," a poignant ballad about her struggles with substance abuse. She also recently opened up about the moment she told her parents that she may end up dating a woman some day.
1 hr 9 min ago
NFL greats among special guests for 100th season celebration
From CNN's Scottie Andrew, Nicole Chavez and Amanda Jackson
Elsa/Getty Images
Tom Brady isn't playing in the Super Bowl this year, but he was still on the field before the game started. Brady was honored as part of the NFL 100 All-Time Team along with 99 of the greatest NFL coaches and players since the league's start.
Retired quarterback Peyton Manning posed with Brady after the ceremony. New England Patriots coach Bill Belichick flashed his Super Bowl rings. And Joe Montana, who spent most of his 16 seasons with the 49ers but ended as the Chiefs' quarterback, just had fun -- he can't lose, after all.
San Francisco 49ers tight end George Kittle invited the family of US Army Sgt. Martin LaMar, who was killed in Iraq in January 2011.
LaMar's widow Josephine and 16-year-old son Nicolas will honor LaMar, a longtime 49ers fan, during Super Bowl LIV.
"I have a lot of family in the military, so it's something that I just respect and the sacrifice that they give is the ultimate sacrifice," Kittle told reporters on January 24. "So if I can ever give back and make a family's day or just make them smile a little bit, then I feel like I've done a little part in their lives."
Also in attendance are four 100-year-old World War II veterans. The NFL invited the men to officiate the coin toss in honor of the NFL's 100th season.
Col. Charles E. McGee, a Tuskegee Airman, presided over the coin toss. He was flanked by Staff Sgt. Odón Sanchez Cardenas, Lt. Col. Samuel Lombardo and Cpl. Sidney Walton.
1 hr 10 min ago
The 49ers and the Chiefs honor Kobe Bryant during warmups
AJ Willingham
Both Super Bowl squads, along with their coaches, took time out of their pregame routines to line up should-to-shoulder along their respective 24-yard-lines in honor of NBA great Kobe Bryant.
Rob Carr/Getty Images
Bryant wore No. 24 for most of his career with the Los Angeles Lakers. The moving display was accompanied by a moment of silence. The ceremony also honored Chris Doleman, the Half of Fame defensive end who recently died at age 58 after a prolonged battle with cancer.
Ronald Martinez/Getty Images
1 hr 30 min ago
Meet 49ers coach Katie Sowers, the first woman and openly gay coach in Super Bowl history
From CNN's Jill Martin
Katie Sowers, an offensive assistant with the San Francisco 49ers, always dreamed of coaching in the NFL. It just took the league some time to catch up with her aspirations.
Now in her fourth NFL season, Sowers sowed her love of the game in small-town Kansas, where she played football with her twin sister.
She competed in soccer, basketball and track and field while studying at Goshen College, around the same time she came out to her family and friends.
Hannah Foslien/Getty Images
Her parents showed her "nothing but love and acceptance" when she came out, she said. But when she asked her former women's basketball coach if she could volunteer coach the team, she was denied because she was gay.
The denial stung. But it's what motivated her to play in the Women's Football Alliance and coach youth girls basketball.
"It led me to a second chance at the game that I originally loved the most," Sowers told .
One of the girls she coached was the daughter of Scott Pioli, the former general manager of the Kansas City Chiefs. It was through Pioli that Sowers earned her first shot in the NFL as a coaching fellow.
After two years in the coaching fellowship, 49ers head coach Kyle Shanahan hired Sowers in 2017 as a seasonal offensive assistant -- the second woman to ever hold a full-time coaching position in the NFL.
In the 2019 season, eight women coached in the NFL, including four full-time. None of them were head coaches, but if Sowers has her way, she could make history again.
"My long term goal is to be a head coach and then move on to executive management," Sowers said in a 2016 interview. "It's not a typical path, but then again, nothing about what I'm doing is typical."
2 hr 9 min ago
This Super Bowl is a case of an unstoppable offense facing off against an impenetrable defense
From CNN's Jill Martin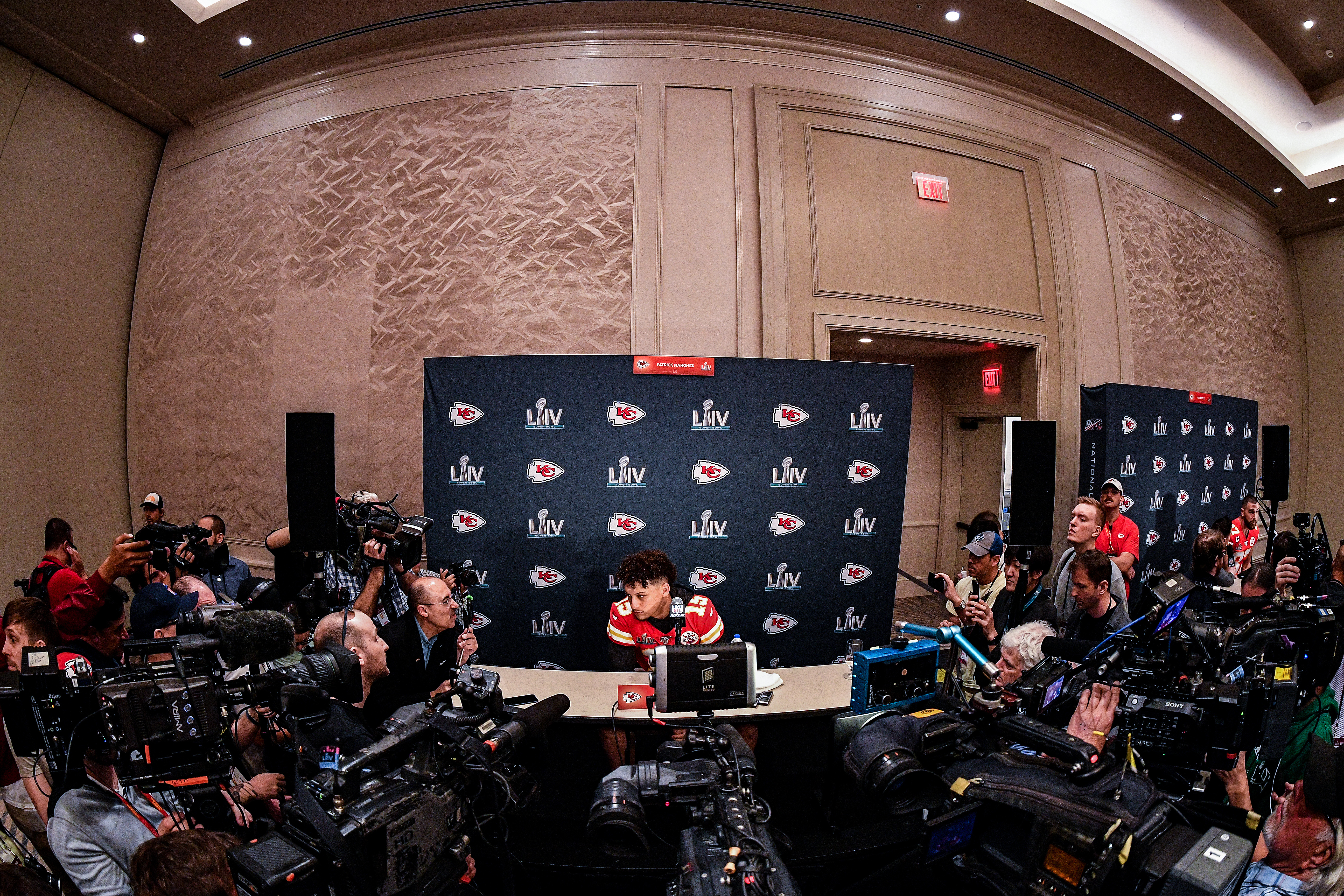 Patrick Mahomes of the Kansas City Chiefs speaks to the media during the Kansas City Chiefs media availability prior to Super Bowl LIV   Mark Brown/Getty Images
The Kansas City Chiefs and San Francisco 49ers will meet in Super Bowl LIV, which will be televised live in more than 180 countries and territories and will be broadcast live in almost 25 languages.
Kansas City, the AFC champion with its high-speed offensive attack, is a slight favorite. The Chiefs are in their first Super Bowl in 50 years, with their lone title coming in Super Bowl IV.
Chiefs quarterback Patrick Mahomes, last year's league MVP, is looking to join Ben Roethlisberger and Tom Brady as the only quarterbacks to hoist a Lombardi Trophy before their 25th birthday. At 24 years and 138 days old on Sunday, Mahomes is the fifth-youngest quarterback to start in the Super Bowl.
Should Kansas City win, Mahomes will become the youngest player to win both an NFL MVP award and a Super Bowl title, surpassing Pro Football Hall of Famer Emmitt Smith (24 years, 233 days old on the last day of his MVP 1993 season).
The 49ers have five Super Bowl titles, which ties them for third among NFL teams. They can tie the New England Patriots and Pittsburgh Steelers for the most.
Expectations were high for San Francisco in 2018, but quarterback Jimmy Garoppolo tore his ACL in the third game of the year as the 49ers limped to a 4-12 finish. Garoppolo went through an intense rehab and has thrived this season.
Garoppolo started all 16 regular-season games, completing 69.1% of his passes for 3,978 yards, 27 touchdowns, 13 interceptions, and a 102.0 passer rating -- though notably in this postseason Garoppolo is just 17-27 for 208 yards with a touchdown and interception in two games.
Instead, their offensive production has come on the ground. Raheem Mostert rushed for 220 yards in the NFC championship game, the second-highest total in a postseason game, behind Pro Football