1 min ago
Strong winds and heavy rains expected in Miami-Dade County this afternoon
From CNN's Chuck Johnston
Miami-Dade County Mayor Carlos Gimenez said the county can expect strong winds and heavy rain from Hurricane Isaias on Saturday.
Gimenez said the strongest impacts in Miami-Dade will be seen this afternoon between 3 p.m. and 5 p.m. and last through the evening.
At this time, the county has not opened any evacuation centers, he said.
Miami Dade County Parks marina and golf course will remain closed. The transit system in Miami-Dade continues to operate, the mayor added.
56 min ago
Florida is sending 10,000 personal protective equipment kits to shelters
From CNN's Artemis Moshtaghian
Florida's Division of Emergency Management is sending 10,000 personal protective equipment (PPE) kits to shelters in designated regions of the state, Florida Gov. Ron DeSantis said in a news conference this morning.
The state will send 25 shelter kits to counties in the path of the storm, with each kit providing PPE for 400 people for up to 96 hours, DeSantis said. The government could send more if necessary, he added.
DeSantis said that the government has been in touch with hospitals in possibly affected areas of the state. He doesn't anticipate hospitals needing to evacuate patients at this time.
"We have maybe one smaller hospital that is going to move some Covid patients to a different hospital in the area in Brevard County, but that's about the extent of it," DeSantis said.
1 hr 3 min ago
Federal disaster declaration approved for Florida ahead of Hurricane Isaias
From CNN's Artemis Moshtaghian
President Donald
Trump
participates in a roundtable discussion on the coronavirus outbreak and storm preparedness on July 31 in Belleair, Florida. Patrick Semansky/AP
Federal disaster declaration funds have been approved by President Trump for the state of Florida in response to Hurricane Isaias, Florida Gov. Ron DeSantis said during a news conference Saturday morning.
DeSantis said the request for federal funds administered through Federal Emergency Management Agency (FEMA) will include reimbursement for direct federal assistance for providing food and shelter for Floridians affected by the hurricane.
In addition to DeSantis' state of emergency issued on Friday, the following 12 counties also issued local states of emergencies as well: Palm Beach, Monroe, Volusia, Osceola, Seminole, Brevard, Indian River, Martin, Orange, Okeechobee, Glades and Flagler.
1 hr 15 min ago
2 large hospital systems in Miami-Dade have at least 4 days of generator power each
From CNN's Rosa Flores and Sara Weisfeldt in Miami
sonos sonos One (Gen 2) - Voice Controlled Smart Speaker with Amazon Alexa Built-in - Black
read more
Hospitals in Miami-Dade County have been on the frontlines of the pandemic for months and now they are bracing for Hurricane Isaias.
Two of the largest hospital systems in Miami-Dade county, Jackson Health System and Baptist Health South Florida, say they have extensive hurricane response plans which will be paramount during a pandemic. 
Baptist Health is prepared to respond and deploy resources to any of their facilities impacted by the storm in south Florida, said David Zarco, Baptist Health South Florida communications manager.
Zarco said Baptist Health is equipped with backup power generators to maintain critical functions for 96 hours or more without relying on external sources.
Jackson Health has been working closely with Miami-Dade County's Emergency Operation Center, according to Jennifer Piedra, Jackson Health System's spokesperson. Jackson has enough fuel, generators and supplies to sustain operations for more than four days, Piedram said.
1 hr 30 min ago
How the coronavirus pandemic is affecting hurricane forecasts
From CNN's Allison Chinchar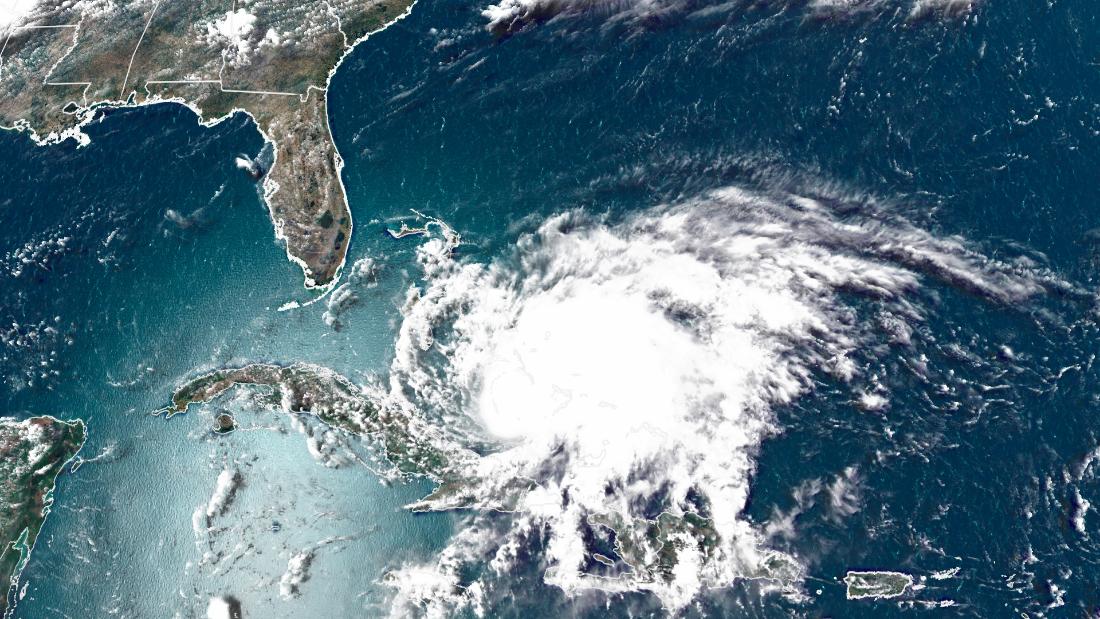 CNN
The National Hurricane Center and other NOAA agencies are among those essential organizations that are trying to protect their employees from Covid-19 so they can keep working and putting out life-saving information for American families.
The problem isn't so much with normal, day-to-day operations, but rather with big events, when staffing at National Weather Service (NWS) offices can often double or triple what it normally is.
"Normal staff for our office is about 2-4 people depending on the shift, but during big events such as tornado outbreaks and tropical systems our staff could surge to 7-8 people," explains Kyle Thiem, meteorologist at NWS Atlanta office.
Yet adding more people into an enclosed space creates problems in a world with Covid-19. So how do they allow for the added staff while not compromising their safety or the life-saving information they put out?
"We took steps early to protect the facility to ensure a safe environment for our staff," says Dennis Feltgen, a communications officer for NOAA. "We have also followed the guidelines on distancing, both at workstations and common areas, and we will continue to do our best to keep our staff safe and ready as the hurricane season continues."
In some cases, having the employees work from home is also an option.
"Non-essential duties are being handled remotely," shares Maureen O'Leary, spokeswoman for the National Weather Service. "To minimize cross contamination within an office we are staggering shift changeovers and doing "remote" hand offs wherever possible. A forecaster completing a shift and one arriving for the next shift exit and enter through different doors to minimize any contact. The health and well-being of our workforce is our top priority."
Read more here.
All rights reserved for