1 min ago
How Florida is bracing for a hurricane in the middle of a pandemic
From CNN's Jason Hanna and Amir Vera
Member of Florida House of Representatives Vance Aloupis (center) puts sand bags in a resident's car trunk in Palmetto Bay near Miami, on Friday as Floridians prepare for Hurricane Isaias. Chandan Khanna/AFP via Getty Images
Hurricane Isaias is continuing toward Florida, and the storm comes at a sensitive time during the coronavirus pandemic. On Friday, Florida marked the fourth consecutive day it reported a record number of Covid-19 deaths in the state at 257.
Florida closed some state-supported Covid-19 drive-through and walk-up testing sites on Thursday in anticipation of the storm.
Testing is shut down in Miami and will likely stay that way until Tuesday or Wednesday, Miami Mayor Francis Suarez told CNN Friday.
"That's going to be a gap in information for four or five days," Suarez said.
Here's what else Florida is doing to prep for a hurricane in the middle of a pandemic:
Safety at shelters: In Palm Beach County, Mayor Dave Kerner said a zone that primarily has mobile homes will be evacuated. The county will open six shelters Saturday morning at area schools and a recreation center, Kerner said. Kerner said the shelters would feature coronavirus precautions. Those taking shelter will have their temperatures checked, and will be divided into family units. Masks will be provided as needed and law enforcement will help enforce social distancing, he said. Extra PPE: Thousands of kits with personal protective equipment are being sent to shelters in counties that are in the storm's path, Florida Gov. Ron DeSantis said Saturday. Possible power delays: Power outages could last longer than usual because of the pandemic, Florida Power & Light spokesman Bryan Garner said. That's partly because restoration teams are taking time and space for health precautions, he said. They're social distancing, working in small groups, sanitizing equipment and going through temperature checks and health screenings, Garner said.
28 min ago
Voluntary evacuation in place for some residents in Florida's Indian River County
From CNN's Melissa Alonso
Indian River County, Florida, officials have issued a voluntary evacuation for residents in mobile homes or low lying areas ahead of Hurricane Isaias, according to a Saturday news briefing. 
Three shelters are open, in Port St. Lucie and Vero Beach, but emergency officials stressed that these should be used as a last resort because of Covid-19. Residents should try to shelter in place with family or friends before heading to shelters, officials said.  
Shelters will have proper social distancing, with 60 square feet being allocated for each person, instead of the usual 20 square feet per person, officials said. 
There is a possibility that barrier island bridges may close; emergency and local officials will determine if that is necessary depending on wind speeds and conditions, officials said. 
31 min ago
What it's like in Fort Lauderdale today as Isaias approaches Florida
From CNN's David Williams
Suzi Watson-Roberson shot video of the winds and rain a band from Hurricane Isaias brought to Fort Lauderdale, Florida, this afternoon.
Watson-Roberson — who is an NWS Storm Spotter and an amateur storm chaser from Brooklyn, Michigan — took the video around 2:15 p.m. ET.
She and her husband and son are planning to fly back home tomorrow.
Here's her footage:
41 min ago
Florida's Kennedy Space Center visitor complex to close Sunday
From CNN's Devon M Sayers
People walk through the Kennedy Space Center Visitor Complex hursday, May 28, 2020, at Cape Canaveral, Fla. The center reopened today after closing March 16 due to the coronavirus pandemic. (AP Photo/Charlie Riedel) Charlie Riedel/AP
The Kennedy Space Center visitor complex will be closed on Sunday due to Hurricane Isaias, according to the center.
During the closure, visitors will not be allowed on the visitor complex grounds.
Read a tweet from the center:
56 min ago
Here's where Hurricane Isaias is now — and where it's going next
Hurricane Isaias is current cover the Bahamas and it continues to head closer toward the US.
According to its latest 2 p.m. ET advisory, the National Hurricane Center believes the storm will continue as a hurricane as it approaches Florida today — but there is still uncertainty about where it will make landfall and how widespread the storm's impacts will be. 
The storm is expected to turn to the north either on or very near the east coast of Florida, so landfall is possible anywhere north of Boca Raton, where the hurricane warnings are in effect
Southeast Florida, including Miami, will see its worst weather overnight tonight and into tomorrow morning. Further north, much of the east coast of Florida could see hurricane conditions develop on Sunday as Isaias works its way from roughly West Palm Beach tomorrow morning to the Space Coast by Sunday evening.
sonos sonos One (Gen 2) - Voice Controlled Smart Speaker with Amazon Alexa Built-in - Black
read more
Here's the latest forecast:
53 min ago
Coronavirus positivity rate in South Carolina hits 18% ahead of Hurricane Isaias
From CNN's Hollie Silverman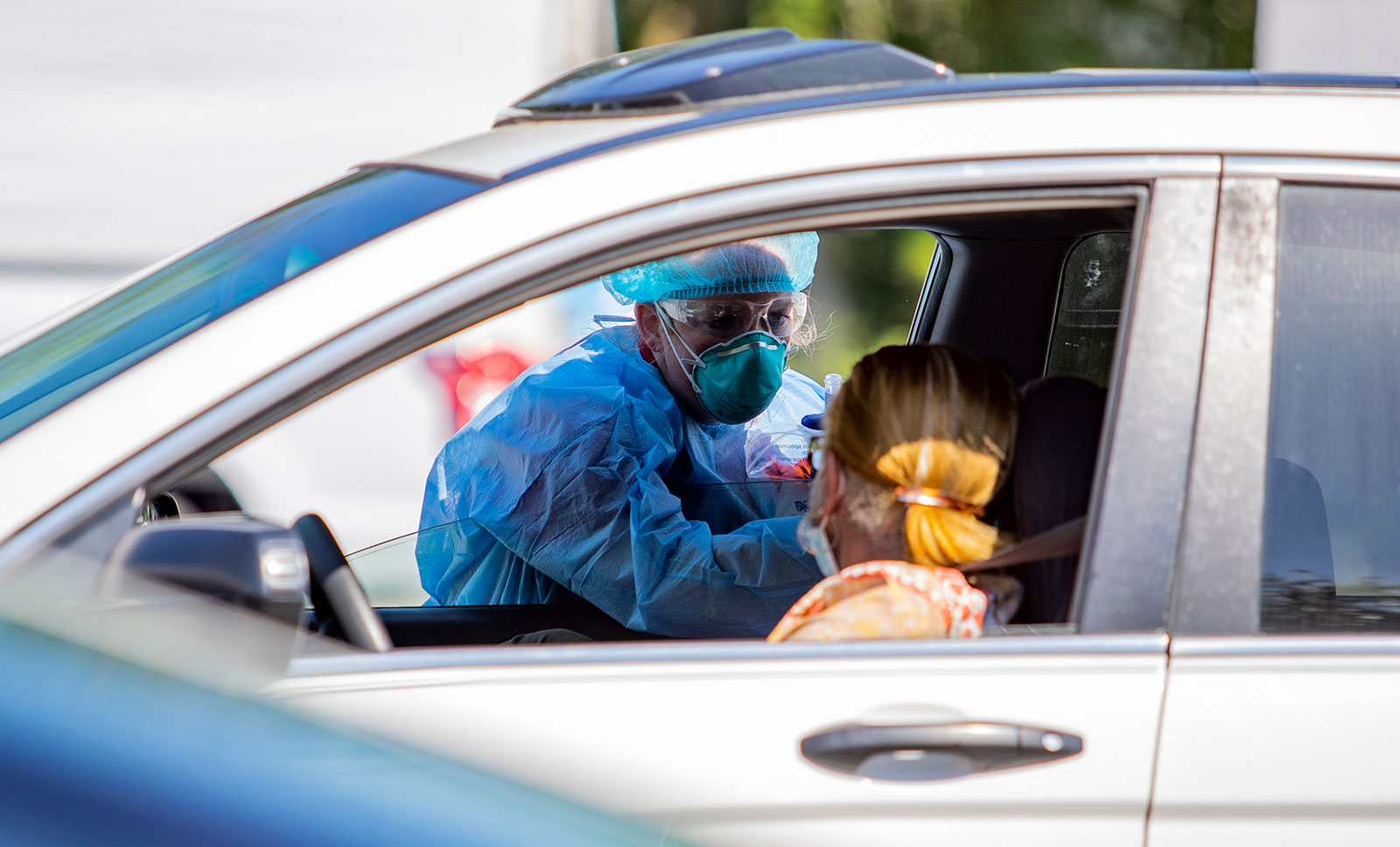 A healthcare worker administers a coronavirus test at a drive-thru testing center in Myrtle Beach, South Carolina, on July 17. Josh Bell/The Sun News/AP
South Carolina's Department of Health and Environmental Control announced an 18.5% positivity rate for new coronavirus tests in a press release Saturday.
The high positivity rate comes as Hurricane Isaias heads for the east coast of the US.
Gov. Henry McMaster announced Friday that the state would not issue any mandatory evacuations but encouraged residents to monitor weather updates and local warnings. 
By the numbers: There were 1,491 new confirmed Covid-19 cases and seven new probable cases were reported, the release from the department said. This now a total of 90,076 confirmed coronavirus cases and 523 probable cases in South Carolina.
1 hr 57 min ago
Cajun Navy is deploying a crew to North Carolina ahead of Hurricane Isaias
From CNN's Rosa Flores and Sara Weisfeldt in Miami
The United Cajun Navy is deploying a team to North Carolina ahead of Hurricane Isaias, according to United Cajun Navy spokesperson Todd Terrell.
Despite the Covid-19 pandemic, the group of citizen responders and rescuers from Louisiana will respond during the 2020 hurricane season, but teams will be wearing masks, doing temperature checks and using other personal protective equipment, Terrell said.
The group is also deploying a drone team to Florida to follow the storm.
2 hr 2 min ago
Florida's Volusia County prepares for storm, but shelters remain closed
From CNN's Natasha Chen and Kevin Conlon 
Volusia County has not issued any evacuation orders nor has it opened any shelters at this time in anticipation of Hurricane Isaias, according to public information officer Kate Sark. 
Sark told CNN that, if needed, the county emergency management is prepared to open more shelters than in previous hurricane seasons, to allow families space to socially distance inside. This means shelter capacity would be reduced at each location, according to Sark. 
For any shelters that may open, masks will be required, and personal protective equipment will be available, including face coverings for those who do not have their own, and hand sanitizer. Stricter cleaning procedures will also be followed, Sark said. 
Bridges in the county will only shut down when winds reach a sustained 40 mph, Sark said. 
Sandbags are currently available at multiple locations for residents to pick up.
2 hr 8 min ago
Beach communities in North Carolina issue mandatory evacuation orders
From CNN's Deanna Hackney
Holden Beach, North Carolina, has issued a mandatory evacuation order effective Saturday at 7 p.m. for all renters, vacationers, and guests due to the imminent threat of Hurricane Isaias. 
Residents are not yet required to leave, according to the proclamation signed by Mayor J. Alan Holden. 
Ocean Isle Beach, North Carolina, has also issued a mandatory evacuation order for renters, vacationers, and guests as of noon Saturday.  
The order strongly encourages property owners and residents to "begin making preparations for the storm now and be prepared for the possibility of a