3 hr 23 min ago
Germany already in second wave, says doctors' association
From CNN's Fred Pleitgen in Berlin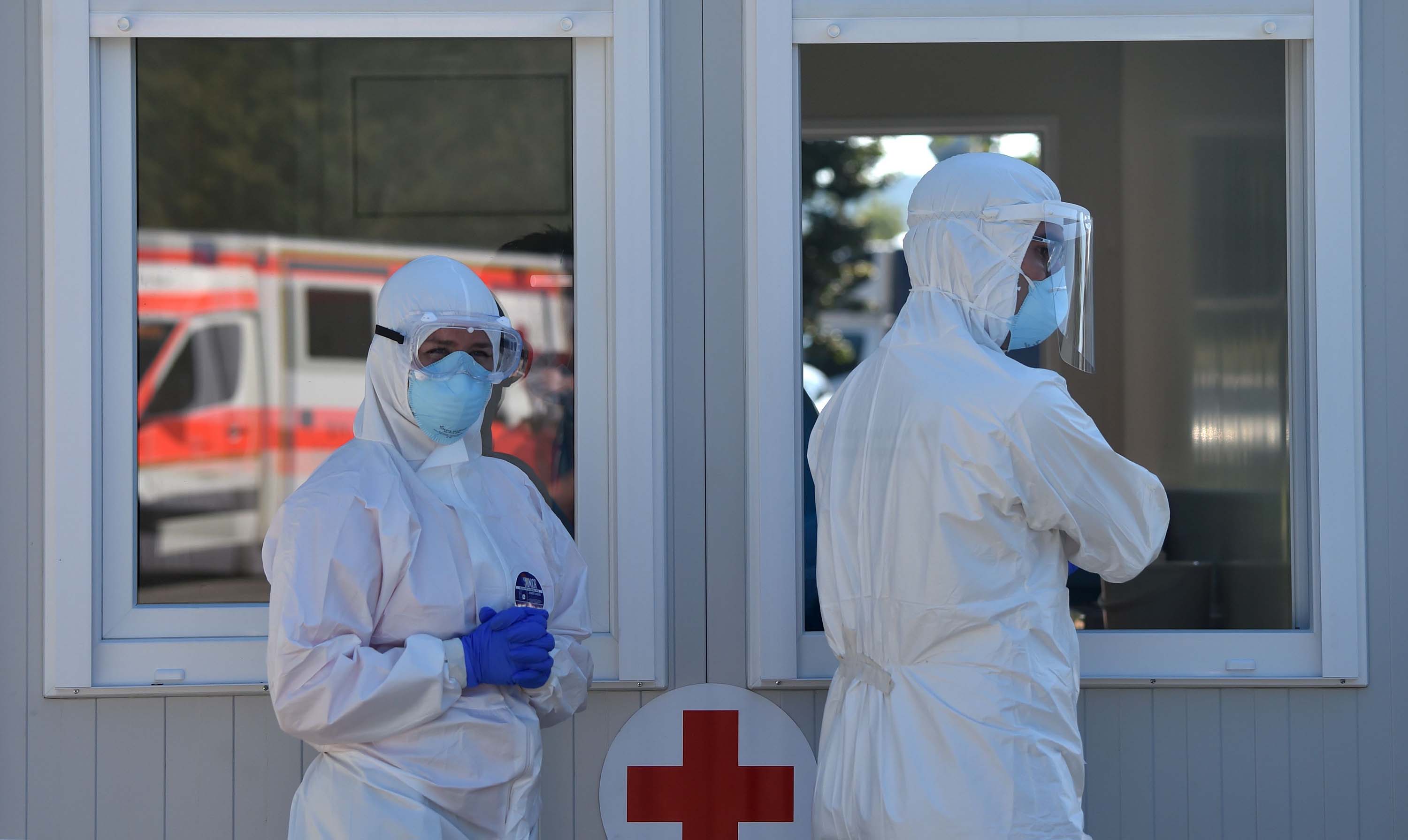 Health workers are seen at a Covid-19 testing station at a motorway service area in Hochfelln, Germany, on July 30. Christof Stache/AFP/Getty Images
Germany is currently experiencing a second coronavirus wave, according to a physicians' association in the country.
"We are already in a second … wave of rising infections," Susanne Johna, head of the Marburger Bund, said in an interview with the Augsburger Allgemeine newspaper. 
Germany has seen a rise in new Covid-19 infections in the past days, causing alarm among politicians and disease experts who are calling on citizens to more strictly adhere to physical distancing and hygiene measures.
"There is the danger that we could gamble away the successes we have achieved so far in Germany due to a combination of blocking out reality and a yearning for normalcy," Johna said in the interview. 
The Marburger Bund believes Germany's hospital system is currently well prepared to face a rise in infections after the country vastly expanded its ICU capacities. But Johna warned citizens not to get complacent: 
"We are all longing for normalcy. But we continue to live in a situation that simply is not normal."
3 hr 27 min ago
Londoners consider leaving the city as coronavirus leaves its mark
The impact of Covid-19 is being felt in London, where previously bustling streets are now often deserted and some shops are still shuttered. But the British capital also has a long history of enduring hardship. CNN's Phil Black reports.
WATCH:
3 hr 50 min ago
Hong Kong confirms 80 new virus cases
From CNN's Vanesse Chan and Phoebe Lai in Hong Kong 
Medical workers walk past rows of beds at a temporary field hospital set up to house Covid-19 patients in Hong Kong, on August 1. Isaac Lawrence/AFP/Getty Images
Hong Kong confirmed an additional 80 cases of Covid-19 on Tuesday, of which 75 are local infections.
The city's health department said the source of 32 cases are still under investigation.
The five imported cases are from two aircrew staff from Manila and Belgium, two domestic helpers from the Philippines and one person from Russia.
There were about a dozen confirmed cases in the Hung Hom and To Kwa Wan markets involving multiple shops which are now being investigated. Elderly care homes also continue to be a source of local cases.
Four new deaths were reported, bringing the death toll in the city to 41. The total number of infections reported in Hong Kong stand at 3,670.
4 hr 5 min ago
It's 11 a.m. in London and 6 p.m. in Beijing. Here's the latest
There have been more than 18.2 million confirmed cases of coronavirus worldwide, and close to 700,000 deaths, according to figures from Johns Hopkins University.
Here's the latest on the pandemic:
Potential "generational catastrophe": UN Secretary-General Antonio Guterres warned on Tuesday that the world is facing a "generational catastrophe" because of school closures during the coronavirus pandemic. In mid-July, schools were closed in more than 160 countries, affecting more than 1 billion students, while at least 40 million students worldwide have missed out on education in their critical pre-school year. 
India logs more than 50,000 cases for sixth day in a row: India recorded 52,050 new Covid-19 infections and 803 deaths from the virus over the past 24 hours, the country's Ministry of Health and Family Welfare said on Tuesday -- the sixth consecutive day that India has reported more than 50,000 cases.
Australia deploys more soldiers: Australia's Defense Department will deploy 500 more troops to enforce stay-at-home orders in the state of Victoria, according to State Premier Daniel Andrews.
New penalties were also announced for people found to be in breach of directions, including a newly increased $3,540 on-the-spot fine for those who breach isolation orders. Andrews said the new fines were being imposed because of the 3,000 door knocks on infected people -- who are meant to be self isolating -- 800 patients were not home.
Trump asks supporters to wear masks: US President Donald Trump on Monday sent a campaign email, typically used for soliciting donations, to make a different request of his supporters: consider wearing a mask.
The rare move comes after Trump avoided wearing a mask in public for months until he tweeted a photo of himself wearing one in a stark messaging pivot in July -- though footage later surfaced of Trump not wearing a mask later that day.
Only 2.5% of Italians have antibodies, study shows: Authorities in Italy have found that only 2.5% of Italians, or 1,482,000 people, have Covid-19 antibodies despite it being one of the countries hardest hit by coronavirus in Europe.
According to the results of a national survey released on Monday, the northern region of Lombardy, the worse-hit by the pandemic, reported the highest number of people with antibodies, 7.5%, while the two main Italian islands, Sicily and Sardinia, had the lowest number of 0.3% of the population. 
4 hr 57 min ago
Countries are strengthening their face mask rules. Soon you might have to wear one outdoors, too
From CNN's Rob Picheta
Cases are ticking upwards in parts of Europe, the process of unlocking is paused in the UK, and the Americas are still battling to contain vast Covid-19 outbreaks.
But as the tremors of a potential second wave of infections are starting to be felt, some governments are reaching for a new tool that many public health experts have been touting for months: stricter mask mandates.
In recent days, masks have become mandatory in all public spaces -- indoors or outdoors -- in Madrid, Greece, Portugal's Madeira Islands and Hong Kong.
Those moves seemingly contradict the long-held understanding that Covid-19 is more dangerous indoors. The British government, among others, used its first steps out of lockdown to encourage people to meet outdoors; parks, beaches and nature spots around the world have been inundated by guests throughout the pandemic.
But the reasoning behind the decisions is simpler than that: after months of mixed messaging from health authorities on face coverings, governments are opting for blanket rules to help make mask-wearing a cultural norm.
"There's been a lot of confusion about where people should wear masks, and where there's confusion, people just disengage and don't wear them," Melinda Mills, director of Oxford University's Leverhulme Centre for Demographic Science, told CNN. "That's why (some countries) are moving to a broad, blanket policy.
"I'm for clarity in public messaging, and in many countries, I think it's been a mess," she added.
Mask mandates: Researchers reported Monday that communities that mandated the use of face masks in public saw an ongoing decline in the spread of the coronavirus, but it takes some time.
Once mandates had been in place for about three weeks, the daily growth rate slowed by about 2% on average, researchers reported in the journal Health Affairs.
Their estimates suggest that these percentage decreases could add up. They calculate that between 230,000 and 450,000 Covid-19 cases could have been averted by May 22 by mask mandates.
sonos sonos One (Gen 2) - Voice Controlled Smart Speaker with Amazon Alexa Built-in - Black
read more
Read the full story:
5 hr 29 min ago
There's still a long way to go in the pandemic, WHO official says, while US tops 155,000 deaths
From CNN's Christina Maxouris
US leaders have struggled to enforce social gathering rules and mask mandates as residents push for a return to normal life amid a rampant spread of coronavirus. But while people may be tired of the pandemic, there's still a long way to go, one world health official said Monday.
"We need to remain focused. We need to remain strong," the World Health Organization's Covid-19 technical lead, Maria Van Kerkhove, said.
"We need to accept that this is challenging, but use these challenges to really put it towards something positive and fight this pandemic together."
New restrictions were put in place by many US states after parts of the country began reopening and -- several weeks later -- saw a spike in cases.
In May, when most states first began lifting restrictions and images of crowded bars and parties emerged, experts warned that without social distancing and face coverings, there would likely come a surge. Months since those first reopenings, states across the South are reporting thousands of new cases each day and as some seem to near a peak of cases, parts of the Midwest are now raising alarm.
The spread of the virus is more widespread than ever before, prompting White House coronavirus response coordinator Dr. Deborah Birx to say over the weekend the US has entered a "new phase" of the pandemic.
Rising death toll: Across the country, more than 4.7 million have been infected since the start of the pandemic, and at least 155,469 have died. Health officials project there will be thousands more deaths in the coming weeks.
At least 13 states have reported more than 100,000 coronavirus infections, and four of them -- California, Florida, Texas and New York -- have recorded more than 400,000.
Read the full story:
1 hr 56 min ago
UN chief warns the world is facing a "generational catastrophe" on education
From CNN's Radina Gigova in Atlanta 
UN Secretary-General Antonio Guterres warned on Tuesday that the world is facing a "generational catastrophe" because of school closures amid the coronavirus pandemic and "getting students back into schools and learning institutions as safely as possible must be a top priority" once local transmission of Covid-19 is under control. 
"The Covid-19 pandemic has led to the largest disruption of education ever," Guterres said in a video message as he launched the "Save our Future" campaign with education partners and United Nations agencies. 
"Despite the delivery of lessons by television, radio and online, and the best efforts of teachers and parents, many students remain out of reach," he said. 
In mid-July, schools were closed in more than 160 countries, affecting more than 1 billion students, he said. At least 40 million students worldwide have missed out on education in their critical pre-school year. 
Learners with disabilities, those in minority or disadvantaged communities, displaced and refugee students, and those in remote areas are at highest risk of being left behind, he said. 
"And even for those who can access distance learning, success depends on their living conditions," Guterres said. "Parents, especially women, have been forced to assume heavy care burdens in the home." 
"We already faced a learning crisis before the pandemic," he said. "Now we face a generational catastrophe that could waste untold human potential, undermine decades of progress, and exacerbate entrenched inequalities." 
More than 250 million school-age children were out of school before the start of the pandemic and only a quarter of secondary school children in developing countries were leaving school with basic skills, he said. The knock-on effects on child nutrition, child marriage and gender equality, among others, are also "deeply concerning."
The campaign calls for action in four key areas, including reopening schools, prioritizing education in financing decisions, targeting the hardest to reach and focusing on creative and innovative ways of teaching. 
6 hr 30 min ago
Cricket Australia postpones T20 series against West Indies in October
From CNN's Jadyn Sham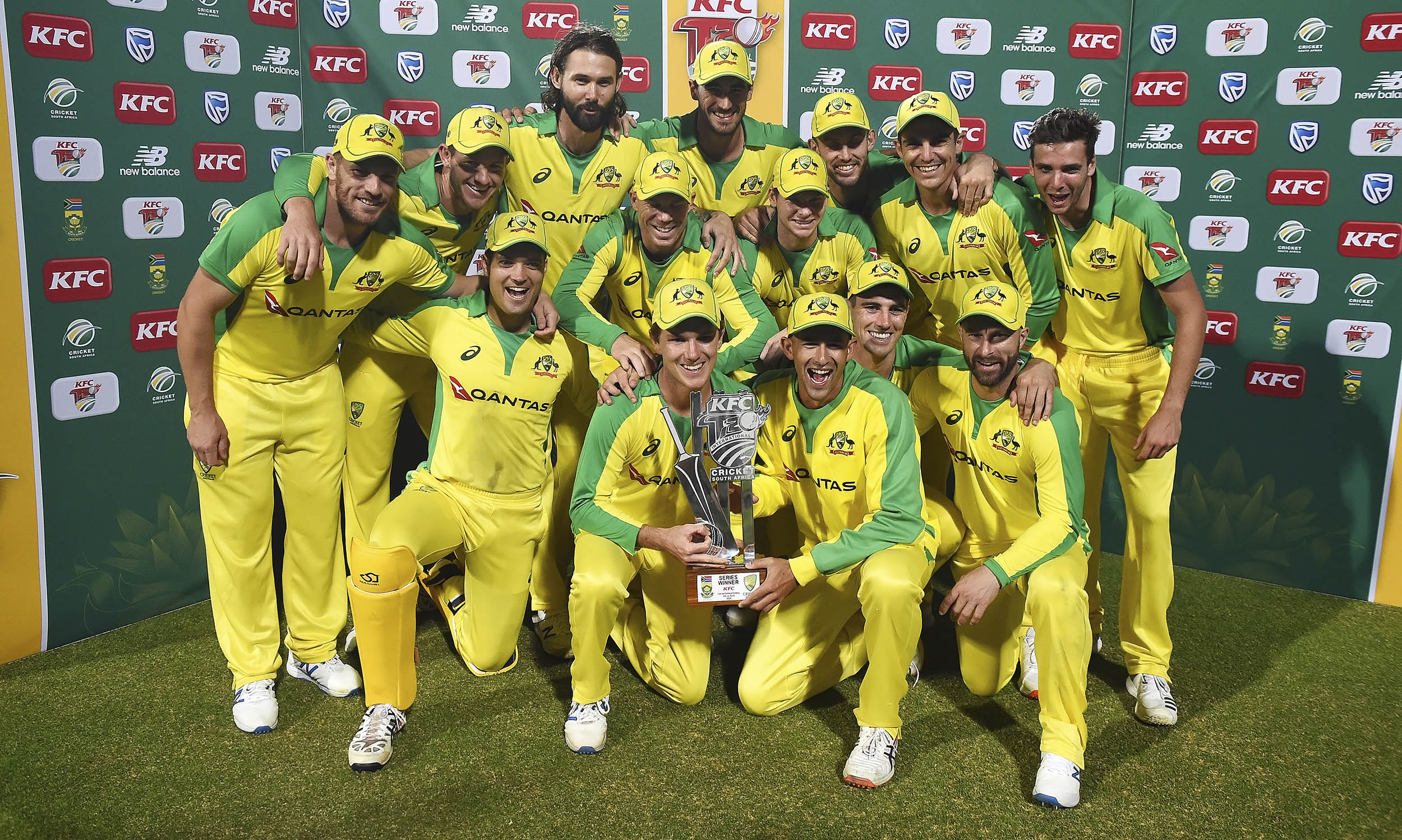 Australia celebrated winning the T20 series against South Africa at Newlands Cricket stadium in Cape Town, South Africa, February 26, 2020. AP Photo
Australia's forthcoming T20 cricket series against the West Indies has been postponed because of the spread of coronavirus, according to Cricket Australia's verified Twitter account.
Cricket Australia's media division said Tuesday the decision to postpone the series -- originally scheduled for Queensland in October -- was due to the Covid-19 pandemic that has created "chaos with the international schedule."
The West Indies had been scheduled to play matches in Queensland in early October, with the series to act as a warm-up for the Men's T20 World Cup, according to Cricket Australia. 
"Together with @windiescricket, we have agreed to postpone the Twenty20 series originally scheduled for Queensland in October. Serving as warm-ups for the ICC T20 World Cup, the series will now coincide with the rescheduled T20 World Cup in Australia, in either 2021 or 2022." Cricket Australia tweeted on Tuesday.
Australia was due to host the Men's T20 World Cup in October, but Cricket Australia said that tournament will now be postponed with a new date to be announced in due course.
7 hr 1 min ago
In Venezuelan state of Zulia, 22 doctors have died of coronavirus
From CNN's Stefano Pozzebon in Bogota, Colombia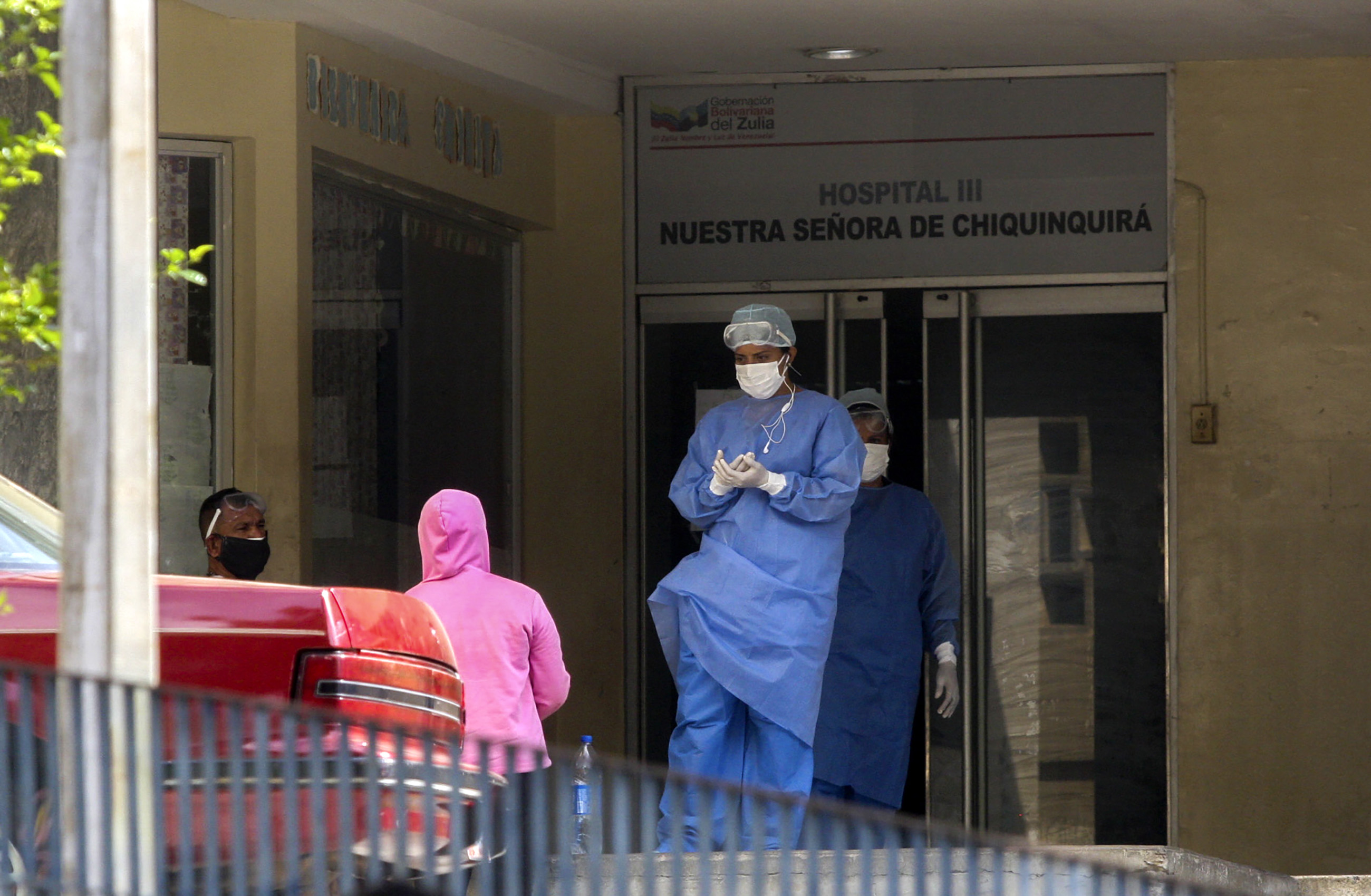 Medical personnel are seen outside the emergency room of the University Hospital in Maracaibo, in Venezuela, on July 2, amid the Covid-19 pandemic. Luis Bravo/AFP via Getty Images
Twenty-two doctors have died of Covid-19 in the northwestern Venezuelan state of Zulia, Dr. Daniela Parra, the president of the Zulia College of Doctors, told CNN on Monday. 
Speaking with CNN from the state capital, Maracaibo, Parra said, "It's in front of everyone's eyes that the medical staff is paying the highest price because of the pandemic."
Parra added that the College of Doctors presented recommended measures to both Maracaibo City Hall and the governor of Zulia to lower the risks for doctors on the front line against Covid-19. 
"We recommended to reduce the hospital's shift from 12 hours to eight hours, so to reduce the (exposure) of our doctors to the virus, and purchase more PPE," Parra said. 
Located near the Colombia border, Zulia is the country's second most affected state, with 3,421 reported cases.
CNN has previously documented the difficult conditions of medical facilities in Venezuela and particularly in Zulia, where most hospitals lack running water, electricity and