51 min ago
Biden meeting with Blake family now at Milwaukee airport
From CNN's Sarah Mucha
Democratic presidential nominee Joe Biden is meeting now with the Blake family privately at the Milwaukee airport, according to the pool report.
Here's a list of attendees, according to the campaign via pool:
Jacob Blake, Sr., Jacob Blake's father Letetra Widman, Jacob Blake's sister Myron Jackson, Jacob Blake's brother Zietha Blake, Jacob Blake's sister Julia Jackson, Jacob Blake's mother (by phone) Ben Crump, Jacob Blake's attorney (by phone) Patrick Salvi, Sr., on Jacob Blake's legal team  B'Ivory LaMarr, on Jacob Blake's legal team 
29 min ago
Biden has landed in Wisconsin
From CNN's Eric Bradner
Carolyn Kaster/AP
Democratic nominee Joe Biden is in Wisconsin today, and is planning to hold a community event in Kenosha and then meet with the family of Jacob Blake.
Biden's trip comes two days after President Trump visited Wisconsin. Biden and his running mate, California Sen. Kamala Harris, have also spoken with Blake's family. Trump has not.
For Biden, the trip is a return of sorts to travel to the most important 2020 swing states — which his campaign has strictly limited since mid-March during the coronavirus pandemic. He also delivered a speech Monday in Pittsburgh, Pennsylvania, another crucial state in November's general election.
Biden told reporters Wednesday he has received "overwhelming requests" from Democratic leaders that he travel to Wisconsin.
"What we want to do is — we've got to heal. We've got to put things together. Bring people together," Biden said.
The shooting of Blake — which left him paralyzed from the waist down, his family says — has moved police brutality, racial injustice and the looting and property damage that have followed some protests to the forefront in one of the nation's most important swing states in November's general election.
1 hr 16 min ago
Trump
dismissed question about racism while in Kenosha earlier this week
From CNN's Maegan Vazquez
President Trump visited Kenosha, Wisconsin, on Tuesday, going against the wishes of officials requesting he stay away from the city, which is still coping from the recent shooting of an unarmed Black man by law enforcement and subsequent demonstrations that have turned deadly.
The President did not meet with the family of Jacob Blake, the man who was shot in the back seven times by a police officer. Trump claimed that he's not meeting with Blake's family during his Wisconsin visit because they wanted to involve lawyers. The pastors of Blake's mother, Julia Jackson, took part in one event.
During the trip, Trump was asked by a reporter whether he thinks systemic racism is a problem in the United States, given that there are also peaceful protests around the country calling for an end to it. The President responded: "Well, you know you just keep getting back to the opposite subject. We should talk about the kind of violence we've seen in Portland and here and other places."
"The fact is that we've seen tremendous violence and we will put it out very, very quickly if given the chance," he continued.
Trump also largely sided with the message he's held onto since demonstrations spread across the country this summer, arguing that police violence is not a systemic issue and saying that the people of Kenosha want "law and order" and "want the police to be police."
Trump's visit to the swing state marked another attempt to continue his campaign of linking Democrat-run cities and states to violence ahead of the November election in an attempt to paint himself as voters' candidate for law and order.
His visit included surveying areas of the city damaged by demonstrations, touring an emergency operations center and a high school, and then holding a public safety roundtable.
1 hr 26 min ago
Blake's family is pushing for conviction of officer
From CNN's Madeline Holcombe
Daniel Boczarski/Getty Images for MoveOn
More than a week after Jacob Blake was shot, his family said his life is no longer in danger — but still so few of their questions have been answered.
"He's slowly but surely able to talk a little better, able to stay up a little longer, hold the hand of his father," Justin Black, his uncle, told CNN's John Berman on Tuesday. But even when Blake does talk, he added, he can't seem to get past questions around the incident that put him in the hospital.
President Trump visited Kenosha, Wisconsin, on Tuesday but he did not meet with the Blake family and members said they don't feel enough has been done. They are calling for the conviction of the police officer involved in the shooting of Blake.
"If we're not talking about laws of reform — immediately reforming some of these police — then really I don't want to speak to you at all," Blake's father, Jacob Blake, Sr., told CNN's Don Lemon Tuesday. "But if you're talking about some reform, you can sit down with me. We can have some coffee or tea."
Blake's family said he posed no threat to officers, and they don't think there will be justice until there is a conviction of the officer, who was placed on administrative leave.
"The Blake family is pushing for an indictment of the officer that took liberties to shoot our nephew unarmed seven times in the back. That looks like justice to get an indictment, but not to us," Justin Blake said. "We want him to be convicted. We want him to go to jail."
His uncle said Blake asked the other night why officers shot him so many times.
The Kenosha Professional Police Association alleges Blake fought with officers trying to arrest him, put one officer in a headlock and carried a knife he refused to drop when ordered to do so.
sonos sonos One (Gen 2) - Voice Controlled Smart Speaker with Amazon Alexa Built-in - Black
read more
Raysean White, who recorded video of Blake being shot, has said he didn't see Blake holding a knife or harming officers, but he saw only part of the incident.
An attorney for the family, Patrick Salvi Jr., took issue with Trump's description of the officers as golfers who choke and miss a put and the incident as a "kill or be killed" situation.
The officers had minutes, not seconds, to make decisions, he said. And video shows the officers were not in danger from Blake.
"At no point in time was Jacob's momentum towards the officers. And what you see is that the officer is pulling on his shirt and then fires those seven bullets into Jacob's back. If he was concerned that Jacob had a knife, why wouldn't he back away?"
Blake appears to have told officers that he had a knife in his possession, the Wisconsin Department of Justice Division of Criminal Investigation has said. Investigators later "recovered a knife from the driver's side floorboard" of Blake's vehicle and no other weapons were found, the agency said.
Two videos have been released showing the encounter between Blake and police, but another attorney for the family, Ben Crump, said another video will clear up misconceptions and show that Blake was trying to get away from officers.
1 hr 33 min ago
Barr defends justice system following outcry over Blake's shooting
From CNN's Katelyn Polantz, Caroline Kelly and Christina Carrega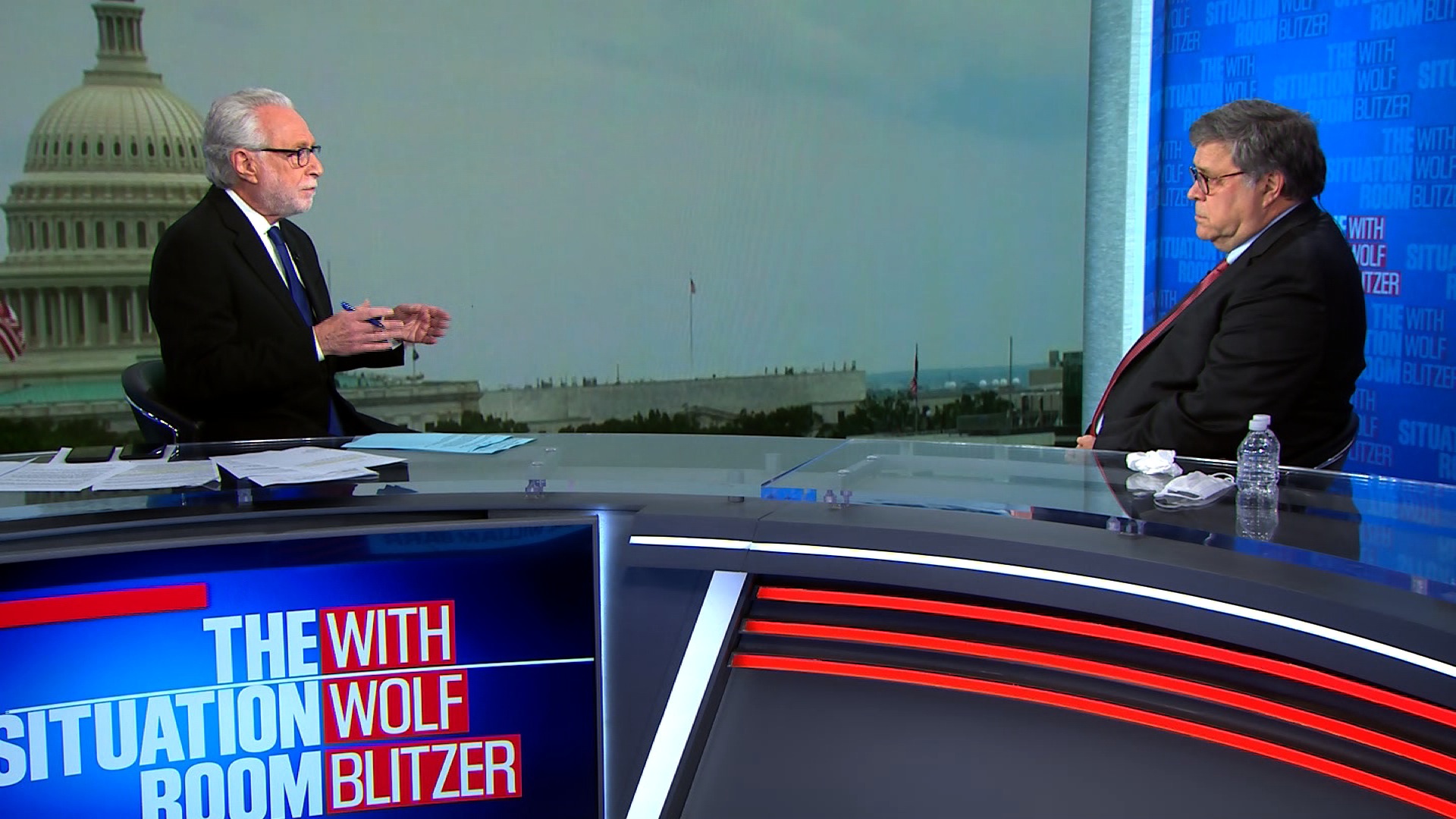 CNN
Attorney General William Barr, in an exclusive interview on CNN, broadly defended the actions of police, saying shootings of Black Americans often weren't racially motivated and weren't as common as public demonstrations have made them seem.
"I don't think there are two justice systems," Barr said in a sometimes contentious interview on CNN's "The Situation Room with Wolf Blitzer." "I think the narrative that the police are in some epidemic of shooting unarmed black men is simply a false narrative and also the narrative that's based on race."
Barr acknowledged, however, that at times it created different situations for Black and White Americans.
"I think there are some situations where statistics would suggest that they are treated differently. But I don't think that that's necessarily racism," Barr said.
"Didn't Jesse Jackson say that when he looks behind him and he sees a group of young Black males walking behind him, he's more scared than when he sees a group of White youths walking behind him," Barr added. "Does that make him a racist?"
The Rev. Jesse Jackson Sr. said later Wednesday that Barr had taken his comments out of context.
Jackson told CNN that back in the 1990s, his family lived in a "drug-infested neighborhood," where "a family member's son was killed right in front of my house, killed right in front of my wife, a drug thing."
Jackson said that he had been talking about "the young man" who killed his relative. "If he comes behind me, I would be afraid," Jackson said.
"Now what Mr. Barr said is the opposite about what I meant about crime," he said. "Those shot in Wisconsin, the killings in Ferguson and the killing in Atlanta, Breonna (Taylor) and George Floyd, all of those were police killings that had nothing to do with who was coming down the street."
"I would love to have a conversation with William Barr," Jackson added.
1 hr 48 min ago
Biden to meet with Jacob Blake's family in Kenosha today
From CNN's Eric Bradner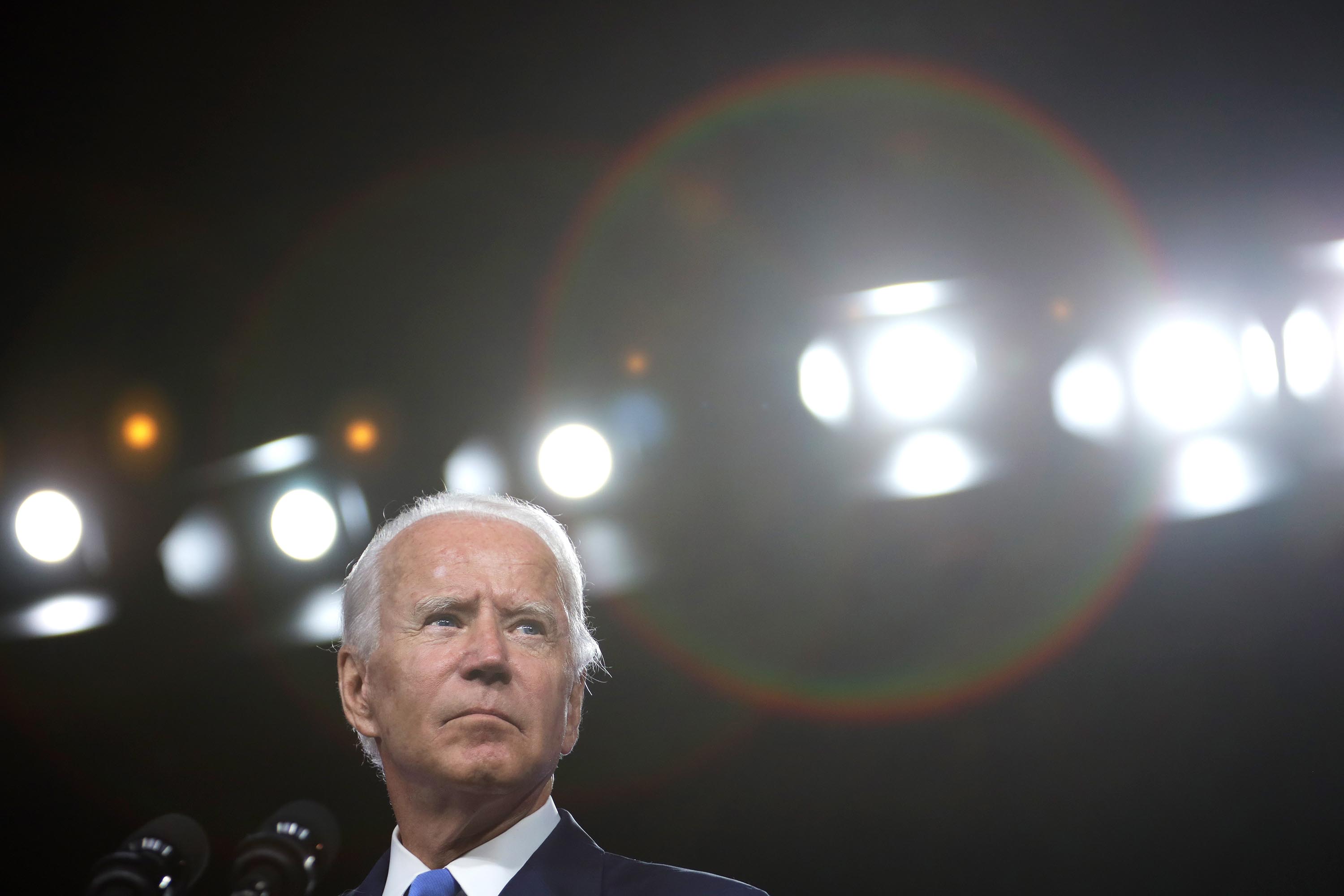 Alex Wong/Getty Images
Democratic presidential nominee Joe Biden will visit Kenosha today, the Wisconsin city where the police shooting of 29-year-old Jacob Blake reignited protests over racial injustice, his campaign said.
Biden and his wife, Jill Biden, "will hold a community meeting in Kenosha to bring together Americans to heal and address the challenges we face," his campaign said Wednesday.
Biden also will meet with Blake's father, Jacob Blake Sr., and other Blake family members during the visit, according to a family spokesperson and campaign official.
The trip comes two days after President Trump visited Kenosha, ignoring the objections of local leaders, including Democratic Gov. Tony Evers, who said in a letter to Trump that he was "concerned your presence will only hinder our healing."
Biden told reporters Wednesday that he has received "overwhelming requests" from Democratic leaders that he travel to Wisconsin.
"What we want to do is — we've got to heal. We've got to put things together. Bring people together," Biden said.
The shooting of Blake — which left him paralyzed from the waist down, his family says — has moved police brutality, racial injustice and the looting and property damage that have followed some protests to the forefront in one