18 min ago
CNN's town hall with Joe Biden has started
From CNN's Kate Sullivan and Eric Bradner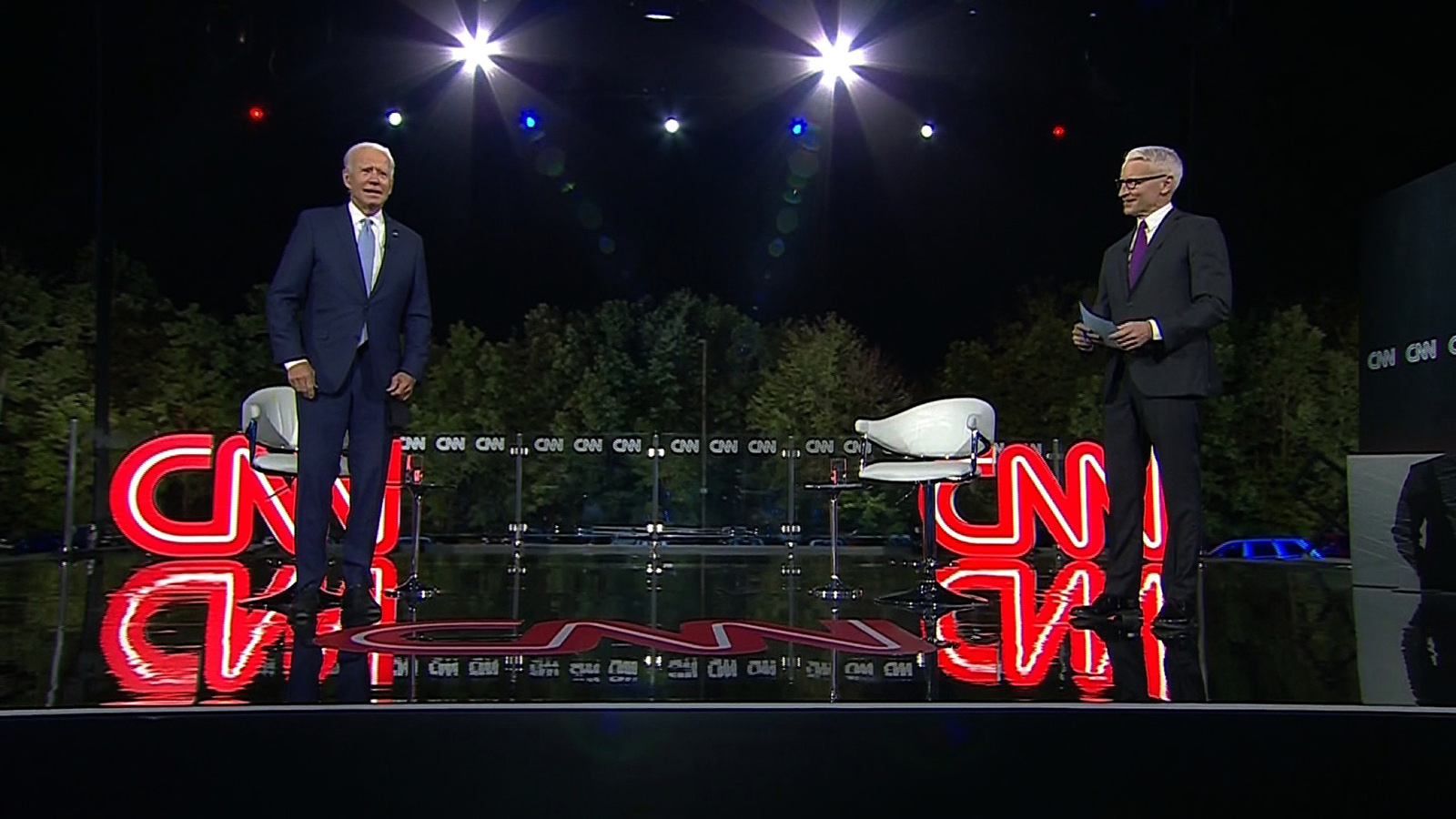 Democratic presidential nominee Joe Biden and CNN's Anderson Cooper speak on stage at the CNN Presidential Town Hall in Scranton, Pennsylvania, on Thursday. CNN
CNN's town hall with Democratic presidential nominee Joe Biden has begun. The former vice president will face questions from Pennsylvania voters in an unconventional setup due to the coronavirus pandemic — a drive-in town hall.
Biden's presidential campaign has made character its centerpiece, as the Democratic nominee casts the 2020 presidential race as a test of the "soul of the nation" against President Trump.
But he has also released a stream of policy proposals outlining what he would try to accomplish in office. And that platform is likely to be a focus tonight.
Here are some key policy issues that may take center stage:
The economy Taxes Health care Education Coronavirus Race relations Climate change Foreign policy
Read about Biden's proposals on these topics here.
36 min ago
CNN is hosting its first drive-in town hall due to the pandemic. Here's how it will work.
From CNN's Kate Sullivan
Source: CNN
CNN is hosting its first political drive-in town hall of the 2020 presidential election tonight. Democratic presidential nominee Joe Biden will face questions from viewers live in a setup in the parking lot of PNC Field in Moosic and CNN's Anderson Cooper will moderate the discussion.
Thirty-five cars will file into the parking lot, where a stage and monitors have been set up, and audience members and cars will be spaced out to comply with social distancing guidelines, according to Kate Lunger, the vice president of CNN's special events team.
There will be about 100 people in attendance at PNC Field, which is the home of the minor league baseball team the Scranton/Wilkes-Barre RailRiders. The event location is a short drive from Biden's childhood home in Scranton, Pennsylvania.
"In these extraordinary times, we're taking these extraordinary measures to try to bring the presidential campaign to the people, which has obviously been very difficult because campaigning is difficult, if not near impossible," said Mark Preston, CNN's vice president of political and special events programming and a senior political analyst.
CNN is following all of the local guidelines and restrictions put in place due to the coronavirus pandemic, Lunger said, and everybody attending and working the town hall will have their temperatures taken and will answer screening questions. Outdoor events and gatherings of more than 250 people are prohibited, according to Pennsylvania Gov. Tom Wolf and the state's Secretary of Health Dr. Rachel Levine. Wearing masks when outside of the home is mandatory.
Voters at the town hall will be able to sit in their car and tune to an FM station on their car radio to hear the town hall, or will be able to sit next to their car to watch the event, according to Lunger.
Lunger noted the array of new technical and logistical challenges that putting on this type of event poses. For example, the control room for Thursday's event will be located back in Washington, DC, which is unlike town halls the network has put on in the past, where everything has been on site.
"The good news is we have great teams across all the company who've done these town halls with us for the last few years, so everybody knows their role but everyone's trying to figure out how to operate in this new world in the same way while being Covid-safe," Lunger said.
CNN's Anderson Cooper previews how the event will work:
40 min ago
Two separate town halls. Two different approaches likely on display.
Analysis from CNN's Maeve Reston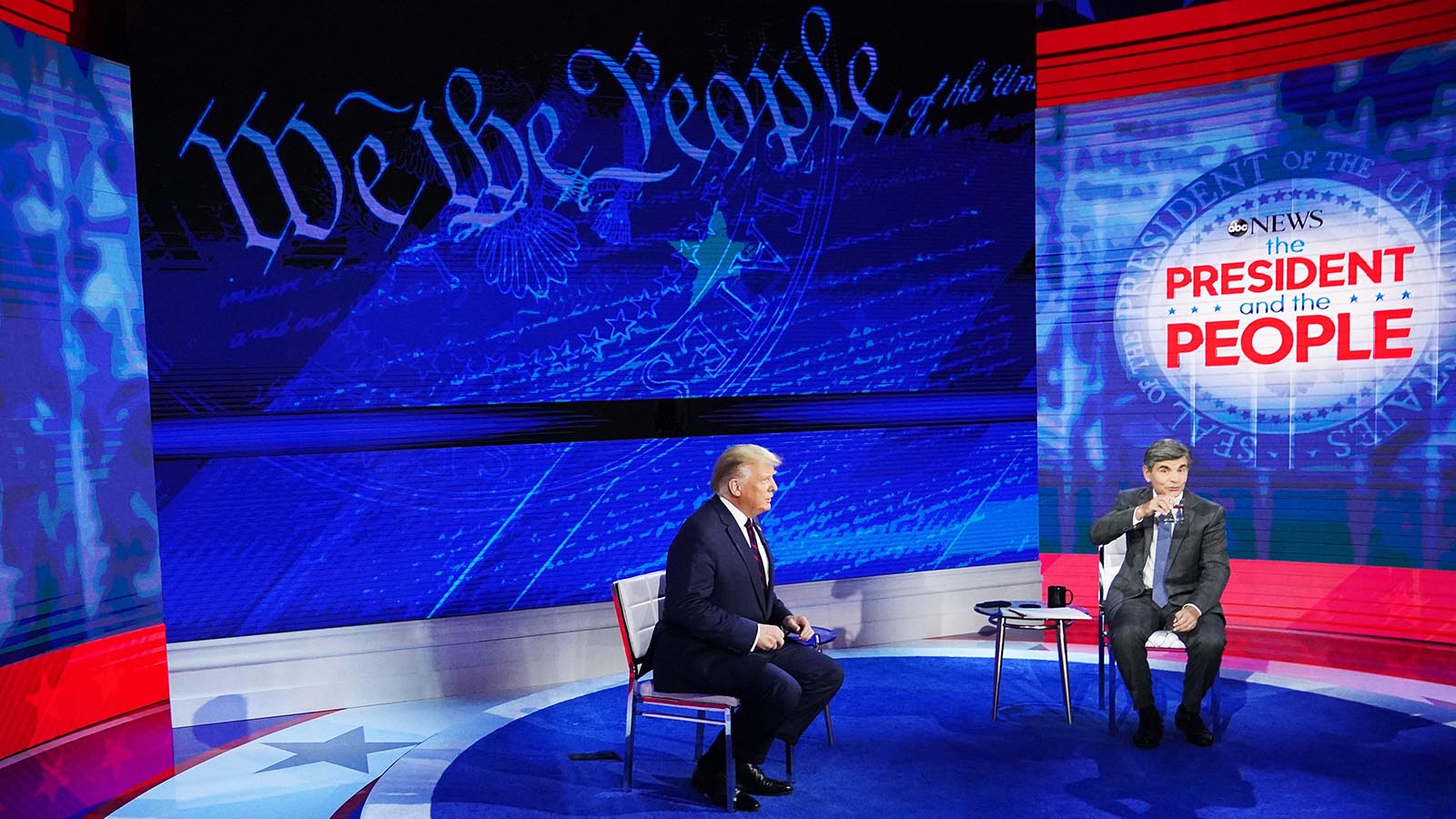 President Donald
Trump
sits with ABC New anchor George Stephanopoulos for a town hall event at the National Constitution Center in Philadelphia on September 15. Mandel Ngan/AFP/Getty Images
President Donald Trump's appearance at the ABC town hall in Pennsylvania earlier this week was a reminder of one of his great weaknesses — his difficulty connecting to the life experiences and emotions that average Americans try to share with him.
Trump's inability to empathize in those one-on-one encounters stems from his narcissism and his tendency to turn every policy observation into a discussion about himself (usually accompanied by grandiose praise of his own performance). His rival Joe Biden, on the other hand, does not have the same gifts as Trump in firing up an audience at a political rally, but he excels in situations that demand empathy.
His strongest moments on the campaign trail last year were when he would lean in and console grieving parents on the rope line, locking eyes and gripping the shoulders of whomever had approached to tell him their story about losing a loved one or about a problem they hoped he could solve.
In those hundreds of moments, Biden created an intimacy that often gave his listener a sense that he understood them and was on their side.
It has been much more difficult for Biden to create those moments in the coronavirus pandemic from a distance, but look for him to do so tonight as he tries to play up the huge contrast between his ability to emote and empathize and that of Trump.
Biden's campaign and the Democratic convention were rooted in the notion that the former Delaware senator could be the "Healer-in-Chief." He will have a rare opportunity to show that side — and why Democrats think it matters — as he strives to connect with his questioners at tonight's CNN Presidential Town Hall, which begins at 8 p.m. ET.
48 min ago
Biden warns
Trump
is trying to "lay the seeds" to contest November's election as illegitimate if he loses
From CNN's Sarah Mucha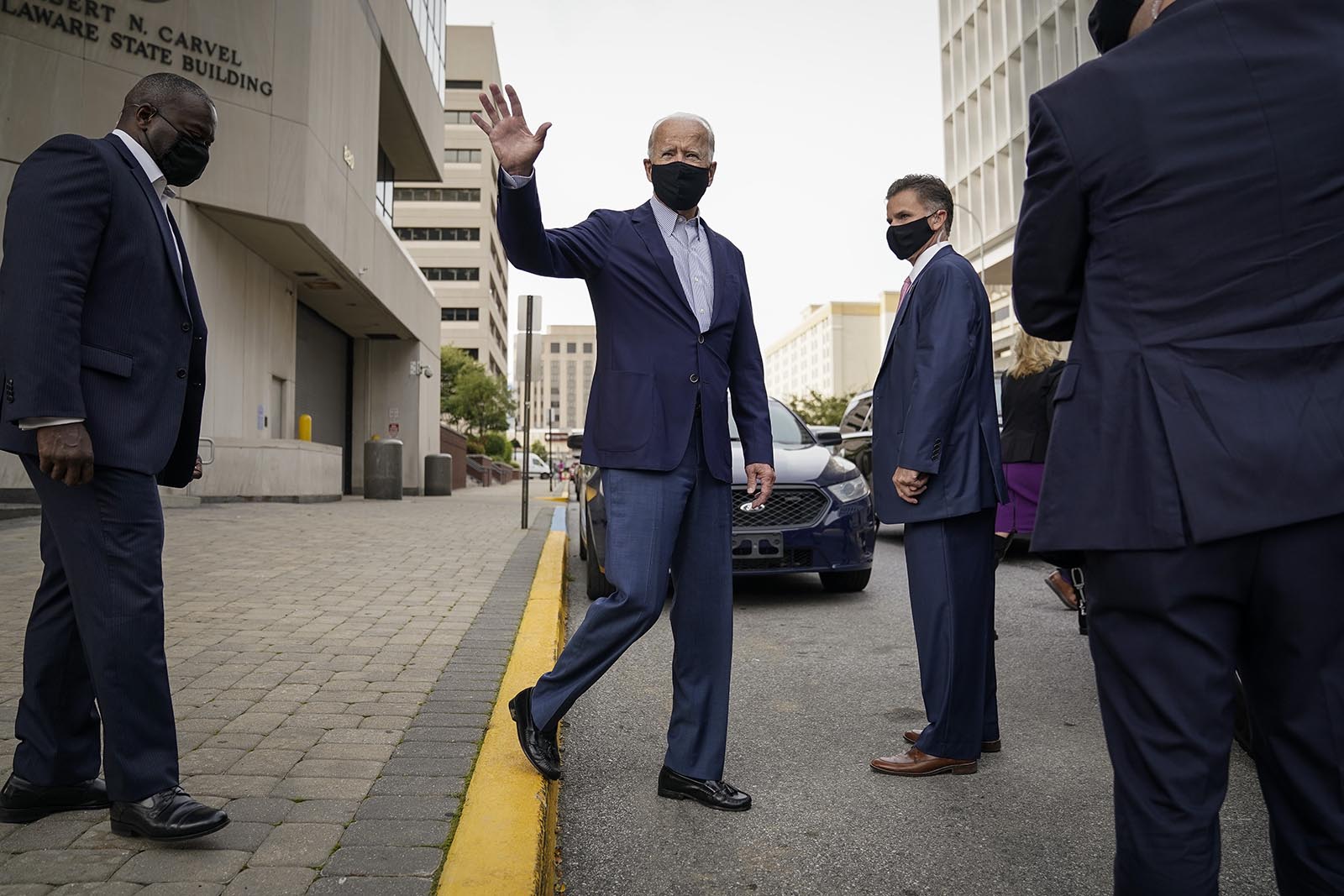 Democratic presidential nominee Joe Biden departs the Delaware State Building after early voting in the state's primary election on September 14 in Wilmington, Delaware. Drew Angerer/Getty Images
During a fundraiser Thursday afternoon, Democratic presidential nominee Joe Biden warned that President Trump is trying to "lay the seeds" to contest the election as illegitimate if he loses in November. 
"It's not an exaggeration to suggest that he's trying to lay the seeds that the election is not legitimate," Biden said of Trump. 
Per pool reports, he referenced the classified briefings he is now receiving as the nominee: "It goes beyond what he's saying. It goes to what he's encouraging."
"I'm hopeful, but I am concerned. And it won't be over until it's over," Biden said.
According to pool reports, Biden referenced the idea that Trump may be ahead in the early counting on election night, but said he didn't think that would happen, because his own supporters have figured out that they can vote early to stanch that. 
"You saw that fella Caputo that they just fired from HHS," Biden said, referring to Michael Caputo who is taking a two-month leave of absence from his post at the  Department of Health and Human Services. "What's he doing? He's talking about potential uprisings, physical force, they're going to have armies? No president has ever done anything like this."
Biden said he thinks that's why he's been endorsed by so many Republicans — not because they agree with him, but because they fear what Trump will do. 
55 min ago
In call with Senate Democrats, Biden vows aggressive campaign schedule 
From CNN's Manu Raju and Ali Zaslav
Democratic presidential candidate former Vice President Joe Biden boards a plane at Allegheny County Airport on August 31 in West Mifflin, Pennsylvania. Alex Wong/Getty Images
Ahead of tonight's town hall, former Vice President Joe Biden reassured Senate Democrats he would mount a vigorous effort in the campaign's final stretch, barnstorming the country through key swing states and helping crucial Senate races in the process, according to Democratic senators on a conference call Thursday.
Biden, speaking for roughly 25 minutes and taking a few questions, said repeatedly he was not finding comfort in polls showing him ahead of President Trump
Delaware Sen. Chris Coons, who occupies Biden's old Senate seat, said the party's presidential nominee spoke about how "optimistic he is about the election but he must have said his three times, I take nothing for granted. I know the polls look OK right now but I'm working tirelessly," pointing how he was just in Florida and would soon head to other key battlegrounds. Coons said that Biden reiterated "the core themes of the campaign, fighting for the soul of the country."
"I think he's going to be traveling more," said Sen. Jack Reed, a Rhode Island Democrat. "I think the message was how they're organizing to win and how they're taking nothing for granted."
Virginia Sen. Tim Kaine noted that Biden — a former Delaware senator —said he was "paying attention to the Senate races" too in the battle for control of the chamber.
"I think he's going to be very vigorous in the last stretch of the campaign," Kaine, a former VP nominee, said after the call.
1 hr 1 min ago
How
Trump
's effort to court Latino voters has pressured Biden campaign to ramp up outreach
From CNN's Dan Merica and Gregory Krieg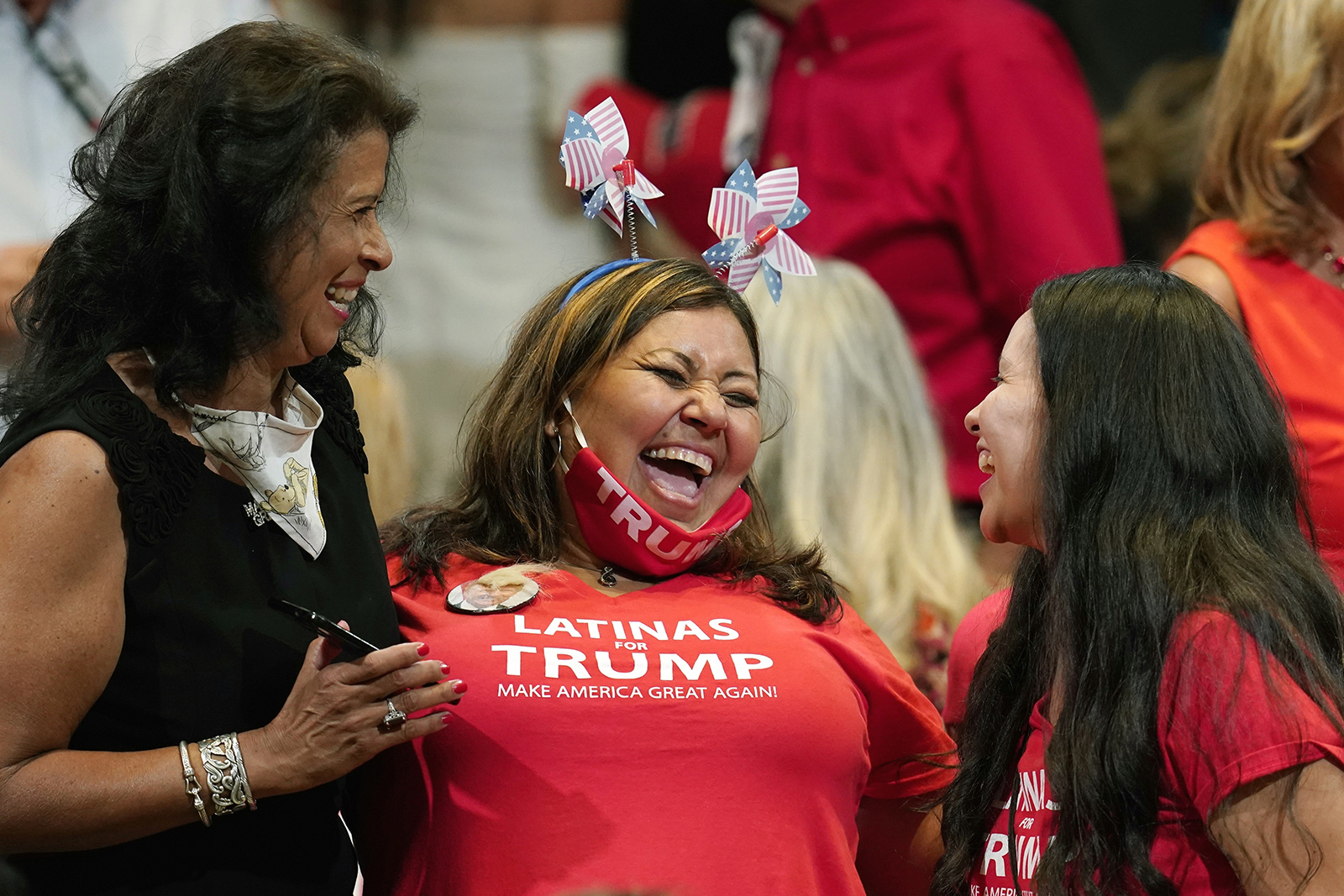 Supporters of President Donald
Trump
share a laugh as they wait for the president to participate in a Latinos for
Trump
Coalition roundtable on Monday, September 14 in Phoenix. Ross D. Franklin/AP
President Trump's reelection campaign's early, aggressive play to cut into Democrats' advantage with Latino voters has Democratic elected officials and operatives concerned that a softening of support from the group could be decisive in November's election.
Despite a message many say resonates with Spanish-speaking voters, those officials and operatives say Joe Biden's presidential campaign has been slow to commit the needed resources and time to at least match where Hillary Clinton finished with the key demographic in 2016.
sonos sonos One (Gen 2) - Voice Controlled Smart Speaker with Amazon Alexa Built-in - Black
read more
What the polls say: A string of polls shows Trump has increased his standing with Hispanic voters over the last four years. Although the President is still trailing heavily — an analysis by CNN's Harry Enten found Biden is winning Hispanic voters by 28 percentage points — Biden is underperforming Clinton, who led by 37 percentage points in an average of final pre-election polls.
The narrowing gap with Latinos is putting more pressure on Biden to hold or even expand his lead with White and older voters, two blocs with whom the Democrat has cut into Trump's lead, allowing him to maintain an overall lead in national polling and crucial states, like Minnesota, Wisconsin and Michigan.
Asked why his numbers among Hispanic voters are as low as they are right now, Biden said on Monday that his number are much higher than Trump's, but added, "But they gotta go higher."
Some Democrats, concerned that Biden's advantage with White voters could narrow, believe he needs to dial up his focus — and dedicate more resources — toward targeting the diverse array of Latino voters in key states like Florida, Nevada and Arizona that could tip the balance for the former vice president and win him the White House in November.
How the Biden campaign is expanding outreach: Biden's campaign contends that they are making significant investments in courting Latino voters, including hiring targeted vote directors in 11 states, using Latino-run mail and polling firms to court voters, and running micro-targeted, bespoke ads that employ Mexican accents in Arizona, Cuban accents in Miami and Puerto Rican accents in Orlando and Tampa.
And the overarching issue facing the community right now, said Julie Chavez Rodriguez, a Biden campaign deputy campaign manager, is the ongoing coronavirus pandemic.
"The devastation that the community has seen both from a public health perspective and an economic perspective is one that has drastically impacted Latino voters in all of the battle ground states," said Chavez Rodriguez. "The reality is over 25,000 Latinos have lost their lives as a result of Covid. The numbers didn't have to be that high. ... Those are the realities that I think Latinos are facing today."
The campaign is also working to combat election disinformation, with organizers reporting that an array of wild, false conspiracy theories are being directed at Spanish-speaking voters, especially in battleground Florida.
Rodriguez said that the campaign is "seeing voter suppression at a whole new level," so while the Trump campaign is actively reaching out to Latino voters, others are working to "keep folks from actually engaging in a critical election that has a huge impact."
"It is really disturbing that some of those tactics are being used," she said
But even Democrats close to Biden concede that it took the campaign a long time — because of the spread of the coronavirus and the campaign's money issues early in the general election — to commit the needed resources to Latino outreach.
Read the full story here.
1 hr 8 min ago
Coronavirus has become a key election issue. Here are Biden's plans to distribute a vaccine once approved.
From CNN's Kate Sullivan
Democratic presidential nominee Joe Biden puts on his mask after speaking at a campaign event on September 4 in Wilmington, Delaware. Alex Wong/Getty Images
Democratic presidential nominee Joe Biden said Wednesday that politics should never interfere with the development, approval and distribution of a potential Covid-19 vaccine.
"Scientific breakthroughs don't care about calendars any more than the virus does. They certainly don't adhere to election cycles," Biden said, speaking from Wilmington, Delaware. "And their timing, their approval and their distribution should never, ever be distorted by political considerations."
"They should be determined by science and safety alone," he said.
"One thing is certain, we can't allow politics to interfere with the vaccine in any way," Biden said.
A majority of Americans believe political pressure from the Trump administration will cause the US Food and Drug Administration to rush approval of a coronavirus vaccine before Election Day on Nov. 3, according to a poll from the Kaiser Family Foundation.
Biden said that a vaccine would offer a "way back to normalcy" for those in the US and around the world, and said he is "more hopeful than ever in the power of science to get us there." But Biden cautioned that the process cannot be rushed, and a vaccine is not going to become ready "overnight."
"Let me be clear: I trust vaccines, I trust scientists, but I don't trust Donald Trump. And at this moment, the American people can't either," Biden said.
Biden noted that the development of a vaccine is only part of the challenge, and said that the distribution of the vaccine is "as complex and challenging as one of the most sensitive military operations."
He said if he is elected President of the United States in November, he would implement "an effective distribution plan from the minute I take office."
Biden received a virtual briefing by public heath experts on how to stop coronavirus shortly before delivering his remarks, and said he spoke to the experts about an implementation plan and timetable for the distribution of a potential vaccine.
The former vice president said he also spoke to the experts about ways to stop the spread of the virus before any potential vaccine is developed. He mentioned uniform national guidelines, standards on social distancing that can be applied based on the needs of any particular community and more effective approaches to testing and tracing.
"If we do these things between now and January, we could save even more lives. Last night, Donald Trump indicated he has no interest in doing these things. Folks, the President's first responsibility is to protect the American people, and he won't. That's utterly disqualifying," Biden said.
Biden had previously said that if he could get a vaccine tomorrow he would take it. "If it cost me the election, I'd do it," Biden said. But he expressed concern that Trump has undermined public confidence in a vaccine.
Read more here.
1 hr 12 min ago
Trump
also participated in a live town hall this week
Analysis by Stephen Collinson
President Donald
Trump
arrives for an ABC News town hall at National Constitution Center on Tuesday, September 15, in Philadelphia. Evan Vucci/AP
President Trump faced life outside his own political bubble on Tuesday, where his self-congratulation, buck passing and audacious falsehoods conspicuously failed to meet the moment when he was confronted by undecided voters.
Trump appeared at an ABC News town hall in Philadelphia, and peppered a socially distanced audience with the rhetoric and talking points that delight his loyal base. But if his goal was to satisfy relatively small groups of voters who polls show haven't yet made up their mind, the President appeared to fall short and rarely addressed the substance of questions about his handling of the coronavirus pandemic, race relations and health care.
It was an unusual moment of exposure for a leader who demands constant public praise from his subordinates. On Tuesday night, audience members granted him the respect due to his office but none of the adulation he craves.
Trump was largely cordial and likely came across as strong to voters that love him. But his performance offered Democratic presidential nominee Joe Biden multiple openings only two weeks before their first debate clash — one of the last potential turning points of the White House race. First-term presidents who have spent years expecting deference from everyone they meet often get a shock in the first debate showdown with a challenger keen to get in their grill. Tuesday's event suggests the surprise may be especially acute for Trump when he faces Biden on Sept. 29.
Answers that normally draw wild cheers at Trump's packed campaign events fell flat when he was confronted by voters who appeared to want to cut through bluster and propaganda. And his responses did little to recognize the magnitude of the challenges facing the nation in a fearful year, suggesting that the President has yet to find the language or the appeals that might turn around an election he so far seems to be losing.
Read the full analysis here and CNN's fact checks of the event can be found here.
1 hr 17 min ago
Here's a look at policies Biden has proposed on key issues
From CNN's Eric Bradner
Democratic presidential nominee Joe Biden arrives to speak before a round table event with military veterans at Hillsborough Community College on September 15 in
Tampa
, Florida. Drew Angerer/Getty Images
Joe Biden's presidential campaign has made character its centerpiece, as the Democratic nominee casts the 2020 presidential race as a test of the "soul of the nation" against President Trump.
But he has also released a stream of policy proposals outlining what he would try to accomplish in office. And that platform is likely to be a focus tonight as Biden appears on CNN for a town hall in which he'll face questions from voters.
Biden won the Democratic primary advocating more moderate policies than many of his competitors. He has since embraced some proposals from former rivals, including climate plans first offered by Washington state Gov. Jay Inslee and bankruptcy ideas advanced by Sen. Elizabeth Warren of Massachusetts. His campaign and that of Vermont Sen. Bernie Sanders also jointly crafted a policy road map in the months after Biden defeated Sanders.
What to know about Biden's key policy proposals:
The economy:
The cornerstone of Biden's economic platform is massive stimulus spending aimed at boosting manufacturing — with a focus on medical equipment to fight the coronavirus pandemic — as well as jump-starting the nation's battle against climate change.The stimulus proposal emerged in July, as Biden laid out an economic plan amid staggering job losses caused by the pandemic. He is calling for spending $2 trillion over four years on clean energy projects. He has also called for $400 billion for US-made manufacturing efforts such as clean-energy vehicles, telecommunications equipment, steel and other building materials, and health care equipment, as well as another $300 billion in research and development on areas like 5G, artificial intelligence and electric vehicle technology. Biden has also said he supports raising the minimum wage to $15 per hour.
Health care:
Biden won the Democratic primary on a pledge to expand Obamacare but to reject a fully government-run, single-payer health insurance system. He has proposed expanding eligibility for plans offered through Obamacare's exchanges, enhancing the services those plans provide and lowering income-based caps on their prices. He has also said he supports a "public option" — a Medicare-style plan that people who do not have or do not want private insurance could instead buy into.
Education:
Biden has said he would expand government-funded educational offerings on both ends of the school timeline, with universal preschool and making public colleges and universities tuition-free for those whose families earn less than $125,000 per year. He has proposed increasing funding for schools in low-income areas from the current $16 billion per year to about $48 billion per year and helping them hire more counselors. He has also embraced parts of Warren's student loan debt plan, saying private student loans should be wiped away in bankruptcy.
Coronavirus:
Biden has said that all coronavirus-related testing and treatment should be free for Americans. He has called for the federal government to play a central role in deploying a coronavirus vaccine once one has been developed and tested, and he said the Defense Production Act should be invoked to shore up medical supplies. The former vice president has also criticized
Trump
for failing to negotiate a