24 min ago
Hurricane Delta makes landfall on the Yucatan peninsula
From CNN's Dave Hennen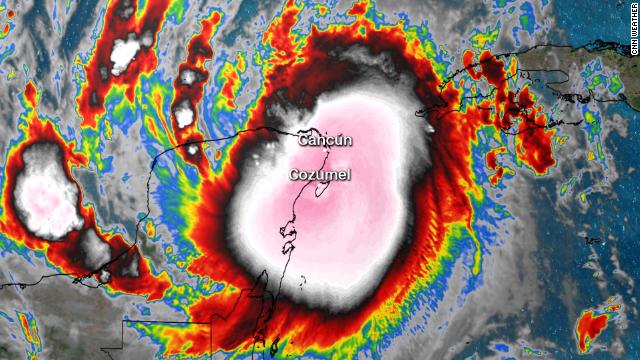 Hurricane Delta has made landfall roughly half-way between the Mexican resort towns of Cancun and Playa del Carmen, in the town of Puerto Morelos, according to the latest update from the National Hurricane Center. 
Delta has winds of 110 mph, making it a strong Category 2 storm. 
The hurricane will quickly make its way over the Yucatan this morning, and reemerge in the Gulf of Mexico later today. 
Once back over open water, Delta will likely strengthen back into a major hurricane, before turning north towards the Louisiana coast. 
Hurricane and storm surge watches will likely be issued later today along the US Gulf Coast.
55 min ago
Louisiana and Alabama declare states of emergency ahead of storm
From CNN's Michael Guy, Robert Shackelford, and Hollie Silverman
In Louisiana, where evacuees are still living in shelters from Hurricane Laura, voluntary evacuations have already began in several low-lying areas.
Louisiana Gov. John Bel Edwards declared a state of emergency Tuesday ahead of the storm. He encouraged residents to be prepared for a major hurricane and not focus on its strength.
Ben Schott, the head of the National Weather Service in New Orleans, said during a Tuesday briefing that Delta will be a major hurricane and that its effects, including life-threatening storm surge, widespread damaging winds and flash flooding and river flooding related to heavy rainfall, will be significant.
The earliest the storm will hit is Friday morning, he said, but if the storm slows, it could be as late as Saturday morning. The whole coastline of Louisiana could see tropical storm winds, Schott said.
Alabama Gov. Kay Ivey also declared a state of emergency Tuesday ahead of the storm to help Alabama begin the preparation process and position the state to be able to declare a pre-landfall disaster declaration with Federal Emergency Management Agency.
A mandatory evacuation for tourists at the Alabama Gulf Coast, including Orange Beach, Gulf Shores, Dauphin Island, and unincorporated areas of Ono Island and Fort Morgan, is ordered to begin Wednesday morning.
The storm is already stronger than Hurricane Sally, which caused widespread destruction to the state when it hit September 16, and Ivey encouraged residents to take it seriously.
sonos sonos One (Gen 2) - Voice Controlled Smart Speaker with Amazon Alexa Built-in - Black
read more
Other southern states prepare:
Mississippi has deployed 160,000 sandbags to low-lying counties and has nine shelters on standby to open if needed, the 
This morning MEMA sent 160,000 sandbags to Harrison, Hancock and Jackson Counties in anticipation of Hurricane Delta.
There are currently 9 shelters on STANDBY ready to open when necessary. https://t.co/vJXiKSb5RY

— msema (@MSEMA) October 6, 2020
. Texas Gov. Greg Abbott has placed numerous resources on standby across the state in anticipation of potentially severe weather caused by Hurricane Delta, according to a news release from the governor's office.
2 hr 53 min ago
There have been so many storms this season, the National Hurricane Center ran out of names
Delta is the 25th named storm of the Atlantic hurricane season.
The National Hurricane Center ran through its list of 21 standard names earlier this year, and has now switched to the Greek alphabet for additional storm names.
This is the second time in recorded history that the center has used Greek letters.
In 2005, the NHC had to use six letters of the Greek alphabet to account for the record number of storms. Four of those systems reached tropical storm strength (Alpha, Gamma, Delta, and Zeta), while the two other storms reached hurricane strength (Beta and Epsilon). The NHC does not use the letters Q, U, X, Y, and Z because there aren't enough names to fill those letters.
Here's a look at the next possible Greek letter storms:
2 hr 54 min ago
Hurricane Delta rapidly intensified yesterday. Here's what that means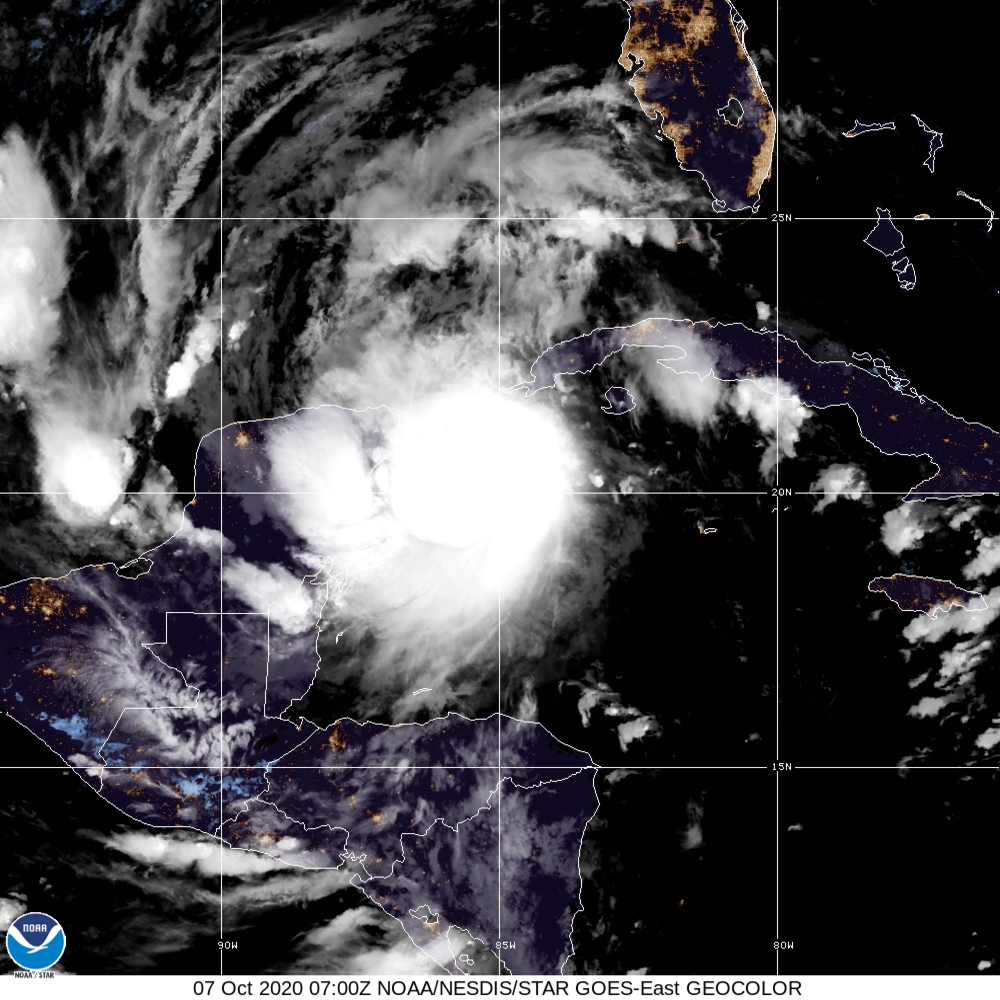 Satellite image of Hurricane Delta approaching the Yucatan Peninsula, as of 7:00 UTC, October 7. NOAA
If you thought the past week's lull in hurricane season was a sign of it slowing down -- think again.
Hurricane Delta, an "incredibly dangerous" major hurricane, is on a collision course with Mexico's Yucatan Peninsula and the US Gulf Coast as a Category 3 storm.
From Monday to Tuesday, Delta's wind speeds tripled, growing from a tropical depression to a Category 4 hurricane. Maximum sustained winds increased by 85 mph in 24 hours -- the most in one day so far this year.
Early Wednesday morning, ahead of an anticipated landfall between 6 a.m. and 8 a.m. CT, the storm weakened slightly, with winds dropping to 120 mph. It is expected to bring life-threatening storm surge and extreme winds as it hits the Yucatan, where Cancun and Cozumel are located. The area has been mostly spared by Atlantic storms this season.
About rapid intensification: It usually takes several days or even a week for a tropical storm to grow into a powerful hurricane. But if conditions are just right, a major hurricane can develop in hours -- that process is called rapid