12 Posts
Sort byLatest Oldest
18 hr 31 min ago
Georgia continues to see record early voting
From CNN's Jason Morris, Natasha Chen, and Lindsay Benson in Atlanta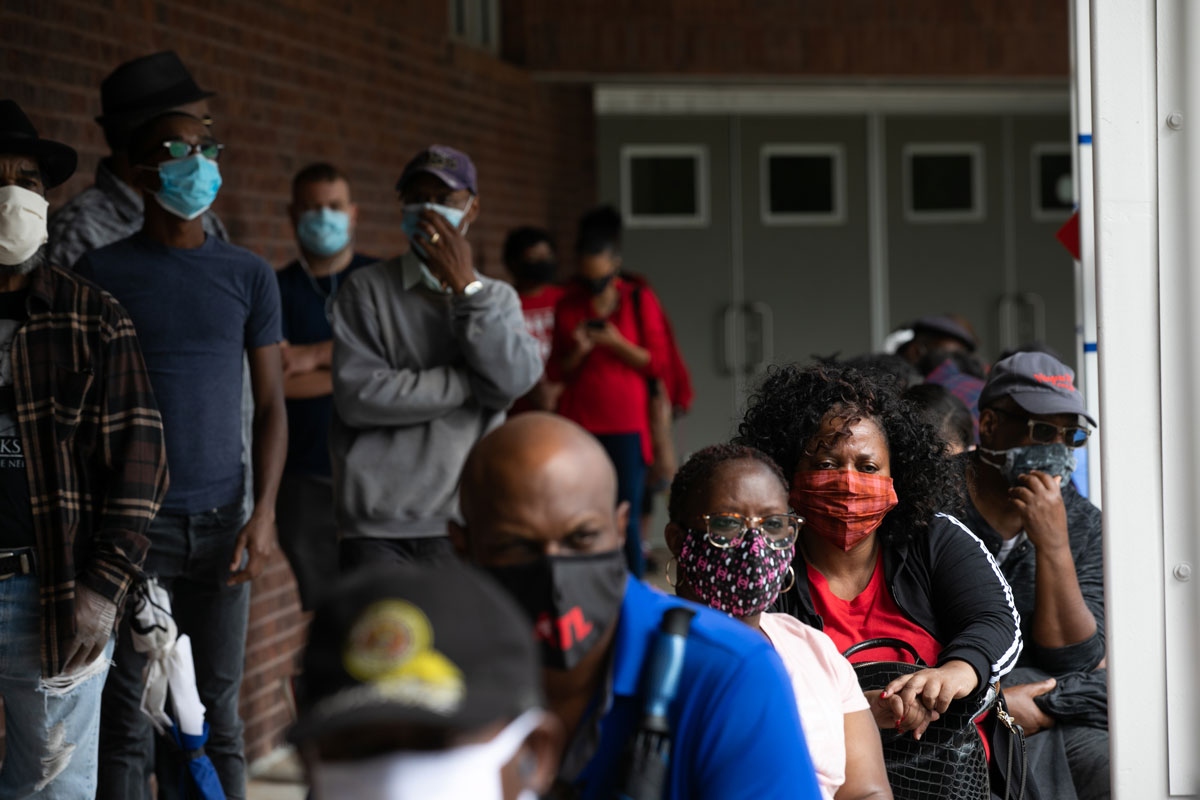 People wait in line on the first day of early voting for the general election at the C.T. Martin Natatorium and Recreation Center in Atlanta, Georgia on October 12. Jessica McGowan/Getty Images
Early in-person voting in Georgia continues to set new records, as Georgians cast ballots during their first weekend of early voting across the state. 
As of noon Sunday, there were a total of 1,451,131 ballots cast. 
That's up 152% from 2016 when 578,147 ballots were cast during the same period.
Here's the latest data from the Georgia Secretary of State on early voting.
18 hr 51 min ago
President
Trump
arrives in California
From CNN's Aaron Pellish 
Crowds gather ahead of President Donald
Trump
's rally. KCAL/KCBS
President Trump has landed in Santa Ana, California, ahead of a closed-press fundraiser scheduled to take place at a private residence in Newport Beach soon. 
Later today, Trump will hold a rally in Nevada.
19 hr 13 min ago
Biden: "Vote, vote. It's time."
From CNN's Sarah Mucha 
Democratic presidential nominee Joe Biden arrives at Raleigh-Durham International Airport on October 18, in Morrisville, North Carolina. Drew Angerer/Getty Images
Campaigning in Durham, North Carolina, today, Joe Biden spoke for about 20 minutes, delivering his generic stump speech at a drive-in style rally.
Introduced by Duke Women's Basketball Coach Kara Lawson, Biden said that his campaign is both "working hard and competing."  
Noting that he'd spoken with Reps. G. K. Butterfield and David Price, Biden said, "They can tell you we're doing both: We're working hard and we're competing like we never did before because so much is at stake for this nation. The very soul of the nation is at stake. Folks, as my coach used to say in college, it's go-time. It's the most important election in our lifetimes."  
Democratic Senate candidate Cal Cunningham — who is running to unseat Sen. Thom Tillis — did not speak, nor did he appear at the event, per the list provided by pool, but Biden did encourage everyone to vote Democrat in down-ballot races.
"Go vote today and don't just vote for me and Senator Harris," he said. "You've got a Governor's race and a Senate race. A record number of black women on the ballot, Congress and Lt. Governor, Labor Commissioner and the courts. Folks they're ready to deliver for North Carolina families. So vote, vote. It's time." 
The Democratic nominee slammed the Supreme Court hearings and the nomination of Amy Coney Barrett.
"In the middle of this pandemic, why do Republicans have the time to hold a hearing of the Supreme Court instead of addressing the significant economic needs of local communities? I'll tell you why. For real. It's about wiping Obamacare off the books, that's what it's about," he said.  
He implored attendees to get out and make their voices heard as soon as possible. "We got to keep the incredible momentum going. We can't let up, you can vote early in person until the 31st, but don't wait."  
19 hr 45 min ago
Biden is speaking in North Carolina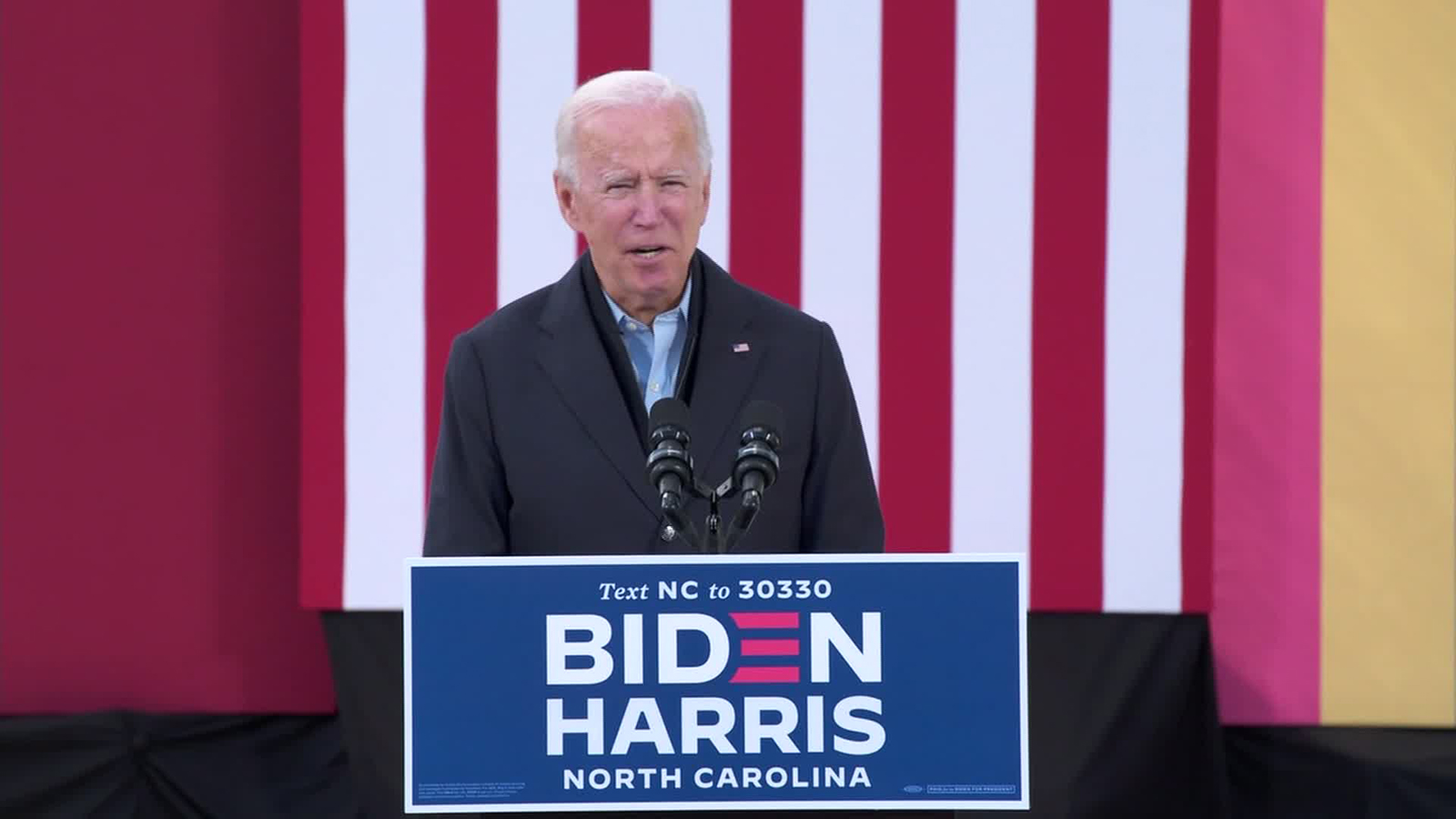 Pool
Democratic presidential nominee Joe Biden just took the stage in Durham, North Carolina, at a voter mobilization event. He's expected to urge North Carolinians to "make their plan to vote early during the state's in-person early voting period."
Early Voting began in the Tar Heel State this past Thursday and will go through October 31.
Cars began to file in for the drive-in event earlier this afternoon. The pre-show program included some speeches from organizers and several Biden campaign videos.
20 hr 3 min ago
Trump
to congregation at church service: "Get out there" on Election Day
From CNN's Daniella Mora
Hope Hicks, senior adviser to the president, attends services with US President Donald
Trump
at the International Church of Las Vegas in Las Vegas, Nevada, on October 18. Mandel Ngan/AFP/Getty Images
President Trump briefly addressed the congregation before leaving the service at the International Church of Las Vegas this morning.
"I go to many churches, and I love going to churches," Trump said. However, he rarely has gone to church services during his presidency. 
He then used the occasion of a church service to campaign for re-election.
"We are telling you you better get out because we have a group on the other side that doesn't agree with us and you understand that, and we happen to be right. So get out there on Nov. 3 or sooner," Trump said.
20 hr 22 min ago
Few masks and no social distancing at church service
Trump
attended
From CNN's Alison Main and Kevin Liptak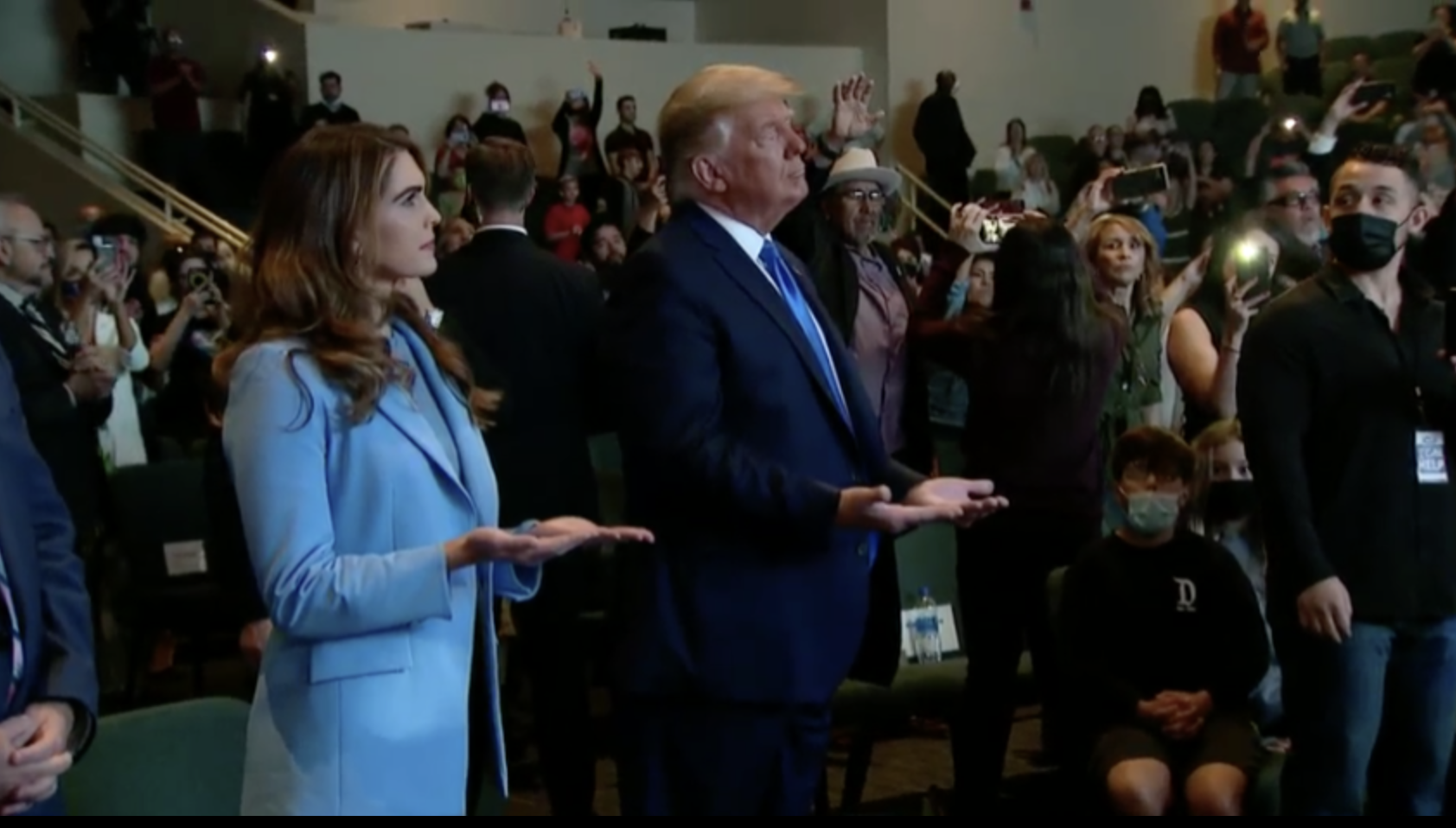 President Trump attended service this morning at the International Church of Las Vegas.
Most of the congregation did not wearing masks and definitely did not socially distance. In fact, a group of parishioners came to the front of the church jammed next to each other to take pictures of the President. 
During the service, Trump was seated near the front of the church alongside Hope Hicks. 
At one point, the pastors were speaking directly to Trump, saying he is coming for a "second wind" and a re-filling of the Holy Spirit.
"There is an army, and we will take this to the end," one of the pastors said.
21 hr 17 min ago
Trump
arrives at church service in Las Vegas
From CNN's Kevin Liptak
President Trump has arrived at International Church of Las Vegas for Sunday morning services. It's an evangelical mega-church with a contemporary musical program.
The service began at 9 a.m. PT (noon Eastern) sharp with a song performed from a stage with a full band and people waving silver and gold lamé flags. The worship leaders encouraged the crowd to sing along, and lyrics are broadcast on screens.
The leader, named Christine Ana, is asking congregants to "shake off despair." 
"This nation has been walking in despair. This nation has been walking in disappointment," she said ahead of Trump's arrival.
Later, she said she didn't care who else was in the room, she was going to worship and pray for "God and God alone."
None of the people on the stage are wearing masks and based on the livestream, the first row of people in the crowd are also not wearing them.
Trump visited the church in October 2016, and some of the pastors and ministers laid their hands on him to pray.
Trump has not been a regular church goer since he took office.
22 hr ago
Trump
campaign adviser can't say when
Trump
last tested negative for Covid-19 before Cleveland debate
From CNN's DJ Judd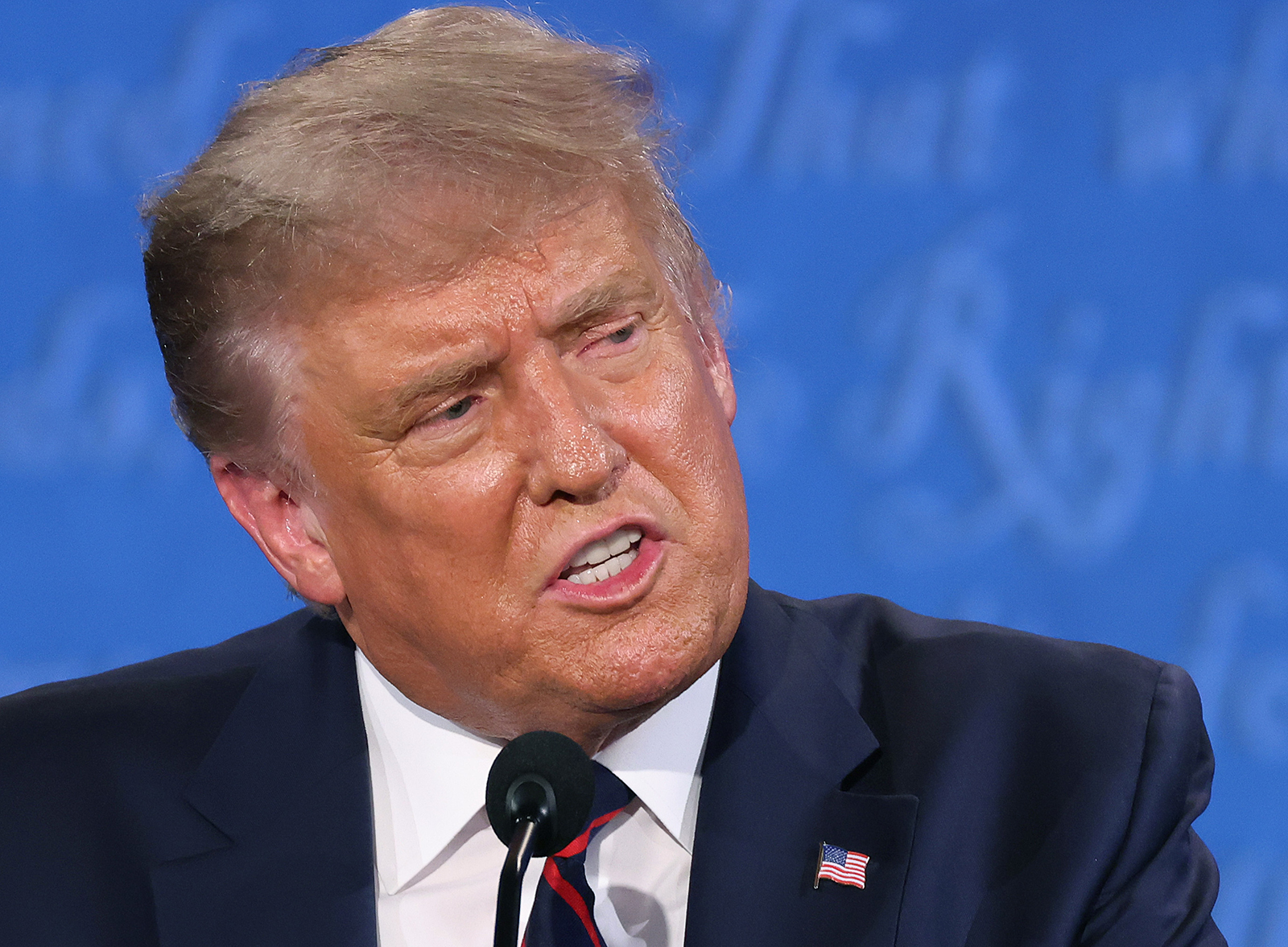 President Donald
Trump
participates in the first presidential debate against Democratic presidential nominee Joe Biden at the Health Education Campus of Case Western Reserve University on September 29, in Cleveland, Ohio. Win McNamee/Getty Images
In an interview with CNN's Jake Tapper Sunday morning, Trump campaign senior advisor Lara Trump touted the campaign's robust campaign operation.
Asked if she and others are wearing masks, she told Tapper, "We are wearing masks when it's required indoors. Absolutely. And you'll note that at our rallies we hand out masks to people, we ask them to wear them, there are signs up that say please wear your mask. We provide hand sanitizer." 
Remember: While the campaign does provide masks and hand sanitizer at rallies, there's no enforcement of these policies, and it's rare for surrogates to be seen wearing masks on the ground.
In a heated exchange, Lara Trump was unable to confirm that the President had tested negative within the mandated 72 hour window before the Cleveland debate, telling Tapper, "I assume the answer is yes. I was not physically there with him. And I work for the campaign and not in the White House."
Asked if she would wear masks, in accordance with debate commission rules, and which she and other members of the Trump family violated in Cleveland, Lara told Tapper, "If we are asked to wear masks, we will do so." 
23 hr 29 min ago
Democratic senator deflects when asked why Biden didn't campaign yesterday
From CNN's Sarah Mucha 
Delaware Sen. Chris Coons deflected when asked why Joe Biden did not campaign Saturday with less than three weeks before Election Day as campaign manager Jen O'Malley Dillon is warning supporters not to become complacent in a new memo.
President Trump visited two swing states Saturday.  
"Joe Biden takes no votes for granted," he began. When pressed by CNN's Jake Tapper, Coons only replied, "President Trump is campaigning in an unsafe way that doesn't follow the directions of public health experts," pivoting instead of the president's handling of the pandemic. 
 "Joe Biden has continued to be engaged and effective in laying out a clear plan for how he is going to get us out of this pandemic and the recession that President Trump' bundled mishandling of the pandemic has made worse than it ever needed to be," he said. 
Asked whether he would vote in favor of packing the court, Coons said he is "not a fan of expanding the court," before adding, "we have a few weeks