Opened as Al-Jahith's Treasury in the 1890s by AlMaaytah's grandfather, in 1948 the family business moved from Jerusalem to Amman, where it became the Jordanian capital's first lending library and was managed by AlMaaytah's father, Mamduh AlMaaytah.
"Every day I would return to find my father asleep with a book on his chest. It was as if he had an exam every day. He was a lover of books," AlMaaytah, 36, tells CNN.
Currently, al-Jahith's Treasury has three branches in downtown Amman, owned by AlMaaytah and his brothers. AlMaaytah's branch, nearby the Roman Nymphaeum, is in the original spot that his father relocated to.
In 2016, AlMaaytah decided to split from the family brand and renamed his store al-Maa -- meaning "water" -- to better represent his philosophy: that books are as important to life as water, and should be just as accessible.
As such, he refuses to price-tag any of his books, telling customers: "Take a book and read. Pay any price you please."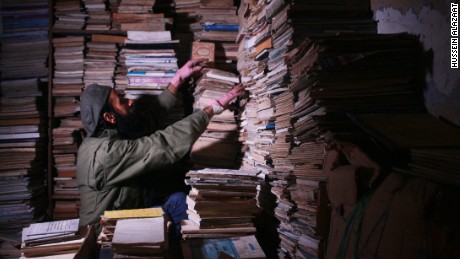 Hamzeh AlMaaytah runs a 24/7 bookstore in Jordan's capital, Amman.
"I scrapped the idea of (dealing with) books as a commercial enterprise because the issue is bigger than that," he tells CNN. "My idea is to make books available to everyone, even if I have to make them free."
To some, his store's thousands of books and ancient manuscripts may look worn and old but AlMaaytah is unfazed by his tomes' physical condition.
"It's a second-hand bookstore that takes the words 'second hand' very seriously," Alan Elbaum, who discovered AlMaaytah's store while studying Arabic in Jordan, tells CNN.
"No matter how bad a (condition) a book is in, or even if it's a fragment (of a book), he puts it in a special box because he knows someone might need that page 100 years from now."
Cave of books
Elbaum says he was initially astonished by AlMaaytah's "cave of books."
"It just looked like it was from a different age but he welcomed me and spoke in the most eloquent Arabic."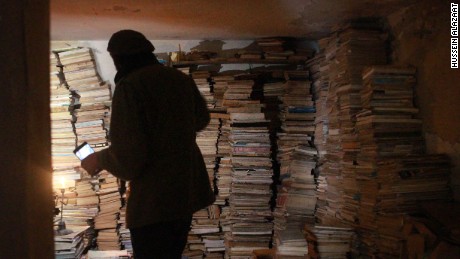 Alan Elbaum, who discovered al-Maa Bookstore while studying in Jordan, tells CNN he was astonished by AlMaaytah's "cave of books."
"Somehow the human connection was there from the first moment. He welcomes you with such deep joy and really feels delighted that you are there, no matter who you are," Elbaum says.
"He's one of the most original and creative thinkers I know and almost entirely self-taught."
AlMaaytah offers visitors tea, and sparks up debates on poetry and literary theory.
"This is a home for people from different factions, with different opinions, and it is a wonderful intellectual meeting point. There is acceptance of other ideas," AlMaaytah says.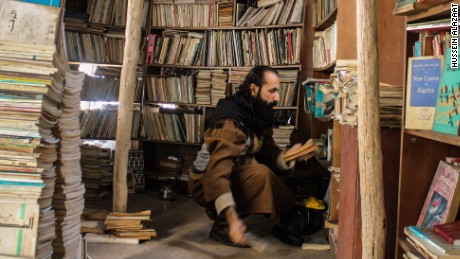 AlMaaytah welcomes visitors with tea, and sparks debates on poetry and literary theory.
His passion isn't limited to his own store.
Over the past 17 years, AlMaaytah has experimented with new ways to promote reading. He's held seven successful book fairs in different cities and universities across Jordan and hopes to expand this initiative into refugee camps.
A labyrinth of literature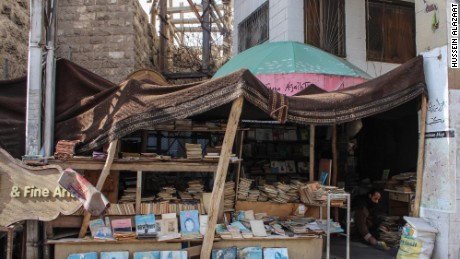 Much of AlMaaytah's stock is displayed on the sidewalk.
At AlMaaytah's shop, the bulk of his stock is laid out on the sidewalk. Other tomes are sheltered by a Bedouin tent, while an extremely cosy indoor area houses the rest of the books.
It is inside that AlMaaytah keeps his most prized possessions -- family heirlooms and rare books or manuscripts.
"The store takes many different forms," Elbaum says. "In good weather, people will sit outside. Sometimes it's a labyrinth, sometimes it's a big open area with an armchair. There are musical gatherings, or poetry readings."
There are some books, however, that AlMaaytah refuses to stock, such as those that encourage hatred, including anti-Semitism, or promote "conspiracies".
He also runs a philanthropic exchange, where anyone can borrow or swap a book for 1 dinar ($1.41).
"That's part of Hamzeh's soul. He's not a merchant, or a bookseller in his heart. Which does make it difficult to run a bookstore," Elbaum says.
A place the Middle East 'can't afford to lose'
In 2016, due to a combination of economic conditions in Jordan, and a sudden illness that left AlMaaytah unable to work for several months, al-Maa came close to closure.
"I felt pretty depressed for a few weeks after finding out," Elbaum says. "It really is one of my favorite places in the world -- a place that the Middle East can't afford to lose."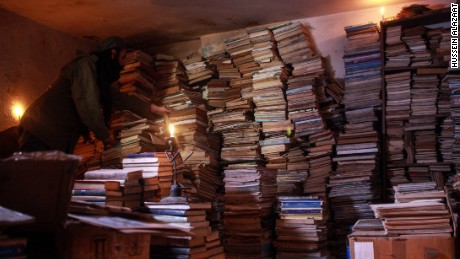 Recently the store raised nearly $18,000 after a crowd-sourcing campaign was set up to save the store from permanent closure.
AlMaaytah hopes to use that money to spread knowledge of books and promote literary culture in the Middle East, even taking book fairs into prisons and into remote communities via bicycle or donkey carts.
Elbaum says the money will also be used to renovate and expand the store, so that AlMaaytah can host events there and perhaps open a museum for rare Arabic books.
In the meantime, AlMaaytah says he'll continue to fight for the written word in print.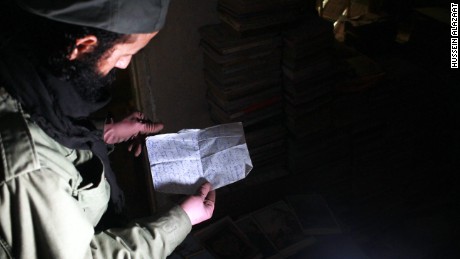 AlMaaytah believes books are as important to life as water, and should be just as accessible.
"When we read from the screen I believe that a person cannot remember the information -- but when they read from a book, the reader doesn't forget," says AlMaaytah, adding that society needs to "rekindle its respect" for books.
"Can you imagine all this knowledge just disappearing?" he says, referring to