aboutme
Over recent days, dramatic images have surfaced of humans and animals struggling in floodwaters -- from a cowboy trying to rescue a horse to drenched Texans clutching their beloved animals through rising floodwater.
Pets have comforted their owners in their time of distress. And in the case of Otis, the dog spotted carrying a bag of dog food, a moment of levity amid a major disaster.
Amid the chaos of Harvey, owners and pets have gotten separated.
With their neighborhood flooded and unable to return home, some owners are calling the Humane Society for help getting their pets rescued.
On Wednesday, two workers from The Humane Society of the United States waded through knee-deep water and trudged into a destroyed home in Dickinson, Texas.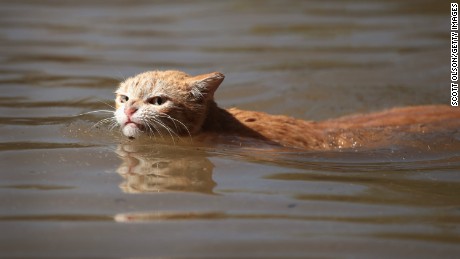 A cat tries to find dry ground around an apartment complex after it was inundated with water following Hurricane Harvey on August 30, 2017 in Houston, Texas.
They searched the flooded house for a cat and dog. Although they whistled and called for the missing animals, they were greeted with silence.
At a nearby house, two, loose dogs -- Snoopy, an 8-year-old poodle and Abby, an 8-year-old English poodle had been found. The owner was called after the dogs were taken to a nearby shelter.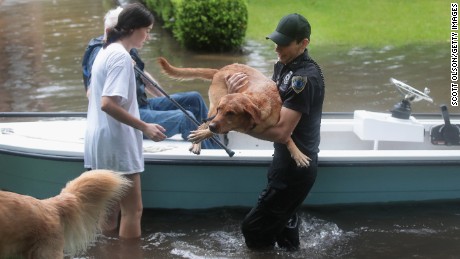 Volunteers and officers from a neighborhood security patrol help rescue residents and their dogs in the River Oaks neighborhood after it was inundated with flooding on August 27, 2017 in Houston.
Soon, a family member of the owner came to retrieve the dogs.
"My father-in-law can sleep tonight. He will be happy," said Ryan Johnson, who came to pick up the dogs.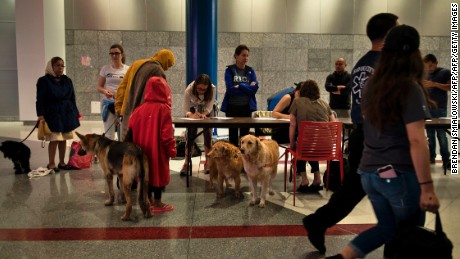 Evacuees have been able to bring their pets to a temporary shelter in downtown Houston's George R. Brown Convention Center, which has more than 10,000 people.
Not all animals and their owners have been so fortunate.
Fire ants
Pets and livestock aren't the only animals navigating the storm waters -- wildlife has also been displaced by the catastrophic storm.
Clumps of fire ants have been spotted floating in floodwaters.
Fire ants are notorious for their water-resistant abilities. Instead of drowning, they hang onto each other and form a giant, floating cluster. They stay in this formation until they can find dry shelter.
They're not friendly when they're disrupted -- they will bite and sting, according to a write-up by Texas A&M AgriLife Extension Service.
Reptiles: Alligators and snakes
Alligators have lived in the marshes, swamps, rivers and lakes of the Gulf Coast for centuries, according to Texas Parks and Wildlife.
So when the floodwaters started rising, the alligators came into neighborhoods where they've generally not seen.
The Fort Bend County Sheriff's Office had warned last week that reptiles, like humans, are seeking higher ground when it floods. "Expect them to be displaced," the office tweeted. "Leave alone until water recedes."
Arlene Gonzalez Kelsch shot a video of an alligator in her flooded backyard, just a few feet from her patio in Missouri City, Texas, on Sunday.
"When I first saw the gator, I thought it was a piece of wood floating," she told CNN. "I'm trying to remind as many people as I talk to, to not play around in the flood water, there are gators and there are snakes."
Texas Parks and Wildlife states that you can view wild alligators from "a safe distance of