Who are the Rohingya?
The Rohingya are a Muslim ethnic-minority group that has lived as a people in Myanmar for centuries.
Today, more than a million of them live in the country, most in the western coastal state of Rakhine, where they make up around a third of the population. They speak their own language, which isn't recognized by the state.
There are regular clashes between the Rohingya and the country's security forces, as well as other ethnic groups in Rakhine, which are predominantly Buddhist. Rohingya militant groups are often involved in the clashes.
Even Buddhist monks have been accused of inciting violence against the Rohingya there and led a boycott movement against them during deadly clashes in 2012.
A community of Rohingya refugees also live in Bangladesh and some migrate to Malaysia, where they typically work illegally, the men often laboring.
Why aren't they recognized as Burmese?
The government in Myanmar refuses to recognize the Rohingya as citizens, claiming that they are Bangladeshi or Bengali. The UN refugee agency and human rights groups have in the past accused the government of ethnic cleansing through its repressive policies.
Having had such a long history in Myanmar, the Rohingya's ethnicity is more complex than the government makes out.
The government has argued that the Rohingya descend from farmers from what is now called Bangladesh. Many arrived in large numbers during British rule, from 1824 to 1948, when Myanmar was considered a province of British-administered India. The Rohingya were sent there as laborers, in what Britain considered an internal migration.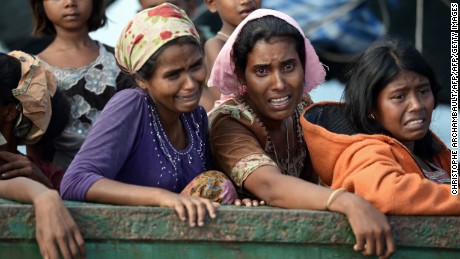 Rohingya migrant women cry, stranded on a boat drifting in Thai waters on May 14, 2015.
Many Rohingya, however, say they are descendants of Muslim traders, who can be traced back to the 9th Century. In reality, there is likely to be a mix of ethnicities among them.
When Myanmar gained independence in 1948, the Rohingya were able to apply for identity cards, which offered some rights, and some even served in Parliament.
But after a military coup in 1962, the Rohingya lost this status and were considered foreigners. They were granted foreign identity cards.
In 1982, a citizenship law only allowed the Rohingya to apply for citizenship if they could speak an officially recognized language and had proof their family had lived in the country before independence. But most Rohingya were never granted the paperwork to prove their roots, so they were effectively rendered stateless.
What is life like for them in Myanmar?
The Rohingya have faced repression since the 1970s, but more intensively since 2011, when the government transformed from a military administration to a civilian one.
There had been hope at that time that their situation would improve, but their repression has only intensified. They remain left off a national list of 135 recognized ethnicities in Myanmar.
Now, the Rohingya cannot access the same resources and services that Myanmar's predominantly Buddhist citizens can. Despite this lack of recognition, they are not allowed to leave their settlements in Rakhine without government approval.
Many live in Rakhine in impoverished camps, and others spend periods in internally displaced people's settlements in other states after fleeing violence.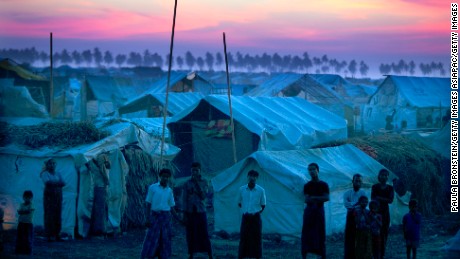 Rohingya refugees stand at a crowded camp in 2012 on the outskirts of Sittwe, Myanmar.
What does Bangladesh say?
Bangladesh does not consider the Rohingya to be Bangladeshi.
There are varying estimates of how many live in the South Asian country, but it is believed to be in the hundreds of thousands. Amnesty International estimates around half a million undocumented Rohingya live there.
The country sometimes allows the Rohingya to live in camps on its border, but on other occasions, it simply sends them back to Myanmar. Those who stay, live as illegal immigrants, which usually means a life of poverty, without the right to work or access to education.
Other countries in Asia have been just as unwelcoming. In 2015, groups of Rohingya were stranded at sea in Southeast Asia, as Thailand, Malaysia and Indonesia pushed them back and forth between each other, refusing to take them in. Indonesia even ordered its fishermen to stop rescuing them.
Indonesians, however, have shown solidarity with the Rohingya, carrying out regular protests to support them. Indonesia is the world's biggest Muslim-majority nation and the Rohingya issue has resonated there.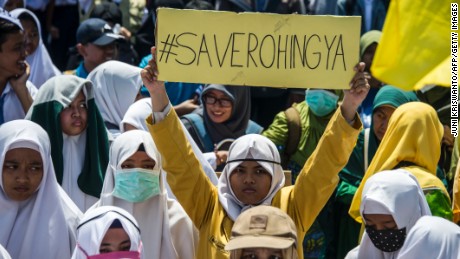 Indonesians protest against Myanmar and in support of the Rohingya, in the city of Surabaya on Tuesday.
What's Nobel laureate Aung San Suu Kyi's role?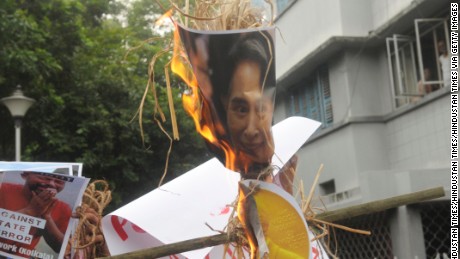 Nobel Peace Prize winner Aung San Suu Kyi, seen as a national hero in Myanmar and the face of a free civilian government, has come under intense international criticism for failing to openly support the Rohingya.
Some have even said she should be stripped of her peace prize.
Suu Kyi has repeatedly denied accusations of human rights abuses against the Rohingya, and in April denied to the BBC that ethnic cleansing was taking place.
Some observers point out that the Rohingya issue is so heated in Myanmar that Suu Kyi would lose her popularity, and eventually possibly her position, if she backed the ethnic minority.
The youngest-ever Nobel peace prize laureate, 20-year-old Malala Yousafzai has called on Suu Kyi to condemn the treatment of the Rohingya.
"Over the last several years, I have repeatedly condemned this tragic and shameful treatment. I am still waiting for my fellow Nobel Laureate Aung San Suu Kyi to do the same," Yousafzai wrote.
"The world is waiting and the Rohingya Muslims are waiting."
Why are Russian Chechens protesting?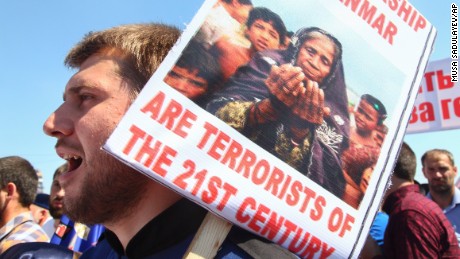 Tens of thousands of people have marched through Grozny, the capital of Russia's Chechen Republic. Like Indonesia, Chechnya is predominantly Muslim.
Protests in Chechnya are heavily regulated and typically orchestrated by authorities.
CNN's former Moscow Bureau Chief Jill Dougherty said that the protests could be an effort by Chechen leader Ramzan Kadyrov to position himself as a global Muslim leader.
On his official Instagram