There was not much there to notice on my first trip other than an ocean of wildflowers, which proliferated almost to the horizon of that South Texas plain. The only two buildings left standing from the old town settlement had trees growing where once there were floors. The community's glory days at the turn of the 20th century were a story of people riding the train out from San Antonio to spend weekends taking the curative waters of the sulphur springs along Cibolo Creek, and stay in the 52-room Hotel Sutherland. The springs had given the town a reputation as the "Saratoga of the South."
Sutherland Springs is as quiet and common as the hundreds of other Texas towns I have visited. One light blinks over the intersection of the main street and a farm-to-market road. Business is comprised of a chain general store and a gas station. There is a post office and a white church with a low steeple, which still rises above the prickly pear cactus, live oak and hackberry trees growing on the edge of the Texas Brush Country. The town of about 350 people is less than 30 miles east of San Antonio, but in many ways, seems much more remote. Few places could feel more secure and safe.
But that has all ended.
When a black-clad gunman walked into the First Baptist Church in Sutherland Springs and opened fire on the congregation, he also killed the last quaint notion Americans have about guns and mass shootings. We can no longer believe there are places where this just couldn't happen. Even if you trust in the "good guy with a gun" mythology of being protected, consider this: Nobody expects the faithful in a tiny town to get up on a Sunday morning and strap on a pistol before they head to their house of worship for prayer.
Finally, we have to accept that no place is safe, and everyone is now a suspect.
If Sutherland Springs can become a national tragedy, the coffee shop or roadhouse where you planned to enjoy lunch on your next trip west is of equal risk. You must sit facing the door and size up everyone who enters and wonder if they might be a tortured soul with a weapon. Shopping in your small-town grocery store, you will feel compelled to look around while making a decision on breakfast cereals. Does the man lingering at the end of the aisle look like he has something under his coat?
This is the culture of fear we have decided is acceptable.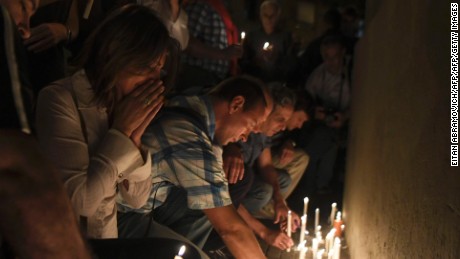 We elect politicians like Texas Gov. Greg Abbott, a sweetheart of the gun lobby, who once tweeted that he was "embarrassed" that his state was No. 2 in gun purchases, according to NRA statistics in 2015, even though more than a million guns had been bought by October of that year. Though his figures were incorrect, Abbott still urged his constituents to pick up the buying pace.
And one of them did.
Less than six months after Abbott's tweet, a man court-martialed for abusing his wife and child purchased an AR-556 rifle at a San Antonio store, according to law enforcement. Officials also said he had sent threatening messages to his mother-in-law, who attended First Baptist on Sunday; multiple friends told CNN his grandmother-in-law was killed. According to Abbott, citing the director of Texas' Department of Public Safety, the shooter tried to get a license to carry but was denied, but he was still able to make his purchase.
President
Trump
has argued that what happened here in Texas is the result of a "mental health problem," and is not about US gun laws. His actions make clear the killer was mentally troubled, but he also lived in a country where the laws and the technology systems allowed him to access a gun, and that's not likely to change when one of his US senators, Republican Ted Cruz, took $360,727 from the National Rifle Association while running for president. The Cruz solution to gun violence, based on his response to this tragedy, is to
Keeping all harmed in Sutherland Springs in our prayers and grateful for our brave first responders on the scene.

— Ted Cruz (@tedcruz) November 5, 2017
, which is what the 26 people in Sutherland Springs were doing when they died.
Prayer has not fixed this, nor will it.
Our mass shootings have become so frequent in America we now break them out into categories. One headline about Sutherland Springs called it the deadliest church shooting in US history. We, of course, also have categories for malls, schools, movie theaters, parks, restaurants, and various public gathering places. The Texas attorney general has suggested the solution is for churches to provide security and arm congregants. Praise the lord and pass the ammo? "This is going to happen again," he has assured us.
I will ride again through Sutherland Springs, but I won't be admiring wildflowers or thinking about Dr. John Sutherland, who the town was named for and whose 18-year-old nephew died at the Alamo, or the time Gen. Robert E. Lee spent in a local guesthouse. I'll instead look off at the little white church house by the side of the road and confront the memory of the day that some of the last, faint traces of American innocence were killed.
And I'll probably also be looking over my shoulder.
An earlier version of this article incorrectly identified the gunman's