West Virginia Gov. Jim Justice reached a tentative pay deal with union leaders Tuesday that was designed to end the strike and send teachers back into the classroom Thursday. The agreement provides for a 5% pay raise the first year, and is now a bill going through the state Legislature.
However, the deal didn't include a fix to the state health insurance plan, the Public Employees Insurance Agency, or PEIA, which employees say requires them to pay premiums that are too high. The status of PEIA was one of the major reasons for the strike in the first place, educators said.
"The No. 1 thing was we needed a permanent fix to PEIA," Lori Hausvater, a math and special education teacher at Lincoln High School in Shinnston, told CNN. "It wasn't about the money at all. It was about the insurance fix."
The governor said the issue of funding insurance would be addressed by a task force created by the union deal.
"It is important that everyone understand that identifying all of the issues in our health care program and finding a solution takes time," Justice said in a letter to all state employees. "A cure won't come in 30 minutes, but I can promise you this task force will begin its work immediately."
Still, teachers and education personnel demanding a fix to their health insurance crowded in the state Capitol on Wednesday and sang, "We're not gonna take it."
They also chanted, "See you Thursday," and "See you Friday," outside Justice's office, continuing the demonstrations that began last week.
The state's insurance plan covers nearly 200,000 public employees in West Virginia, according to CNN affiliate WCHS in Charleston. The fund is listed as being in poor health, the station reported.
Educators say they face higher co-pays and out-of-pocket maximums for medical care while their pay remains low.
iPhone transfer software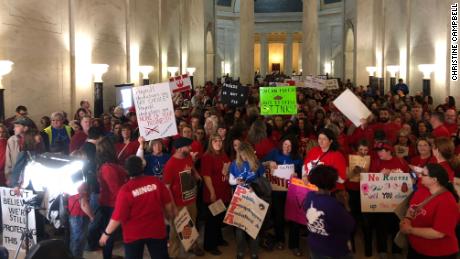 Roughly 277,000 students attend school in West Virginia.
Judith Boyce, a local union president in Braxton County, told CNN she met with union members in her county and they voted overwhelmingly not to return to work Thursday.
"A lot of people are feeling distrust toward the governor's word," she said.
The strike has put 20,000 teachers and 13,000 school service employees on the picket lines.
CNN's