The fighters were evacuated after the Civilian Committee of Douma reached a partial deal with the Russian and Syrian governments, by which the wounded in Douma, the last rebel-held enclave in Eastern Ghouta, would be evacuated, activist Bilal Abu Salah said.
"The residents of Douma refuse to be arbitrarily deported from their homes and same applies to Jaish al-Islam," Salah said, referring to another rebel group. "We will stay and remain in Douma."
Failaq Al-Rahman has a limited presence in the area, as opposed to Jaish al-Islam, which is believed to be more dominant in Douma.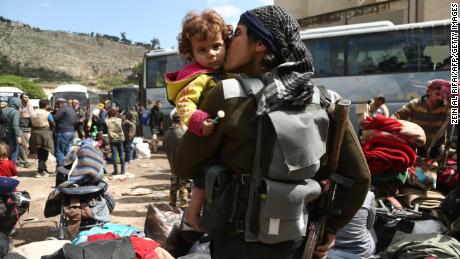 A rebel fighter from Eastern Ghouta kisses a child after arriving in Qalaat al-Madiq on Friday, as part of the ongoing evacuation deals.
iPhone transfer software
Failaq Al-Rahman's fighters were evacuated from other parts of Eastern Ghouta last week under a deal with the Syrian regime and the Russian military.
The Syrian regime dropped flyers over Douma on Sunday, Salah said.
It blamed the violence that has racked the nation on "external and strangers' interference" and called for all parties to join together to rebuild the country.
"Start joining the local reconciliation, which is the assurance to returning to the normal life and security as it was before, which was full of love and cooperation, and to work towards the interest of the country," said the handbill