6 hr 24 min ago
What you should know about the virus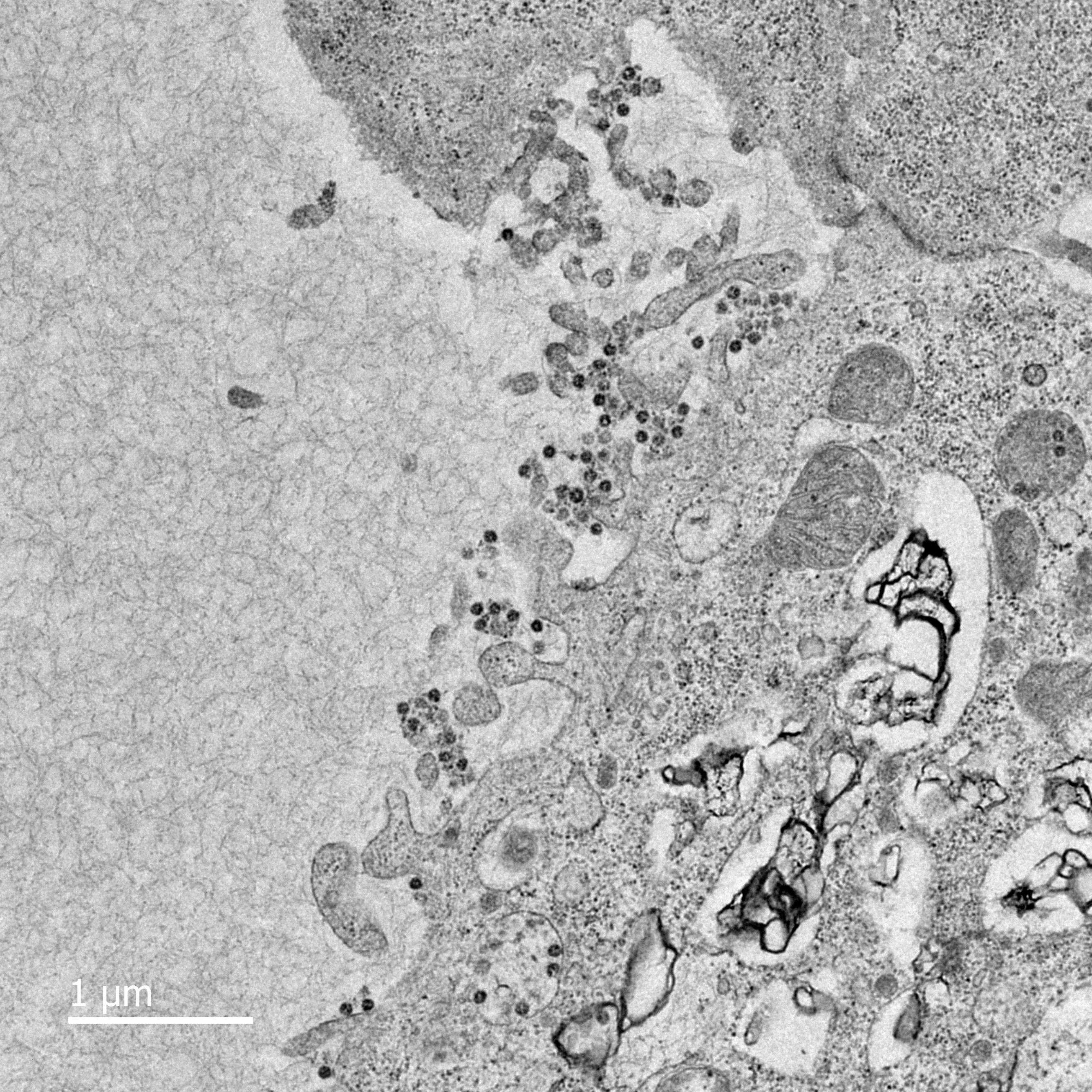 Cells infected with coronavirus taken from a patient sample, and grown by scientists in Hong Kong. University of Hong Kong Faculty of Medicine
There's still a lot we don't know about the coronavirus, and scientists internationally are racing to gather data and develop a treatment.
Here's what we can tell you so far:
Is there a cure? Not at the moment. Researchers have successfully grown the virus in a lab, an important step towards developing a vaccine -- but it could be a year or more until it's available. What are the symptoms? Coronavirus symptoms can look like the flu -- fever, cough, trouble breathing. If you show these symptoms and recently went to China, or have been in contact with someone who visited, experts advise going to the doctor. How does the virus spread? The virus is thought to spread from person to person through respiratory droplets emitted by coughing or sneezing -- but it's not clear exactly when a person becomes contagious. There's currently no evidence that the virus is airborne -- meaning, for instance, it doesn't travel across a large room. Who is at risk of infection? People of all ages can be infected with the virus, but older people and those with pre-existing medical conditions are especially vulnerable to severe complications. How can I protect myself? Take the same precautionary measures you would during flu season. Wash your hands often with soap and water, cover your nose and mouth when you sneeze or cough, avoid close contact with people or large gatherings, and wear a face mask. Is it safe to travel? Airlines have suspended flights, and thousands of foreign citizens in the Chinese city of Wuhan have been evacuated back to their home countries. Many countries including the US have advised against travel to China.
6 hr 39 min ago
Chinese markets opened for the first time since Lunar New Year today, with big losses
From CNN Business' Laura He in Hong Kong
Chinese stocks plunged Monday on the first day investors could react to the coronavirus outbreak in more than a week.
The Shanghai Composite opened 9% lower. The Shenzhen Component Index also plummeted 9% at open. Both are still down more than 7%.
Stock exchanges in Shanghai and Shenzhen had been closed since January 24 for the Lunar New Year. Markets elsewhere fell sharply last week as fears about the virus escalated. More than 14,300 people have been infected, the vast majority of them in mainland China.
China said before markets opened that it would pump billions of dollars into its markets to keep them stable. The People's Bank of China said Sunday that it would inject $1.2 trillion yuan ($173 billion) into the Chinese markets using the purchase of short-term bonds to shore up banks' ability to lend money. The measure will help maintain "reasonably ample liquidity" in the banking system and keep currency markets stable.
The net amount of liquidity being injected into the markets will be much lower. According to Reuters calculations using central bank data, more than $1 trillion yuan worth of other short-term bond agreements will mature Monday. That brings the net amount of cash flooding into the markets down to 150 billion yuan ($22 billion).
Read more here
6 hr 44 min ago
How the coronavirus outbreak went global in two months
The first case of coronavirus was detected in central China in early December. Now, nearly two months later, it's a full-blown global emergency, with more than 17,205 confirmed cases across the world.
Here's a look back at how we got here:
December 8: First patient develops symptoms of Wuhan coronavirus December 31: Earliest cases of virus reported to World Health Organization (WHO) January 1: Seafood and wildlife market in Wuhan, where the outbreak is believed to have originated, is closed for disinfection January 7: Chinese scientists identify pathogen involved as new strain of coronavirus January 9: First death linked to virus January 20: Cases reported in Beijing and Shenzhen January 23: Wuhan is placed on lockdown, with movement halted in or out of the city. A total of 60 million people are affected by travel restrictions in Wuhan and neighboring cities. WHO says virus is not yet a public health emergency of international concern January 28: Death toll tops 100. The number of confirmed cases in mainland China overtakes the deadly 2003 SARS outbreak January 30: WHO declares a public health emergency of international concern January 31: Death toll tops 200 February 1: Death toll tops 300 February 2: First Wuhan coronavirus death reported outside of mainland China
6 hr 57 min ago
Canada has received 325 requests for departure assistance from Hubei Province due to coronavirus
From CNN's Artemis Moshtaghian
Canadian officials have fielded 325 requests for departure assistance from Hubei province in China due to the Wuhan coronavirus, according to a statement obtained by CNN from Global Affairs Canada. Ottawa is attempting to charter a plane to take Canadians from Wuhan back to Canada, the statement said.
There are currently 543 Canadians in Hubei who have registered with the voluntary Registration of Canadians Abroad service. Since registration is voluntary, this number is not a complete picture of Canadians in the region or in China, according to the statement.
Only Canadian citizens who have entered China with a Canadian passport will be allowed to board the plane back to Canada, Global Affairs Canada said. Additionally, Canadian citizens will need to have a valid Canadian passport along with a valid Chinese visa to board the plane. Canadians appearing with symptoms will not be able to board the aircraft, according to Global Affairs Canada. The country is still determining protocols for Canadians once they arrive in Canada. 
sonos sonos One (Gen 2) - Voice Controlled Smart Speaker with Amazon Alexa Built-in - Black
read more
7 hr 15 min ago
Gaming revenues in Macao were down more than 10% in January. The coronavirus could be to blame
Visitors wear face masks as they sit inside the Venetian casino hotel resort in Macao on January 22. ANTHONY WALLACE/AFP via Getty Images
Gross gaming revenue in the Chinese territory of Macao, the world's biggest gambling destination, was down 11.3% in January 2020 compared to January 2019, authorities there said Monday.
Macao has confirmed several cases of the virus, and the outbreak has had a devastating impact on tourism in the gambling enclave, which relies heavily on mainland Chinese visitors.
The government in the city has taken significant steps to stop the spread of the virus. All residents of Hubei province and non-residents who traveled to Hubei in the past 14 days will be denied entry to Macao, until they show a doctor's letter certifying they are clear, according to Secretary for Administration and Justice Cheong Weng-chon. 
7 hr 15 min ago
China's confirmed Wuhan coronavirus cases increases to 17,205
From CNN's Steven Jiang in Beijing
China's National Health Commission said that at the end of Sunday, the total number of confirmed coronavirus cases in mainland China stands at 17,205, up 2,829 from the previous day.
The death toll in China stands at 361 as of Sunday, more than the amount of people who died in the country during the 2003 SARS outbreak. One person died as a result of the virus in the Philippines on Saturday -- the death reported outside China.
6 hr 31 min ago
Thai doctor says new drug combination treated coronavirus patient
From CNN's Kocha Olarn in Bangkok
Doctors in Thailand say they have successfully treated one Wuhan coronavirus patient with a combination of antiviral drugs, according to a briefing on Sunday from the Ministry of Health.
Dr. Kriangsak Atipornwanich, a doctor at Rajavithi Hospital in Bangkok, said he treated a 71-year-old female patient from China with a combination of drugs used in HIV and flu treatments. He said the patient had previously been treated with only anti-HIV drugs.
"I had treated a patient with severe condition, and the result has been very satisfactory. The patient's condition has improved very quickly within 48 hours. And the test result has also changed from being positive into negative within 48 hours as well," Atipornwanich said. 
Officials at the press conference said the latest lab test has showed there's no trace of the virus in the patient's respiratory system.
Dr. Anthony Fauci, director of the National Institute of Allergy and Infectious Diseases at the US National Institutes of Health, told CNN last week there are currently no proven effective drugs to treat the virus. 
Hospitals in Beijing have reported using the same drugs given to HIV and AIDs patients are part of treatment for the Wuhan coronavirus, though it is unclear if they have been successful.
CORRECTION: This post has been updated to accurately reflect the