North Korea's official Korean Central News Agency (KCNA) has now published footage revealing new details of the historic trip.
The train -- which appears to be the same one used by Kim's father and grandfather -- made its first stop Sunday in China at Dandong, a city close to the border and around 840 kilometers (520 miles) from Beijing by road.
A group of Chinese officials met the train at Dandong and boarded one of the carriages to greet Kim, who was seen smiling and posing for the cameras as he was handed a bouquet of flowers, which were then passed to his wife Ri Sol Ju.
Along with Kim and his wife, the North Korean delegation included leading members of the Workers' Party of Korea Central Committee.
The Chinese officials who boarded the train included China's ambassador to North Korea, Li Jinjun, and the head of the International Liaison Department of the Communist Party's Central Committee, Song Tao, according to KCNA.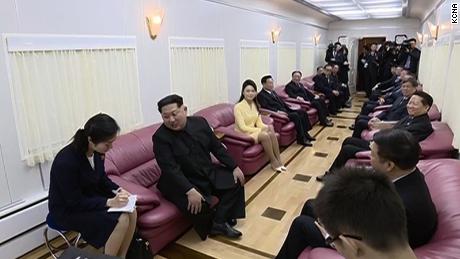 Chinese officials hold a meeting with Kim on the train at Dandong.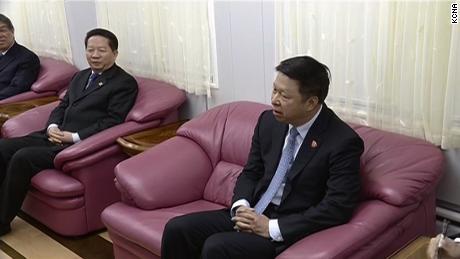 Chinese envoy Song Tao led the delegation that met Kim at Dandong.
Seated in two rows of pink couches on either side of the train carriage, Kim opposite Tao, the two groups held talks.
Three members of the Chinese delegation -- including Tao and Jinjun -- stayed on the train and traveled with Kim on the next leg of his journey, to Beijing, according to KCNA.
As the train departed Dandong, the footage shows the other Chinese officials who stayed behind waving to Kim -- and Kim waving back.
READ MORE: Kim Jong Un's cunning strategy could lead the world down a dangerous path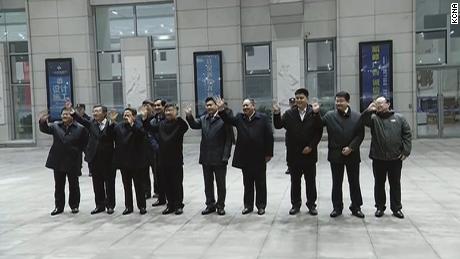 Chinese officials wave goodbye as Kim's train departs Dandong.
Arriving in Beijing on Tuesday, Kim was welcomed by the Chinese military and a red carpet. More bouquets awaited the leader and his wife as they alighted from the train and were met by officials from the ruling Communist Party of China, the footage shows.
Cameras flashed and the military stood to attention as Kim and his wife led the delegation down a platform adorned with a red carpet.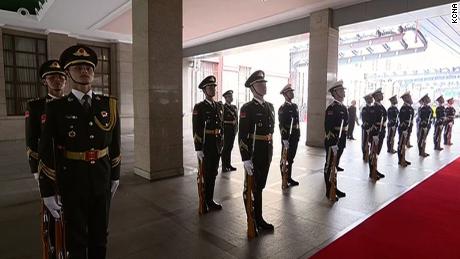 Kim gets a ceremonial welcome at Beijing train station.
The next day, Kim boarded the green train once again, this time for the return journey. After a final onboard sendoff from Tao and members of the Beijing welcome delegation, Kim, standing next to his wife, smiled and waved out of the window. The footage shows Chinese officials on the platform waving goodbye.
READ MORE:
Trump
says Xi told him Kim meeting went 'very well'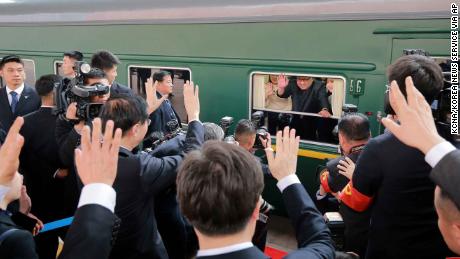 Kim Jong Un waves during his sendoff from Beijing station Tuesday.
According to a 2009 report in South Korean newspaper Chosun Ilbo, the train used by Kim's father, Kim Jong II -- which appears to be the same one used for this trip -- had 90 carriages and was so heavily armored that it traveled at an average speed of 60 kilometers an hour (about 37 mph).
It contained conference rooms, an audience chamber and bedrooms and featured satellite phone connections and flat screen televisions, the paper reported.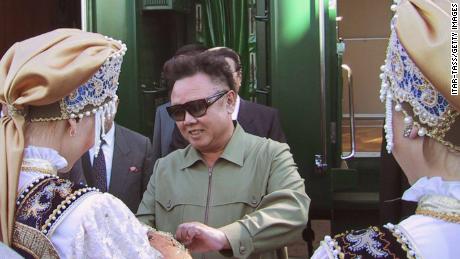 Kim Jong Un's father, Kim Jong Il, is greeted by women in traditional costume as he arrives in Omsk, Russia in 2001.
A New York Times report from 2002 said that memoirs by former Russian official Konstantin Pulikovsky purportedly claimed that Kim Jong Il had his train conducted by beautiful women and loaded with extravagant dishes and wine.
''It was possible to order any dish of Russian, Chinese, Korean, Japanese and French cuisine,'' Pulikovsky wrote, according to the report.
His account drew largely on a report that was supposed to be confidential by a note taker from the Russian Foreign Ministry, who was on board during Kim Jong Il's one-month ride across Russia in 2001, according to the Times.
Live lobsters were taken to train stations along the route, Pulikovsky wrote in his memoirs, and cases of Bordeaux and Burgundy red wines were reportedly delivered, too.
CNN could not independently verify the Times account or the South Korean report detailing the Kim family train.
Before this week, the most recent international train trip reported was in August 2011,