1 hr 15 min ago
Here's where Texas first responders can get a free meal
A handful of restaurants around Odessa, Texas, are offering free meals to first responders today, according to CNN affiliate KOSA.
They are...
Golden Corral in Music City Mall parking lot Scratch Kitchen on JBS at E. University Big Daddy's Catfish at 1121 East 42nd Street Coffee Weirdo & Crêpes and Hercules Barbecue at 4200 Andrews Highway
1 hr 23 min ago
A USPS mail carrier is one of the 7 victims
From CNN's Amanda Jackson
Mary Granados, 29, was working as a mail carrier for USPS and at the end of her shift when she was shot and killed, according to her twin sister, Rosie.
Rosie said she was on the phone with her sister when she heard her scream.
"It was very painful. I just wanted to help her and I couldn't I thought she had got bite by a dog or something. I tried calling her name and she wouldn't answer," she said.
Rosie lived with her sister and knew her route, so she got in the car to find her.
Rosie said that Mary loved traveling with her boyfriend and spending time with family. They moved to Odessa when they were 14 from Juarez and attended Permian High School.
"We are all broken, we are all suffering about this. She was a very beautiful person. She was very friendly and was always smiling," she said. 
Rosie said Mary had been working at the USPS for about a year. One of her co-workers, Leslie Aide, started a GoFundMe for her last night.
"I had the privilege to work with Mary before she started her career at USPS, she was beautiful inside and out, with a great heart and always ready to be a friend, always had a smile on her face!," Aide wrote on GoFundMe.
Odessa resident Mckayla Salcido's doorbell camera showed Granados delivering mail on Saturday before the shooting:
2 hr 1 min ago
Trump
says background checks wouldn't have stopped shootings
from CNN's Nikki Carvajal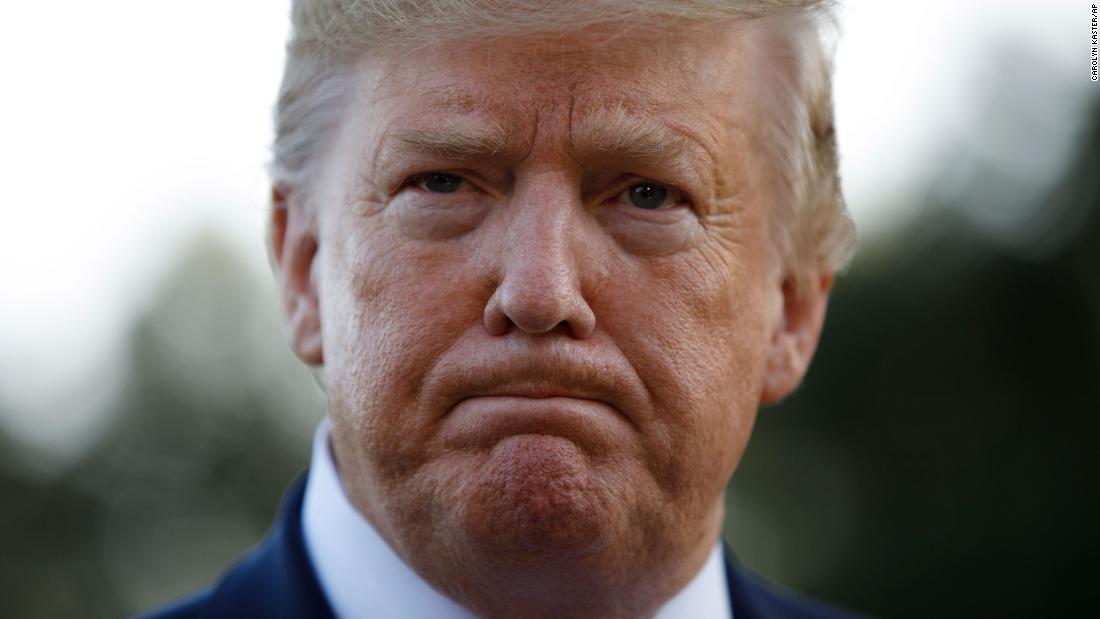 Carolyn Kaster/AP
President Trump stayed clear of calling for stronger gun control measures, including background checks, following Saturday's mass shooting in Texas that left seven people dead.
"We have a lot of groups working on it," Trump said. "I've been speaking to a lot of senators, a lot of house members … People want to do something."
The President said yesterday's shooting didn't impact what was happening in Congress.
"This really hasn't changed anything, we're doing a package," he said. "That's irrespective of what happened yesterday in Texas."
The administration is looking at different bills, ideas, and concepts, Trump said. He didn't get too specific about what was being looked at but seemed to speak out against stronger background checks.
"For the most part, sadly, if you look at the last four or five, even going back further five, six, seven years… As strong as you make your background checks, they would not have stopped any of it," Trump said.
 "It's a big problem," Trump said. "It's a mental problem, it's a big problem." He called the shooter, "another very sick person."
 Trump also also thanked first responders, calling them, "incredible."
2 hr 49 min ago
President
Trump
thanks police and first responders for "handling the terrible shooting tragedy"
President Trump thanked the Texas law enforcement officers and first responders who responded to yesterday's shooting rampage.
"A very tough and sad situation!" he tweeted.
Here's his full message:
sonos sonos One (Gen 2) - Voice Controlled Smart Speaker with Amazon Alexa Built-in - Black
read more
3 hr 14 min ago
Texas laws that loosen gun restrictions go into effect today
From CNN's Faith Karimi and Ed Lavandera,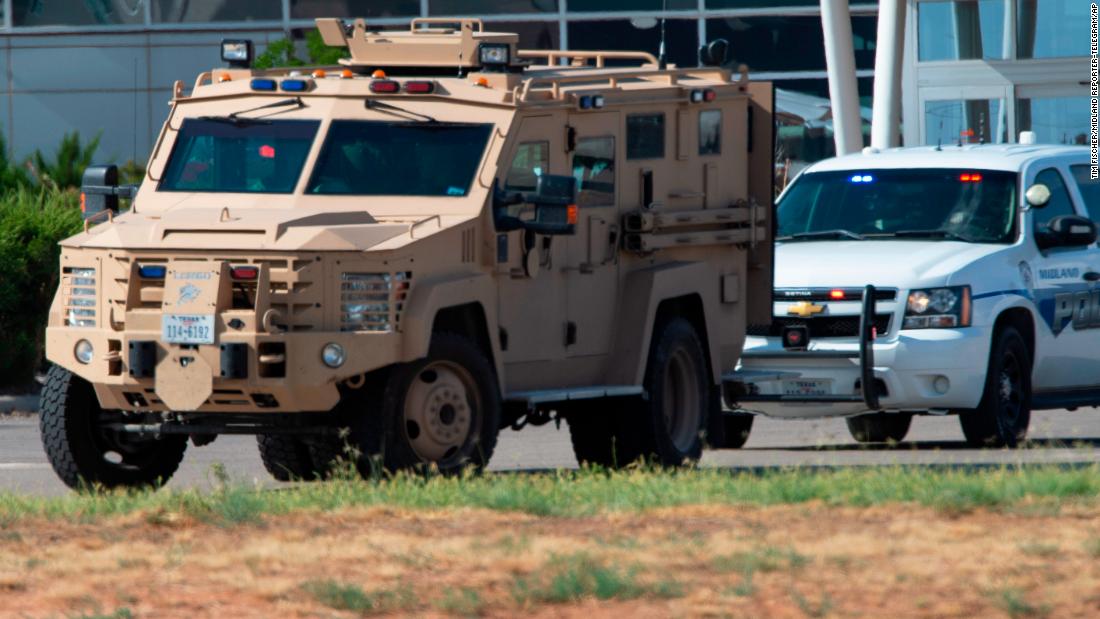 The West Texas shooting rampage happened hours before a series of firearm laws went into effect in Texas, where four of the 10 deadliest mass shootings in modern US history have occurred.
The new measures will loosen gun restrictions and allow weapons on school grounds, apartments and places of worship.
After the shooting Saturday, Democratic presidential candidates issued statements calling for gun reform.
"Our hearts are with Midland, Odessa, and everyone in West Texas who has to endure this again ... We need to end this epidemic," Texas native Beto O'Rourkehttps://twitter.com/BetoORourke/status/1167921962858860545
Julián Castro, another Democratic presidential candidate, said the shootings will continue if no action is taken. "We have to be more honest with ourselves. This is going to happen again. And again," he tweeted.
Vice President Mike Pence said he and President Trump are determined to work with Congress "to address and confront this scourge of mass atrocity in our country."
3 hr 51 min ago
This funeral home is offering free services for the shooting victims
From CNN's Amanda Jackson
A funeral home in Midland County is offering free services for shooting victims.
American Heritage Cemetery & Funeral Home is located in the middle of Odessa and Midland and services both cities. 
Amanda Brewer, assistant funeral director, spoke to CNN about the company's decision to offer this.
"We just want to bring the family some comfort and peace knowing they don't have to worry about expense," she Brewer said.
"We just wanted to put that out there so people can focus on grieving not cost," she added.
Brewer said she was at home for her kid's birthday party when the news broke. She said all the adults were huddled in a bedroom listening to police scanners and watching the news.
"We would never expect something like this to happen here," she said.
3 hr 56 min ago
A gunman killed 7 people in West Texas yesterday
From CNN's Faith Karimi and Ed Lavandera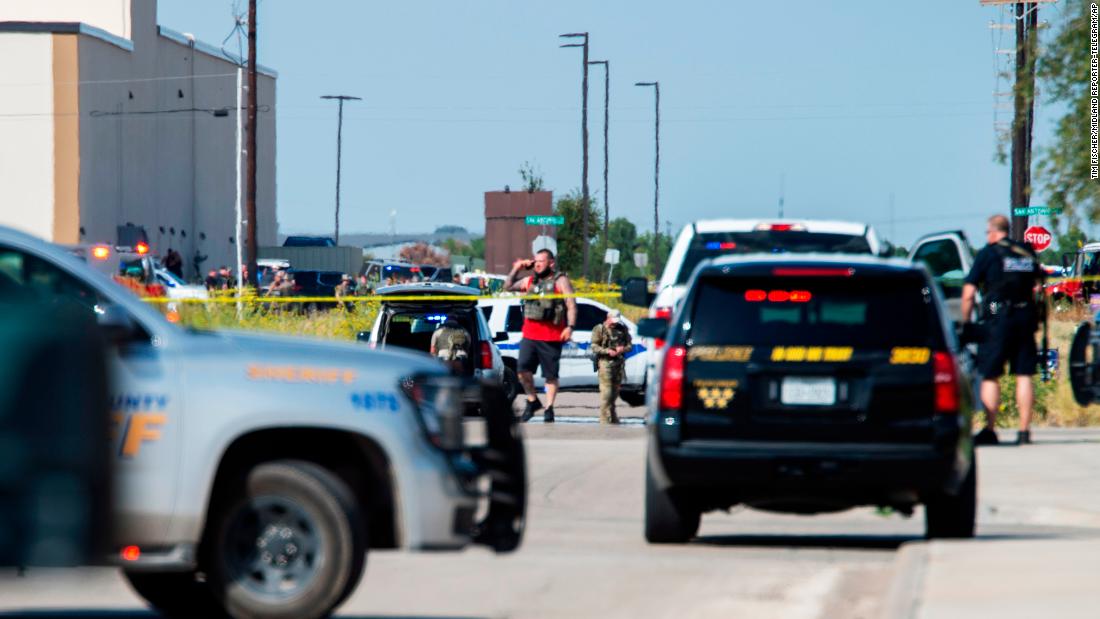 A man who was pulled over by Texas troopers shot at them with a rifle and sped away, setting off a terrifying rampage that ended with seven victims and the shooter dead, police said.
After he opened fire during a traffic stop Saturday in Midland, the gunman drove on the streets and the highway, spraying bullets randomly at residents and motorists.
He then hijacked a postal truck and ditched his gold Honda, shooting at people as he made his way into Odessa about 20 miles away. There, police confronted him in a movie theater parking lot and killed him in a shootout.
About 20 people were also injured. Those included a 17-month-old girl and three law enforcement officers, hospital and police officials said.
It's unclear why police pulled over the unidentified gunman or what his motive was. Odessa Police Chief Michael Gerke described him as a white male in his 30s but declined to provide