Ivanka and Tiffany
Trump
listen to their father, President Donald
Trump
, speak at what was billed as an infrastructure event in Richfield, Ohio, on Thursday. His speech was filled with many of the political themes he touts at his rallies -- the border wall, cutting regulations and his first year's accomplishments.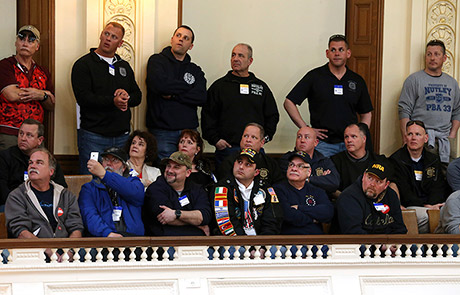 Mel Evans/AP
A group of Second Amendment advocates watch as the New Jersey assembly votes on a number of gun control bills on Monday. President
Trump
came to the defense of the Second Amendment on Wednesday after a Tuesday op-ed by retired Supreme Court Justice John Paul Stevens called for its repeal.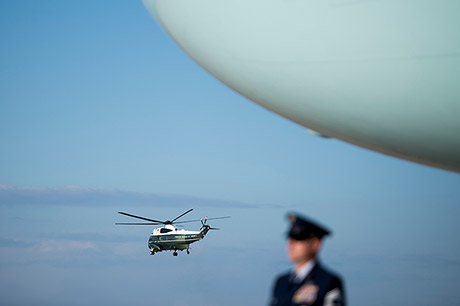 Brendan Smialowski/AFP/Getty Images
Marine One flies past Air Force One as it carries President
Trump
back to the White House on Monday. On that day, Stormy Daniels' lawyers teased that they would likely be sharing more evidence of her alleged affair with
Trump
in the coming weeks and months.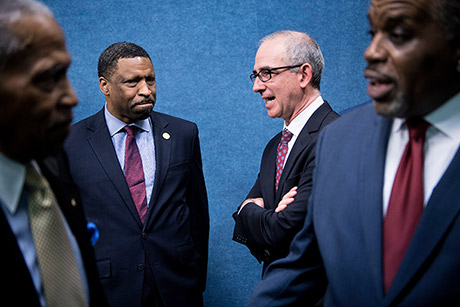 Brendan Smialowski/AFP/Getty Images
Derrick Johnson, left, the president and CEO of the NAACP, and Yale Professor of Law Michael J. Wishnie at a news conference Wednesday announcing a lawsuit by the NAACP and Prince George's County, Maryland, against the US Census Bureau. The Commerce Department announced on Monday that the 2020 census would include a question about citizenship. The announcement raised concerns that a citizenship question would cause undocumented individuals not to complete the questionnaire and leave a large portion of the population uncounted.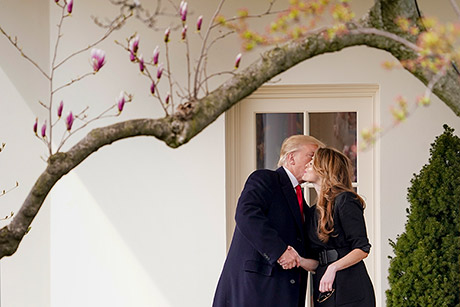 Andrew Harnik/AP
President
Trump
kisses White House communications director Hope Hicks as she finishes her last day on the job Thursday. A source told CNN this week that several of
Trump
's outside advisers have told him he requires neither a chief of staff nor a communications director, at least in the traditional definition of those jobs.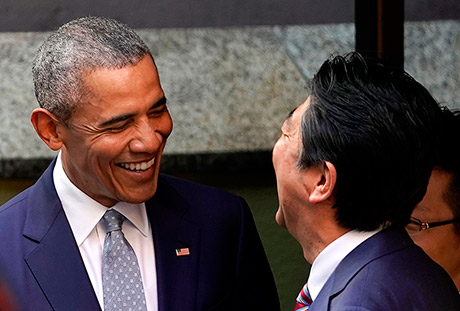 Shizuo Kambayashi/AFP/Getty Images
Former US President Barack Obama talks with Japanese Prime Minister Shinzo Abe in Tokyo's Ginza shopping district on Sunday.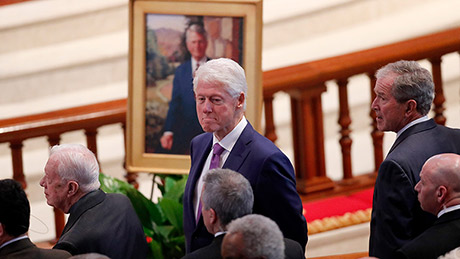 John Bazemore/AP
Former presidents Jimmy Carter, Bill Clinton and George W. Bush attend a funeral for former Georgia Gov. and US Sen. Zell Miller in Atlanta on Tuesday.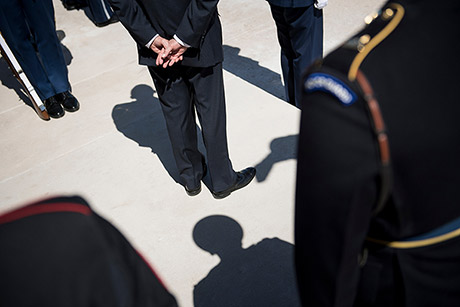 Brendan Smialowski/AFP/Getty Images
US Secretary of Defense James Mattis waits for Indonesia's Minister of Foreign Affairs Retno Marsudi during an honor cordon at the Pentagon on Monday. On Thursday, Mattis met incoming national security adviser John Bolton at the Pentagon and joked, "I heard