6 min ago
Sen. Marsha Blackburn reveals what book she is reading during the trial
From CNN's Michael Warren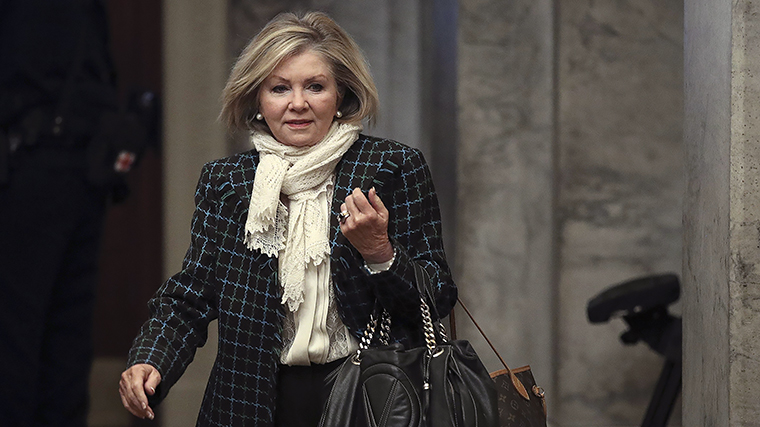 Drew Angerer/Getty Images
Sen. Marsha Blackburn, a Republican from Tennessee, was spotted reading a book during the trial today.
She revealed on Twitter this afternoon what the book it is: Kimberley Strassel's latest, "Resistance (At All Costs): How Trump Haters Are Breaking America."
"It provides good insights into today's proceedings. Second – busy mamas are the best at multi-tasking. Try it," Blackburn

First – I'm reading Resistance (At All Costs) by Kim Strassel. Read the chapter on obstruction. It provides good insights into today's proceedings.

Second – busy mamas are the best at multi-tasking. Try it. https://t.co/AEHW19ZztL

— Sen. Marsha Blackburn (@MarshaBlackburn) January 23, 2020

.
14 min ago
Schumer: Democrats are "not whittling down" the list of witnesses and documents
From CNN's Manu Raju
Senate Minority Leader Chuck Schumer said today that Democrats were going to hold firm and demand the four witnesses they want to testify and the four sets of documents.
He went on to say that they were "not whittling down" the list or "trading" witnesses.
15 min ago
House manager debunks
Trump
's reasoning for investigating Burisma
From CNN's Tara Subramaniam
Senate TV
Rep. Sylvia Garcia, one of the House impeachment managers, raised and then debunked the theory that President Trump says is at the heart of his efforts in Ukraine. 
On the July 25 phone call with Ukrainian President Volodymyr Zelensky, Trump asked Zelensky to do him a favor and look into, among other things, potential interference in the 2016 election and Vice President Joe Biden.
"As the theory goes," said Garcia, "Vice President Biden tried to remove Ukraine's prosecutor all to make sure the prosecutor wouldn't investigate that specific company Burisma because, again, his son was on the board. Then senators, if that doesn't sound far-fetched and complicated to you, it should." 
In breaking down the theory, Garcia noted that when Hunter Biden joined the board of Burisma in 2014, its owner was under investigation. The following year, Victor Shokin became Ukraine's prosecutor general.
Later in 2015, Biden publicly called for Shokin's removal. But as Garcia noted on Thursday, Biden was not alone in trying to get Shokin fired at the time.
"Let's be very, very clear," Garcia said. "Vice President Biden called for the removal of this prosecutor at the official direction of US policy because the prosecutor was widely perceived as corrupt and with the support of all of our international allies, his actions were therefore supported by the executive branch, Congress, and the international community."
Furthermore, when Biden called for Shokin's removal, the case against Burisma was no longer active, Garcia noted.
"Although Shokin vowed to keep investigating Burisma amid an international push to root out corruption in Ukraine, he allowed the Burisma investigation to go dormant," Garcia said. "That is when he was removed. He was not actively investigating Burisma."
Garcia's assertions are supported by Shokin's deputy prosecutor, Vitaliy Kaso, who resigned in February 2016, a month before Shokin himself was fired. Kasko told Bloomberg that the case against Burisma was dormant by the time Shokin was removed, saying "There was no pressure from anyone from the US to close cases against Zlochevsky. It was shelved by Ukrainian prosecutors in 2014 and through 2015."
You can read more about this here. 
20 min ago
Cornyn says there's been no attempt by GOP to coordinate yet on question-and-answer portion
From CNN's Ali Zaslav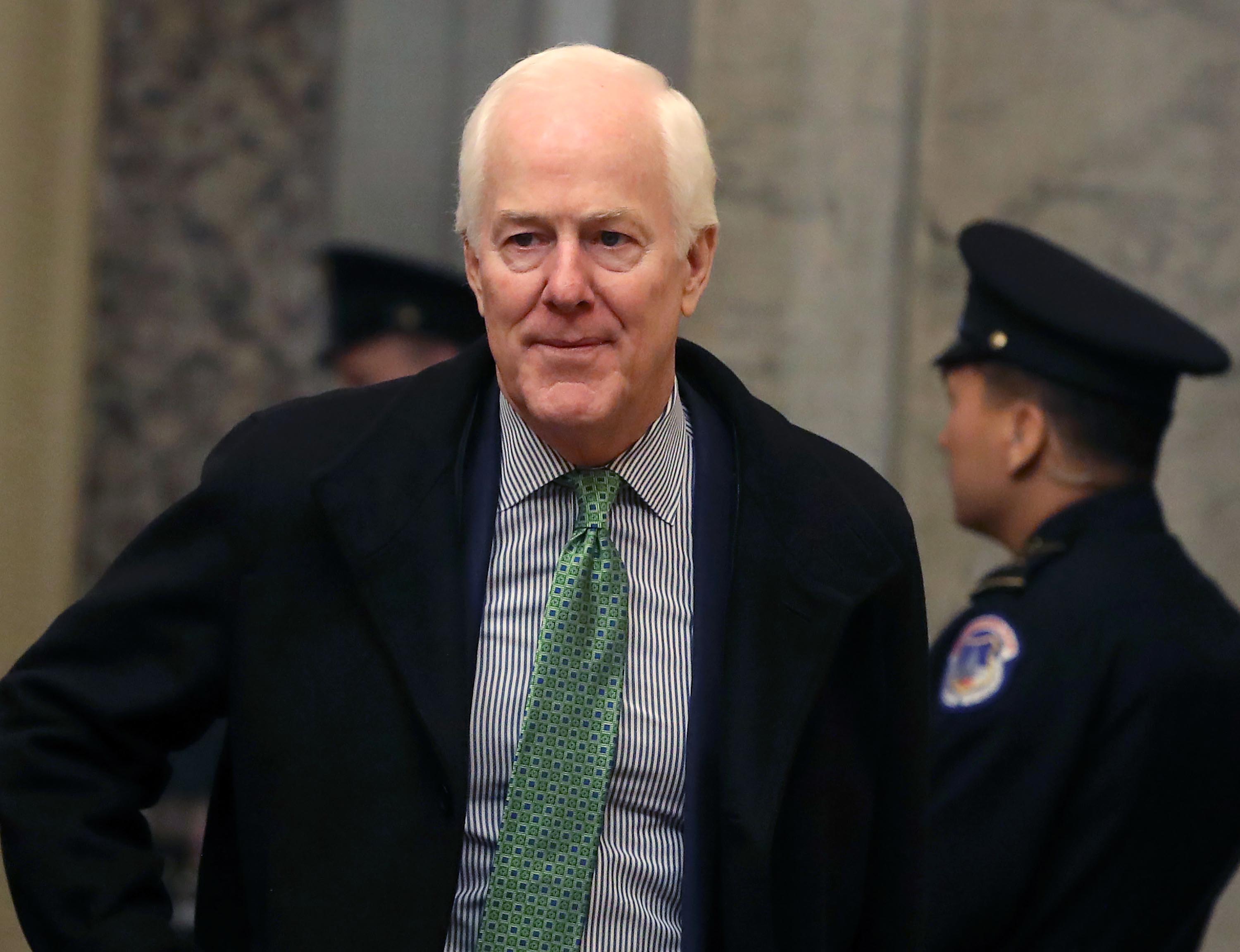 Sen. John Cornyn arrives at the US Capitol as the Senate impeachment trial of President Donald
Trump
continues January 23. Mark Wilson/Getty Images
Republican Sen. John Cornyn, a Republican from Texas, said "there's been no attempt to coordinate" how the question and answer portion of the Senate impeachment trial will work.
"But everybody, I think, is trying to think of, okay what, what am I going to ask," he added.
Sen. James Lankford also said they haven't had a conversation about it yet – but will soon.
But, both Cornyn and Lankford explained how the portion went during President Bill Clinton's trial and as of now assume that'll be the case for President Trump's trial. Senators submitted written questions and the Chief Justice sifted through them and grouped the questions. 
Ahead of the upcoming witness vote, Cornyn said he thinks maybe it's starting to dawn on Republicans that if witnesses are requested and it goes to the court, "while this case is pending, we can't do anything else." 
sonos sonos One (Gen 2) - Voice Controlled Smart Speaker with Amazon Alexa Built-in - Black
read more
"One of the things that weighs in my mind is because the House didn't go through all these questions about privilege and litigating that issue, essentially what they've done is they push that responsibility off on the Senate and so that means rather than a few weeks this could last for months like those privilege claims are getting litigated in the courts," he said. "That's another good reason I think for holding the House managers feet to the fire. Saying, you know, this was your job to develop the case and not our job. That's something that I think that's beginning to dawn on us that, that could be a consequence of them having not done their job in the House and foisting that on us. And as you know while this case is pending, we can't do anything else," Cornyn said.
30 min ago
The Senate is back
The Senate impeachment trial has resumed.
19 min ago
Why Democrats "wanted to spend some time defending Joe Biden" before
Trump
's team prosecutes him
CNN
During the break, CNN's Jake Tapper discussed Rep. Sylvia Garcia's presentation that just concluded, asking a panel of analysts if they thought it "would it have made her case stronger" if in her remarks about the Bidens she had acknowledged that Hunter Biden has said it wasn't a smart idea to take the job with Ukrainian energy company Burisma.
CNN analyst Gloria Borger pointed out that what Hunter Biden did, while wrong, is "not relevant to the case."
"I think she was trying to stick to the case at hand," Borger said on Garcia's presentation.
CNN's John King said that Garcia made it clear "they wanted to spend some time defending Joe Biden before the President's team prosecutes Joe Biden."
King said that "the President's team's argument is that he had every right to ask for this investigation because he believed" the conspiracy theory that Ukraine meddled in the US election.
Watch more:
41 min ago
Trump
's attorney says the President's actions were not an "impeachable offense"
Mandel Ngan/AFP/Getty Images
Jay Sekulow, one of President Trump's attorneys, spoke with reporters moments ago to defend his client.
"We've got lawyers that are going to put forward when our side of the case goes that represents multiple schools of thought on what is and is not an impeachable offense, but they have one thing in common, that the actions alleged and the actions of the President do not reach that level no matter which school of thought you're on," Sekulow said.
Sekulow added: "We're going to use a sufficient amount of time to not only defend our case and point out the inconsistencies of their case, but we're going to do it in an appropriate manner. We're not going to try to run the clock out. We're going to do what we think, what our legal team thinks, is appropriate to present our case."
More on Sekulow's role in the impeachment trial: Sekulow will serve as a prime-time-tested counterweight to Pat Cipollone, the White House counsel expected to lead Trump's defense team. The team is rounded out with Ken Starr, the famed independent counsel who made the last impeachment case, against Bill Clinton, and Alan Dershowitz, who represented OJ Simpson and Jeffrey Epstein.
A litigator and media fixture for much of his career, Sekulow has argued 12 cases before the Supreme Court. His turn as a top defender on the Senate floor starting this week, however, will be his highest-profile role on the biggest stage to date.
58 min ago
They're taking a short break
Senate Majority Leader Mitch McConnell said the trial will take a 15-minute break. You can watch CNN's live analysis above.
32 min ago
Why Democrats are talking about debunked conspiracy theories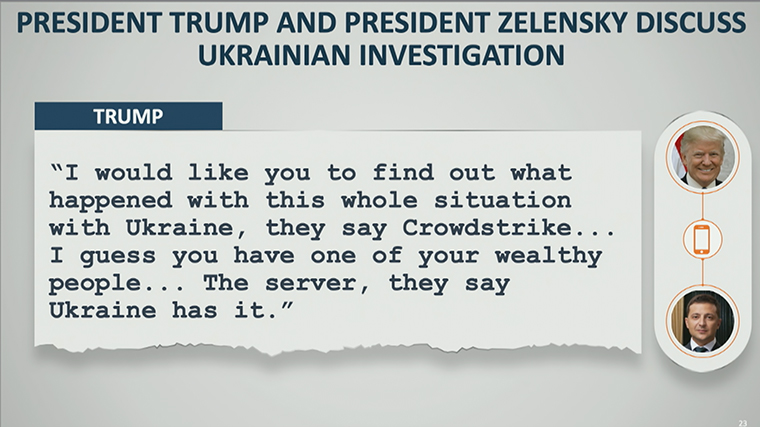 Senate TV
Rep. Sylvia Garcia, one of the Democratic House managers, went into detail about the debunked conspiracy theory that Ukraine tried to interfere in the US presidential election.
Garcia played several clips from US officials and witnesses dispelling the notion that Ukraine interfered in the election to help former Secretary of State Hillary Clinton — a theory that President Trump and his allies have pushed.
"As we will explain, the allegation that Ukraine interfered in the 2016 elections, just like the allegation that Biden improperly removed the Ukraine prosecutor, has absolutely no basis in fact. In fact, this theory ignored the unanimous conclusions of the US Intelligence agency, the congressional intelligence committees, and special counselor Mueller, which found that Russia, Russia attacked our elections," she said.
There is no evidence to support these claims. Ukrainian leaders may have hoped that Trump would lose in 2016, but there was no government operation to influence the US election.
Some background: US intelligence officials told senators in a classified briefing this fall that Russia engaged in a years-long campaign to push these theories, shifting the blame away from Moscow and onto Ukraine for interfering in the 2016 presidential campaign, according to two US officials familiar with the briefing.
At least nine witnesses in the impeachment inquiry testified that claims of Ukrainian meddling were fabricated by the Russians or unsupported by the evidence. Others